Digital Learning for the Retail Sector – The Benefits
Check this blog to know how digital learning can benefit the retail industry and how it can be used for different training areas in this sector.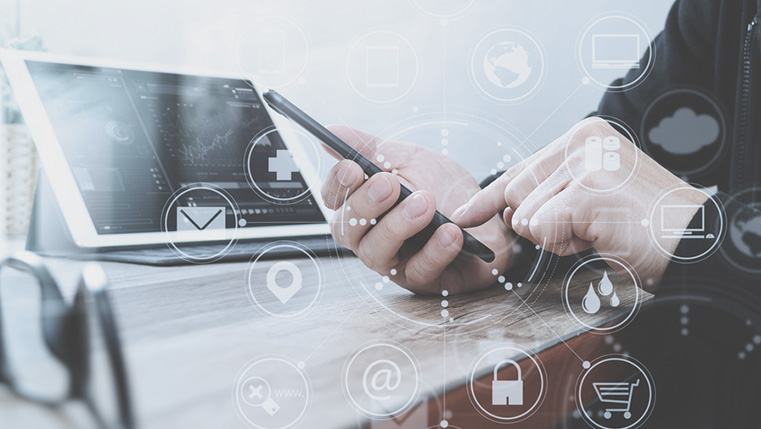 Change is innate in the retail sector. The growth of e-commerce and m-commerce has made retailers merge both offline and online channels. Physical stores have become technologically enabled to provide a better shopping experience. Customer experience is becoming more digitized thanks to digital catalogs, online searches, and social networks.
In addition to the challenge of keeping up with this digital transformation, the retail sector has to deal with high employee turnover which means a continuous need for training. Retail players do have training setups in place, which might be woefully inadequate to meet the challenges in the present scenario.
In the past, many players in the retail sector used to opt for ILT or classroom training for training their workforce. But for retail chains spread across cities or even countries, training a geographically dispersed workforce using this method was challenging. There was also the pressure to keep training costs down, which are inherent to classroom training. Moreover, training in this sector is not confined to a single topic; training programs need to be conducted for different areas including sales, product, customer service, leadership, software, and soft skills training.
The advent of digital learning has made it easier to meet these challenges and keep up with a rapidly evolving business environment. Organizations are increasingly opting for digital training to provide regular, relevant training that can keep up with the dynamic changes in this sector.
The benefits of adopting digital learning for retail sector are:
Quick deployment of training
Digital learning in the form of e-learning courses is easy to deploy since there are no limitations of time and place. Retailers will have to find ways to rapidly create and deliver courses that are updated with the latest information on new products or policies, delivered in a consistent fashion.
For sales staff working on the shop floor, information on products is crucial to help them make effective sales and answer customer queries. So product training is crucial. Product information in the form of microlearning modules can be accessed by these employees on their mobile devices because this will be the best way to access information on the shop floor.
Information on products, product updates, and changes in product warranties or offers can be delivered as microlearning nuggets delivered on mobile devices. Employees can quickly refer to this information before making a sales pitch. Employees can be informed through microlearning modules on policy updates and changes in compliance requirements, which they can quickly refer to before interacting with customers.
Cut down costs
The retail workforce is huge and getting employees together at one place for training is not cost-effective. E-learning courses can train employees at different locations simultaneously, and on diverse training topics based on what is required. Mobile learning courses can be used to train employees who can access these courses during their downtime or while commuting to work.
Train on diverse topics
Digital learning is versatile enough to meet the demands of various training needs in the retail sector. These include new hire training, leadership training, operational training, product training or software training
For sales training, e-learning courses with scenarios that cover how to identify customer needs, handle their queries, make a sale or close one can effectively teach sales skills to employees.
As for customer service training, scenarios can once again be used to teach employees on how to handle customer complaints and objections. Good customer service adds value to the business and must not be neglected.
Soft skill training is also crucial in this industry; scenarios and dialogue-based simulations can train employees so that they are well-equipped to provide a pleasant experience to shoppers.
Process training to train staff on in-store procedures can be delivered as e-learning courses to ensure store operations run smoothly. Animated videos accessible on mobile devices that explain the physical activities and tasks retail employees have to perform on the shop floor can be used effectively.
A retail chain based in Canada wanted to train its employees aspiring for managerial positions at its retail locations. The challenge was to create engaging and effective leadership training presenting the situations, actions, and decisions that will replicate the interactions these employees will have with subordinates and customers as managers. So we created a scenario-based course where an 'Avatar' in the role of a manager was used to animate each situation or scenario. The learner had to help the 'Avatar' handle these situations effectively. This helped the aspiring managers learn how to handle situations, and the organization to test their leadership skills.
Track learner performance
Digital learning courses hosted on an LMS help training managers track learners' progress. An LMS is the best way to track geographically dispersed employees. Managers can find out how many employees have completed the course, how many are yet to take it, and how many are through it mid-way. An LMS can also be used to send reminders and updates to employees. It makes managing courses easier, considering the large number of people to be trained.
Learn anytime, anywhere
E-learning designed to be responsive can be accessed on multiple devices. Learners can learn anytime and anywhere because they can access the courses on the device of their choice. This is significant to retail employees because they will be able to learn when they have some downtime. Microlearning modules accessible on mobile devices can also act as performance support tools.
Go for a blended learning strategy
Digital learning need not be a standalone strategy to train employees in the retail sector. It can be blended with classroom training. Employees can take an online course before a classroom training session. Online courses can act as refresher courses after a classroom training session to reinforce learning or they can be used for deploying assessments after a classroom training session.
Adopting digital learning for training brings many benefits to the retail industry and retail players can make the best use of this mode of training to create a positive impact. Do you agree? Share your views with us.