5 Innovative eLearning Translation Trends
eLearning translation is a great way to save time and costs while retaining the quality of the eLearning solution developed to be delivered across remote locations. The efficiency of the translation can made stronger by including the following trends…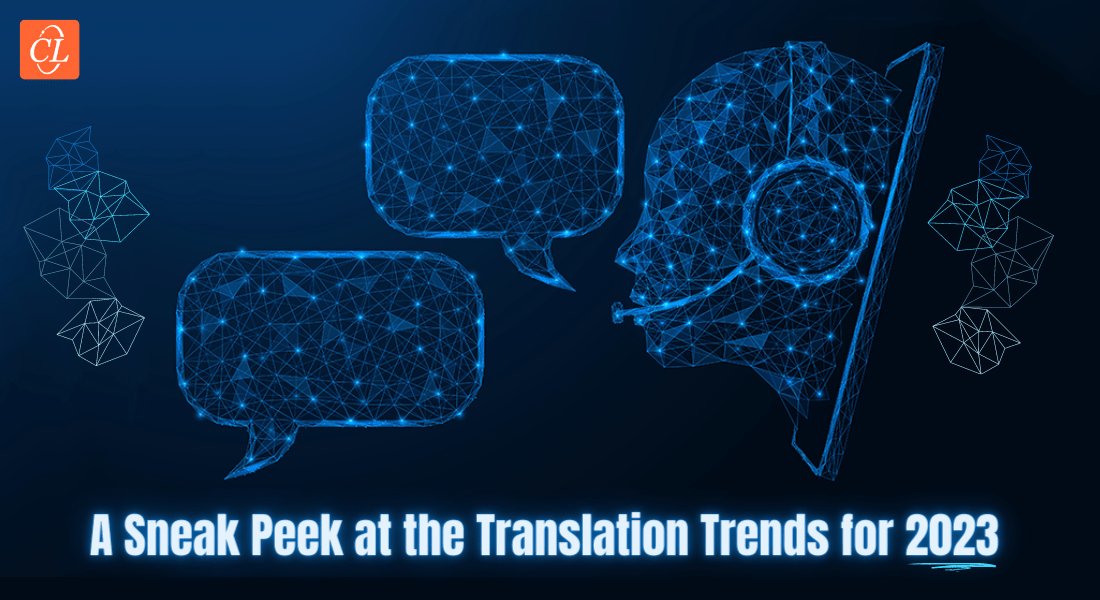 ELearning has been gaining popularity for years now. The COVID-19 global pandemic worked as a catalyst to accelerate the pace. It caused most global companies to accept online and hybrid learning experiences for employees as well as customers. Now, it has been widely accepted that eLearning provides an efficient and cost-effective way of providing training. It also provides a more consistent learning experience for the learners. Along with eLearning translations too have gained traction.
Among the many important benefits of eLearning is that the eLearning training material can be used across all parts of the globe. This means that the quality of the training material as well as the learning experience can be retained and delivered to employees across remote locations. Further, this experience can be enhanced via eLearning translations to their home language. This is where innovative translation comes into the picture.
Now that you have an understanding of eLearning translations, let us now familiarize you with the top translation trends for online training.
Want to Explore the Top Trends in eLearning Translations?
Here are the top 5:
Translation Technologies are Getting Prominence
Immersive Learning Experience is Gaining Stature
Gamification is Becoming the Hottest Trend
Translation Beyond Languages is Trending
Wider Language Coverage is Becoming the Norm
eLearning Translations Trends for Online Training
Translation Technologies are Getting Prominence
In the field of eLearning, translation technologies are taking up a wider space. It is not that machine translations are ready to take over professional translators but they are becoming more accurate every passing day. Artificial Intelligence is giving machine translators a better human touch, that lacked in all machine translators a few years back. This has greatly enhanced their value and role in e-learning translations.
Now, professional human translators can use the machine translator as their assistant to make the entire process easy, fast, and more accurate. Machine translators can now handle the first draft of a translation with ease. This first draft of the translation can then be checked, corrected, and approved by human translators for final publishing.
AI-driven eLearning translation benefits the user in many ways –
The machine automatically saves the translations in memory and can reuse them in case of repetition.
This ensures consistency over the entire modules of an organization or the industry.
This also saves the time and energy of translators from repeating the same work again and again.
The management of terminology and industry-specific glossary becomes more organized as AI-based translators save translations to the most important terminologies and phrases that matter to a particular industry or company.
Immersive Learning Experience is Gaining Stature
Companies are accepting the importance of immersive learning experiences for every target audience. It has been now widely accepted that an immersive learning experience for each learner is crucial to achieving the best course outcomes including –
Course completion
High passing rate
High scores of learners
High retention and low churning, etc.
A learner is most comfortable and confident in the language they commonly used for communication and their day-to-day professional lives. So, providing eLearning course content in the native language of the learners is a sure-shot way to give them an immersive experience.
Companies have now accepted the effectiveness of delivering course content in the native language of learners. Hence, this has become one of the fastest-growing trends in eLearning translation.
Gamification is Becoming the Hottest Trend
You must have learned about the gamification of course content if you are anyhow linked to digital eLearning. Gamification of learning modules has emerged as one of the most important ways of making eLearning modules interesting and immersive for learners. So, unsurprisingly gamification has entered into the latest eLearning trends.
eLearning translation is not limited to simply translating the available course material into other languages. The aim of the translation of online learning modules is to localize the module to make it valuable and immersive for the target audience. The 'in-game' localization is becoming an integral part of innovative eLearning translation.
Gamification rewards learners with points, badges, and other recognitions for performing well in their course. This is a great way to keep learners interested and engaged. Hence, localization of gaming content through innovative translation is crucial for serving the interest of global audiences all around the world.
Translation Beyond Languages is Trending
Another hot trend in eLearning translation is the trend of translation beyond languages i.e., using translation as a means of personalization. Companies and course producers are trying all they can to keep the learners interested and engaged in the course. One of the important aspects of this is the personalization of the learning material. Personalization here means providing content in the form that is most comfortable and relevant for the learners.
Some learners need video content to grasp the concept well. Some may prefer static pictures as in presentations so that they can proceed at their own pace. Some may need audio content so that they can listen and keep learning while doing their task. Personalization is all about providing the learning content in the format in which the learner is most comfortable.
Each learning format requires a different approach to translation. This consideration is important for incorporating translation in the personalization efforts of eLearning courses.
Wider Language Coverage is Becoming the Norm
Another important trend in eLearning translation is the growing coverage of the language base. Giant players in the field of eLearning are investing huge sums of money to increase the language coverage base to enhance users' interaction with the online training modules.
Increasing language coverage here means including precise localization when it comes to languages. The publishers are no more interested in just translating their course modules in say Spanish; they are investing in getting the translations done in regional languages like Galician, Catalan, Basque, etc.
Supporting minority languages attract more learners and feel each of them is valued. So, this trend in eLearning translation is going to stay here for a long.
Wrapping Up
Whatever the size of the organization, big, medium, or small, eLearning courses are not gaining popularity without innovative translation. If you want your course to have a wider user base you need to get into the trends of eLearning translation.
Do you still have questions on eLearning translations? Well, it is always great to have doubts and it is greater to get answers directly from experts! This eBook is just that! Curated by experts in the online training industry, this eBook answers the FAQs around eLearning translations.