eLearning Translations Simplified for New Training Managers In 4 Steps
Are you a new training manager looking to make your corporate training impactful? Explore the WHY, WHAT, WHEN, WHERE, and HOW of eLearning translations.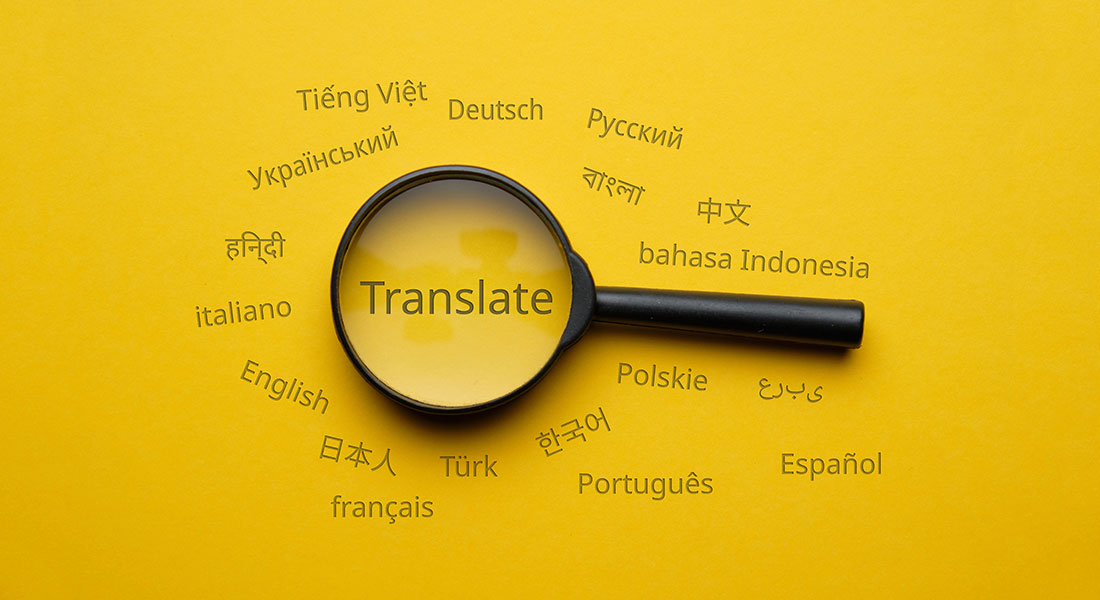 With the emergence of digital technology and a globalized workforce, the corporate world has become more connected than ever. Thanks to the COVID-19 pandemic, organizations also accepted the remote work model and many companies today operate with a remote and global workforce. With these advancing trends, the L&D teams were in a bit of a predicament, as they had to design training programs catering to the global and multilingual workforce. Their resort? eLearning translation.
Finding it Difficult to Scale Corporate Training Globally?
Check out these eLearning translation tips to ease out the process-
Understand your employees and their culture
Organize and strategize your content delivery
Develop your glossary and content guide
Ensure all brand stakeholders are on the same page
What is eLearning Translation?
eLearning translation refers to converting training content from its original language to different languages. All content forms, such as text, images, and videos are translated from their original language to the employees' native languages. There are various reasons why eLearning translation is important for organizations and employees, the most important ones being increased employee engagement and their learning curve.
Key Benefits of eLearning Translation For Organizations
eLearning translation allows organizations to target wider markets and cater to employees from all language backgrounds. Here are four compelling reasons for new training managers to implement this in their organization.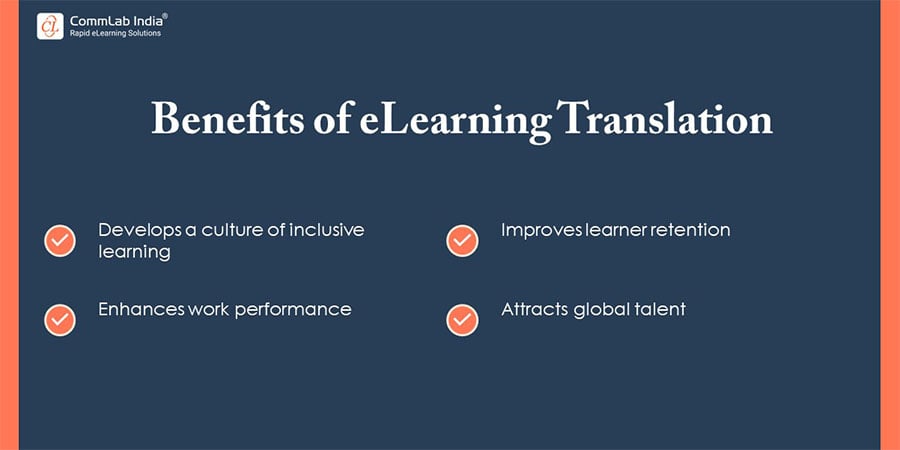 Develops a Culture of Inclusive Learning
eLearning language translation ensures that the culture of employees is taken into consideration during training. When organizations adapt courses to meet their employees' needs with regard to their language and culture, they promote an environment of inclusive learning. Further, when you train all employees, across all locations using the same course, your training remains consistent. All your employees develop the same skill set and knowledge and hence develop a culture of inclusive learning.
Enhances Work Performance
When an organization customizes training for their employees and keeps their culture at par, they indicate how valuable their employees are, no matter their language background. This gives unparalleled confidence to your employees, and thereby improves their overall performance and work productivity.
Improves Learner Retention
With eLearning translation, your training becomes more effective as employees can relate to the content at a cultural level. The translated content provides training in a manner that is familiar to your employees and hence increases their knowledge consumption and retention, and allows them to perform more efficiently at their job.
Attracts Global Talent
With eLearning translation, organizations show their support for employees from all language backgrounds and propel themselves as a global organization that values its employees. This way, you can attract talent globally as your potential employees would know that you value their culture equally. This will help you strengthen your workforce and ensure your company's success.
Now that you understand how eLearning translation can spruce up your training programs and scale your business, let's look at the best practices to implement eLearning translation in your organization.
Here's a quick video to help you understand better how to translate eLearning courses effectively.
Best eLearning Translation Practices For Guaranteed Success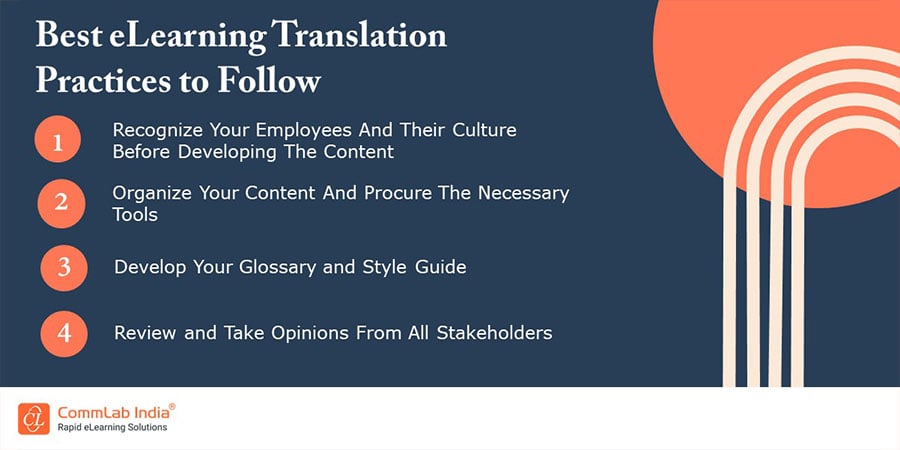 Recognize Your Employees And Their Culture Before Developing The Content
The first step in implementing eLearning translation is to understand your target audience, a.k.a, your employees and their cultural preferences. Once you have this categorized, you may consider translating your content keeping in mind your messaging and global branding strategy. Be clear, crisp, and concise with your content as it may be translated into many complicated languages in the future. You must also pay attention to your visual content, the color scheme, white space, etc. You may consider these elements to design a culturally sensitive eLearning course as they can massively improve the efficacy of the course.
Organize Your Content And Procure The Necessary Tools
Once you have your training strategy in place, it is time to gather all your eLearning materials, content, project files, etc., for translation. You can also leverage a powerful authoring tool like Storyline 360 or Lectora Inspire for content management. These authoring tools can create visually appealing courses with the option to publish in multiple languages and support global multilingual training. We will explore more on these authoring tools in the later part of the blog.
Develop Your Glossary and Style Guide
Once you have your tools in place, you need to develop a glossary with all the important terms that you want to include in the translated courses to ensure consistency in your training. Adding a glossary will also come in handy when using industry jargon and specific terms. A style guide is just as important as it sets the tone of the translated content, and ensures you provide consistent training to all your employees.
Review and Take Opinions From All Stakeholders
This is a critical step in the eLearning translation process and it's important to ensure that all project stakeholders are on the same page. Get your translation reviewed by a subject matter expert for the accuracy of the translation. You may also sample the translation within a small group and collect genuine feedback to understand the areas of improvement. All the stakeholders must align with each other to ensure the usefulness of the content.
Consider the top eLearning trends to improve corporate training when implementing this in your organization.
Now that you are up to speed with the best practices of eLearning translation, let's explore some popular authoring tools that facilitate these.
Popular Authoring Tools For eLearning Translation
Many other tools in the market facilitate eLearning translation for organizations. Each of these tools offers unique features and provides multiple options catering to multilingual training.
Lectora Inspire
Lectora Inspire is a powerful eLearning translation tool that helps in creating visually appealing courses and can be published in multiple languages. Training managers can easily translate their content with a single click and filter unwanted information.
Adobe Captivate
Adobe Captivate is one of the most popular eLearning translation tools in the market that can create mobile responsive courses. Employees can easily access these courses at any location and enhance their knowledge.
Articulate Storyline
Articulate Storyline is a relatively older authoring tool that offers export and import features, enabling training teams to export original text files and import the translated files with a single click. Another version named Storyline 360 was recently launched and offers better features than Articulate Storyline.
While these authoring tools are quite easy to use, another popular and cost-effective solution is outsourcing this task to a trustworthy vendor. When you outsource the work, you are handing over the responsibility to a set of experts who can ensure that your work is delivered within timelines, within the set budget, and with the desirable quality.
Parting Thoughts
And there you have it- eLearning translations simplified for training managers and organizations. With the benefits of enhanced learning, increased retention, and a strong global workforce, organizations are keen on developing multilingual training programs that can upskill their employees.
Still, have questions about eLearning translation? Download this eBook curated by experts to answer all your questions about eLearning translation.