4 Ways to Improve Your Corporate eLearning Translations
Globalization of business ventures makes a strong case to opt for eLearning translation. Read this blog to know about the four ways to create relevant, engaging, and effective content for your linguistically and culturally diverse workforce.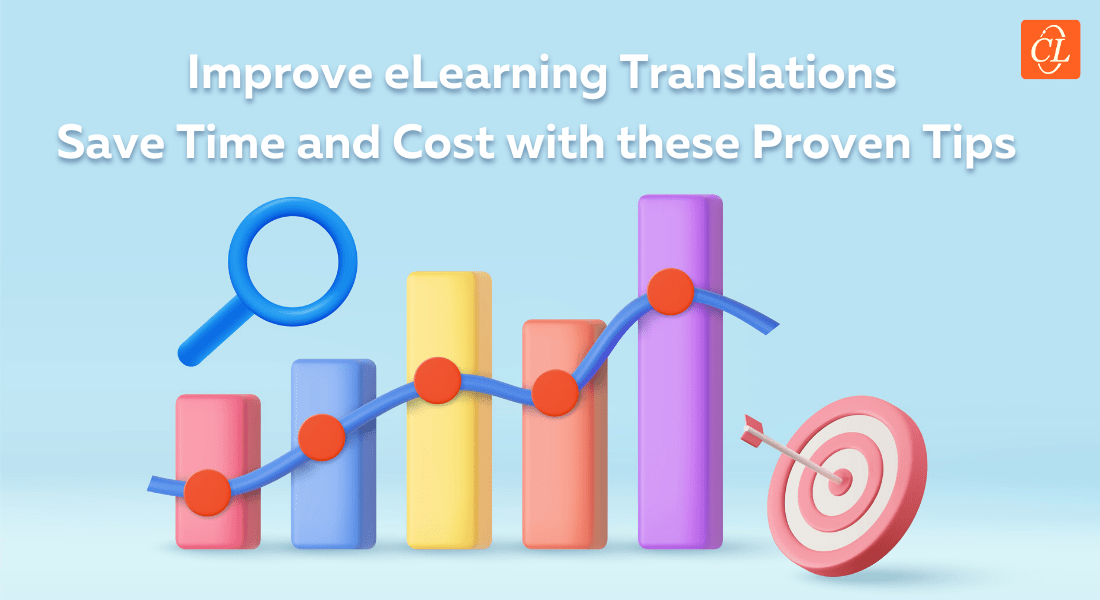 Heavy is the head that wears the crown. As businesses increase their global reach, they are readily onboarding the local workforce but are often faced with the challenge of understanding and integrating cultural aesthetics and values into their corporate training. When we take into consideration the eLearning courses, language is an important factor that influences learner engagement, productivity, and performance. With that stated, English is indeed a global language, and its importance cannot be undermined. However, expecting everyone to be proficient in English is a bit unrealistic. Therefore, to handle the multilingual needs of your multinational workforce, eLearning translation is a viable option.
eLearning Translation Can Be Effective and Enriching!
Given below are four ways to ensure that:
Create content that is culturally apt
Minimize the use of audio and videos
Make use of rapid authoring tools
Choose the right eLearning translation partner
So let's dive right into the concept of eLearning translation and then learn about ways to improve your eLearning translation and ensure superior global eLearning experiences.
The Nitty-gritty of eLearning Translation
eLearning translation refers to the process of translating an online course from its source language to the target language. It aims to ensure that the content translated is accurate and culturally acceptable. Moreover, it focuses on using the right tone, images, and other interactive multimedia, which assures learner-centric eLearning courses. eLearning translation prevents the loss of information during knowledge transfer by taking care of meaning along with the design elements. This allows you to maintain consistency among the global workforce in terms of providing eLearning content.
Furthermore, it enables you to overcome linguistic and cultural barriers to facilitate an engaging and immersive learning experience for your international workforce. This thoughtful move puts forward a culturally aware company image along with additional perks like improved employee productivity and performance.
5 Ways to Improve Your eLearning Translations
There is no doubt when we say that a person learns the best in their native language. So here are a few things to remember when you are planning to translate your eLearning courses to multiple languages. Implementing these five practices while designing and developing your eLearning courses will help you improve the effectiveness of the eLearning translations. So let's begin!
Create content that is culturally apt
Creating eLearning courses is not easy. It requires proper knowledge of adult learning strategies like self-paced learning, flexibility, value addition, etc. Imagine having to do all the hard work all over again, and that too in multiple languages. Opting for easy-to-translate content allows for hassle-free, standard eLearning courses, which ensure equal learning opportunities for all. As a global organization, you need to cater to a large and diverse learning pool but also maintain a centralized instructional design while training your employees.
So when you plan to opt for eLearning translation, it is important to ensure that the original eLearning content is translation-friendly. When we say translation-friendly, it implies that the content should avoid any cultural-specific components such as images, phrases, symbols, etc. Refrain from using any form of visual content that contains objectionable signs, gestures, and characters. You should ensure that the content is designed in a cultural-neutral manner that takes up less time in translation and yields maximum training ROI.
Minimize the use of audio and videos
Audio and video components play a proactive role in eLearning courses. However, when you want to translate the course into multiple languages, it is always better to avoid them. If it's absolutely necessary, then try to keep these elements to the minimum. Well, if you're wondering how can this be a good move? The reason is that translating eLearning courses that include too many videos and audio is time-consuming and simply adds up to the cost. This process entails translating the content, recording it, and then putting the translated visual and audio together, which requires a lot of work and, thus, can be heavy on the pocket.
With that said, to handle this problem like a pro, you can incorporate other interactive elements that can be designed by leveraging the authoring tools. This will ensure the translated content is engaging and effective.
Make use of rapid authoring tools
Rapid authoring tools have literally become the heart and soul of the eLearning industry. Whether you are running short of time to roll out eLearning courses or need interactive course content or translate the eLearning courses, rapid authoring tools are your one-stop destination. Once a time-consuming task of eLearning translation is now a matter of a few clicks with rapid authoring tools as they enable you to export the content from the eLearning course into MS Word file formats. You can share this document with the in-house translation team or the eLearning translation partner. Once the translation process is complete, you can easily import the content into the course.
Choose the right eLearning translation partner
Translating the eLearning courses in an interactive and effective way is a major responsibility, and not every organization is adept at it. Wondering why? It's difficult to have native speakers for all the languages that are spoken in various locations where your offices are situated. And it's even more difficult to have an in-house team that is equally proficient in both the native language and the language in which you are planning to translate your eLearning courses. This can heavily impact their ability to comprehend the master eLearning course and thereby influence the quality of the translated document.
So finding the right eLearning translation partner is both a necessity and a luxury as it can make or break the impact of your global workforce training ventures. Ensure that your translation vendor has an optimum level of skill, knowledge, and experience in translating the eLearning materials. Because all these factors directly impact the effectiveness and quality of the translated courses, which in turn influences your overall business results. Therefore, choose an eLearning translation vendor who understands your learning requirements, has all the required technology, and has native speakers as part of their translation team.
Parting Thoughts
With eLearning becoming a preferred mode of learning in corporate training, it is time to leverage its benefits to cater to the learning needs of the international audience. Using eLearning translation, you can translate your eLearning courses from one language to another. If not handled properly, the eLearning translation project can be time-consuming, costly, and tedious. Following the right approach for translating your eLearning material can help you in multiple ways, including increased profits, access to global talent, improved company reputation, tapping into international investment opportunities, etc.
While outsourcing your eLearning translation requirements, make sure your vendor can meet the diverse, global learning needs of your workforce. Are you still having thoughts like should you do it in-house or is eLearning translation absolutely necessary? Well, hold the horses. Here's a free eBook on FAQs to help you with making the right decision. Check it out below!