3 Key Considerations to Design Learner-Centric eLearning Courses
Are you concerned your eLearning courses are not learner-centric enough to provide the desired results? Designing learner-centric courses is not very difficult as long as you keep a few factors in mind. This blog discusses three considerations to design learner-centric eLearning courses.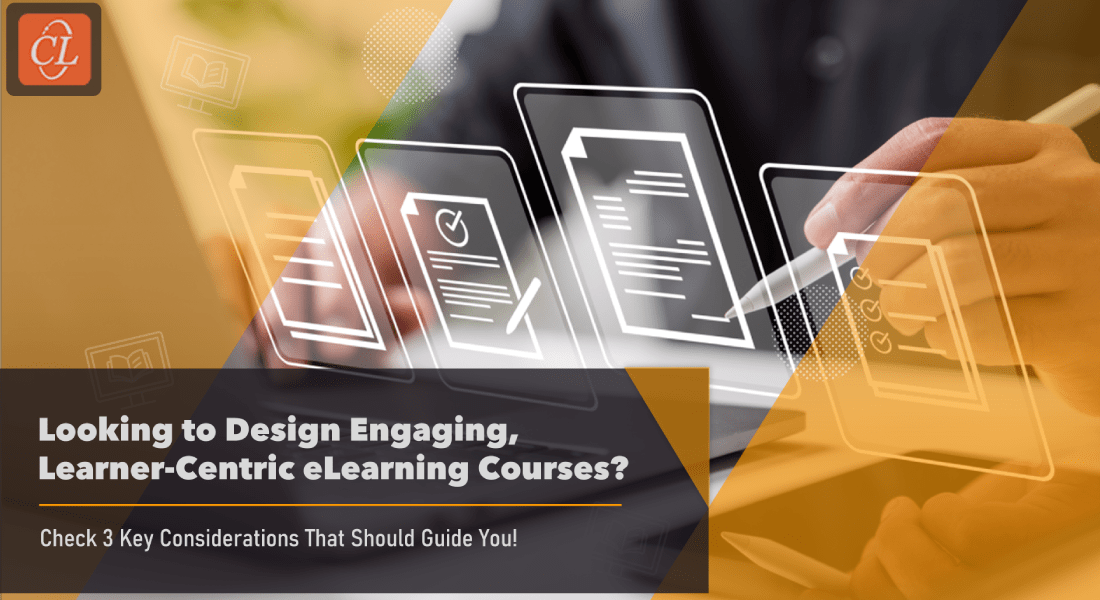 There's no doubt about it. Today's L&D space is going through a revolution due to globalization and the ever changing business scenario. Also, in the wake of the pandemic, corporate training is making a conscious shift from classrooms to eLearning to ensure continuous training. Considering its key benefits – self-paced learning, and anytime, anywhere accessibility – it's no wonder eLearning is becoming a hot favorite of training managers.
However, like everything else that's good, eLearning too, has its own challenges. Compensating for the physical trainer and offering courses that hold learners' attention throughout, require well-thought-out action plans.
Are your eLearning courses learner-centric? What are the key factors that can help you build an engaging and immersive eLearning course? Well, let's get into the brass tacks.
Key Considerations for Effective eLearning Solutions
For your eLearning solutions to be effective, they need to be all about the learner. They need to be learner-centric. There are three important factors that you can identify when you put yourself in the learners' shoes, that can help you design learner-centric eLearning solutions.
1. Course Duration
One of the primary concerns around eLearning is its duration. It has implications for the learner as well as the organization. From the learners' point of view, they want courses that are short and engaging. (We also don't want learners falling asleep during the course.) From the organization's point of view, the cost of training and the time employees spend on training away from work are crucial considerations.
Looking to Design Robust eLearning Solutions?
3 key factors to consider:
Course duration
Instructional design
Level of interactivities
So, what impacts the seat time of your eLearning course? Well, here are some factors that will help you arrive at a fair estimate:
Volume of content (the number of words): A general rule of thumb is 125 words per minute
Presentation of on-screen text: Content in the form of bullets and infographics is easy to go through and takes less time compared to reading long paragraphs
Nice-to-know content: Sometimes need-to-know content (that is on-screen) is backed by additional nice-to-know information provided in the form of links, pop-ups, and hotspots. Though it is only the 'not so important' nice-to-know content, it does eat into learners' time. However, it doesn't affect the business in terms of development costs.
Audio narration: Learners tend to read faster than the narrator in the audio. But the seat time for the page is defined by the time for narration.
Type of Activities: Interactivities that test standard knowledge recall take less time than those that aim to test learners' critical thinking abilities, say simulations or scenario-based activities.
Familiarity with the medium: Learners who are well acquainted with online learning take less time to complete the course when compared to first-time adopters to eLearning.
2. Instructional Design
Instructional design plays an important role in designing effective eLearning courses that maximize learning. In addition to following adult learning principles, instructional design also includes:
Performance-based Learning Objectives
Learning objectives tell the learners what they will be able to do at the end of the course. Well-defined performance-based learning objectives lay the foundation for the eLearning course. They form the basis of deciding the scope of the content, instructional method, assessments, course duration, and cost. Ensure your learning objectives are SMART – Specific, Measurable, Achievable, Relevant, and Time-bound.
Engaging Instructional Strategies
An instructional strategy is a high-level approach that decides how a subject is to be taught to the target audience. The choice of the instructional strategy depends on the learner, the learning environment, the subject or topic under consideration, the learning objectives, and of course, the effort and cost involved.
If you want your employees to be highly engaged, you need to follow a few basic principles. Have a look!
Identify learners' requirements and grab their attention
Provide well-defined learning objectives; offer a pre-test to assess existing knowledge
Present information in a modular structure; make content palatable and easily consumable
Offer practice exercises for reinforcement and assessments to gauge learning
Provide constructive feedback
Some creative instructional design strategies that can be implemented in your eLearning courses are:
Guided learning (by characters or avatars)
Storytelling (anecdotes, war stories)
Simulations
Learning through Exploration and Discovery (LEAD)
Scenarios
Game-based learning
eLearning Assessments
For your eLearning courses to be successful, assessments should be perfectly aligned with the learning objectives. Two types of assessments are used in eLearning – formative and summative.
Formative assessments are aimed at reinforcing learning. They usually come after every enabling objective during the course and are always accompanied by constructive feedback.
On the other hand, summative assessments are evaluative and indicate the final achievement of the learner at the end of the course in the form of scores.
3. Level of Interactivities
Interactivities are an integral part of eLearning courses that help compensate for the absence of the instructor. They capture learners' attention, making courses highly immersive and engaging. They do that by providing opportunities for learners to interact with the content and actively participate in the learning process.
There are 4 levels of interactivities based on the content and degree of learner involvement.
Zero interactivity: Linear page turner courses, with simple images and graphics, assessment questions, podcasts, video links, etc.
Limited participation: Interactive activities with video and audio, for example, clickable hotspots, drag and drop interactions, and animations.
Moderate interaction with more learner control: More customized courses including animated video, audio, scenarios, storytelling, etc.
High interaction, full control over learning environment: Learners are required to interact with the screen at each step, with feedback guiding them to the next step. Examples include games, simulations, avatars, stories, and scenarios.
To Sum Up!
For your eLearning course to be learner-centric, you need to take care of course duration, instructional design, and interactivities. Weave them into your eLearning courses and help your employees have a great learning experience and boost their performance to meet organizational objectives.
Trying to provide the best eLearning for your employees? This eBook will walk you through some important tips that will help you successfully implement eLearning in no time. Download the eBook now!