Why Does Your eLearning Need to be Localized in 2022?
To get the most out of eLearning, businesses must localize their online learning courses for their dynamic workforce. Here are 5 clear reasons to go for eLearning localization in 2022.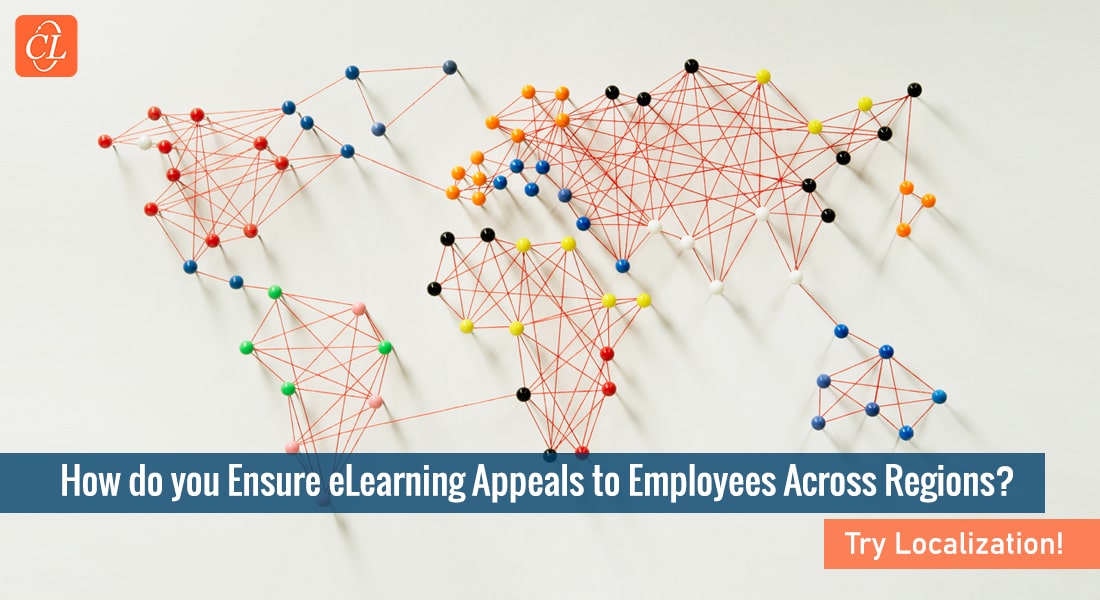 The COVID-19 pandemic has brought about a paradigm shift in corporate training over the recent past. In a post-COVID world, eLearning is still relevant because it transcends geographical boundaries and costs. Accessible training programs is one of the key characteristics of L&D (learning and development) in the 21st century. As no one writes in a universally spoken language, your content might be inaccessible to your globally diverse workforce. eLearning localization saves the day by assisting with the removal of linguistic and cultural barriers.
Why Do You Need to Localize eLearning Content?
Here are five simple reasons outlining the need for companies to localize their eLearning:
Meeting Learners' Needs
Catalyzing Market Expansion
Ensuring Consistency
Enhancing Employee Retention
Improving Workplace Security
Learning becomes potent when it is culturally relevant and comprehensible. Translation and localization of eLearning materials improves the consistency of training for globally dispersed learners. It effectively conveys your company's regulations and processes to your workers while maintaining a consistent message.
To realize the need for localizing eLearning in 2022, you need to first comprehend what goes into eLearning localization.
What is eLearning Localization?
eLearning localization is adjusting an eLearning course's content to a certain place and culture. "How is localization different from translation?", you might ask. Even though we frequently encounter the use of both phrases, they don't have the same meaning. Localization is a subset of translation.
eLearning localization is tailoring eLearning content to a specific culture and translating it into the unique languages and dialects of that culture and region. Translating eLearning content without localizing it may not make sense to the targeted region. While translating an eLearning course means converting it from one language to another, localization entails tailoring it to the target culture. This involves adjusting the:
Dates, currencies, and measuring units
Local phrases and spellings
Slang, instances, and references
Abbreviations and idioms
Fonts and colours
Images, designs, and nonverbal cues
The basic purpose of eLearning localization is to design content for better transmission and retention. It's also about producing a personal connect with your learners. If the content is localized, as it is important to employees' activities, skills and knowledge gaps, roles, and experiences, then they are more likely to internalize major insights.
5 Clear Reasons to Outsource eLearning in 2022?
1. Meeting Learners' Needs
Learning and developing new skills remain one of the most critical paths to success, and many individuals have turned to eLearning for this reason. Without access to conventional face-to-face communication platforms, many firms' now reach out to their target customers remotely. As a result, eLearning has become an indispensable tool for individuals and enterprises worldwide.
Learners are moving away from merely receiving instruction and are moving toward having an immersive, custom learning experience. According to a poll, 65% of consumers prefer to read material written in their native tongue. You can see how culture and language are interconnected. Every language has a distinct character that its specific region holds dear. Learning strategists can use translation and localization to create effective learning content that reaches into the hearts and minds of global employees.
2. Catalyzing Market Expansion
Localizing eLearning material into the languages spoken by your staff has become crucial as many businesses focus on expanding their operations worldwide. Whether you're training employees at foreign locations or helping acclimatize international distributors, localizing your eLearning material and making it culturally appropriate is critical to the eLearning design and development process.
Employees can communicate easily by using culturally sensitive symbols, local idioms, phrases, pictures, colours, dates, key parameters, all thanks to eLearning localization. It mitigates potential risks when conducting operations overseas.
Employees can learn in their own language and culture while holding on to fundamental principles. eLearning localization is a scalable and seamless learning strategy that is essential for worldwide expansion. It promotes your organization's credibility as a caring firm with a better brand value throughout your global operation centres.
3. Ensuring Consistency
Companies that begin localizing eLearning as soon as possible expand quicker. Companies that want to train on a specific process, policy, operational procedure, code of ethics, compliance program, or local legislation need to implement eLearning translation and localization. This way, they can express shared goals, values, and culture related to their standard operating procedures and ensure consistent training for their geographically dispersed employees.
Translation and localization of multiple languages not only improves comprehension, but it also strengthens localization strategies and helps clarify expectations amidst diverse ethnicities and regions.
4. Enhancing Employee Retention
As employees connect to knowledge on a cultural level, localization creates successful training. A misinterpreted phrase, for example, can dilute your message, whereas localized idioms can help your learners achieve better comprehension. It also allows your learners to remember the content, helping them improve their learning outcomes and ultimately their proficiency at work.
If you don't localize training, your employees can get side-tracked and lose interest. In such instances, there is a disconnect with the training program. Many employees do not speak in English or consider it their first language, and this results in cultural and business misconceptions. However, a company can move ahead by translating and customizing their eLearning content, because this allows all of its employees, regardless of region, to achieve improved comprehension, retention, and better learning outcomes.
5. Improving Workplace Security
To increase workplace safety, organization's need to ensure accurate training. Researchers have confirmed that language issues have a negative impact on safety.
According to the Occupational Safety and Health Administration (OSHA), 25% of occupational accidents are caused by language difficulties in the United States. Research has also shown that language problems are a prominent cause of job injuries amongst immigrants in Canada. Localized safety and operation training content can, in the long run, reduce accidents while also increasing key metrics, like productivity and engagement.
Parting Thoughts!
It's essential to keep your global learners in mind when developing eLearning. Maintaining a broad point of view and allowing for seamless translation procedures is vital to the eLearning design and development process. Localizing your online learning content helps you provide high-quality training to your global workforce.
While this blog focuses on eLearning localization, are there any present or upcoming eLearning trends that you think will continue to grow in the future? To learn more about the growing significance of eLearning, download our eBook titled-eLearning Trends 2022. If you're a training manager or part of the L&D community, you won't want to miss out on what's trending in the corporate training dimension in 2022!