6 Lessons from Marketing Applied to eLearning Design
Most people think marketing is limited to product and brand promotion, but nothing could be further from the truth. Here are six lessons from marketing applied to eLearning design.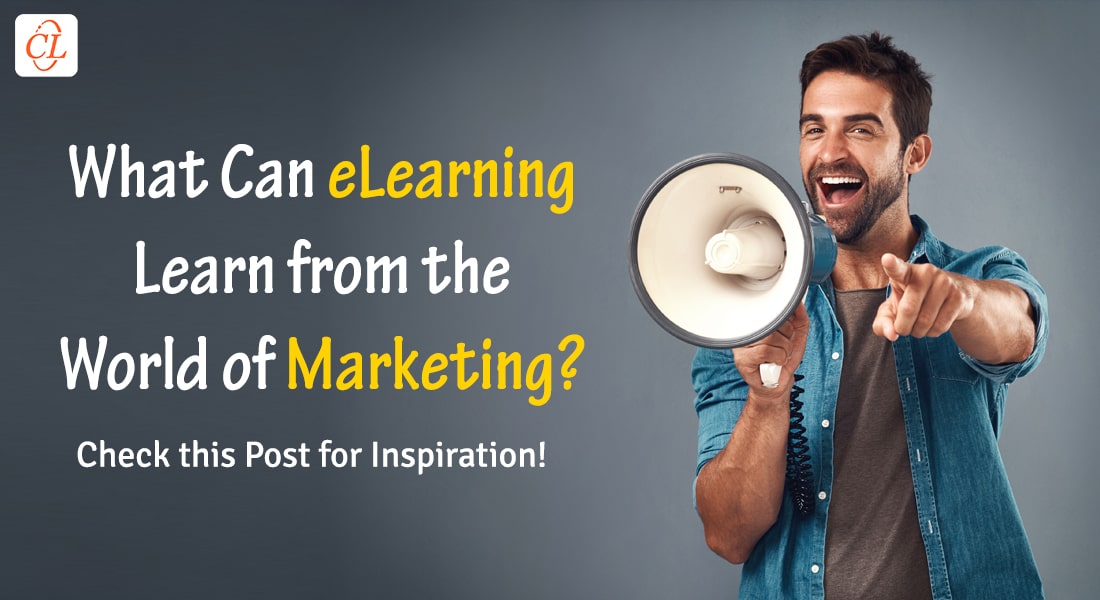 It's no secret that eLearning course developers are often curious about how well their work is received and how well they perform. Was the course able to close the prespecified skills gap? Did it help the sales team enhance customer satisfaction and create solutions for their clients? Did it help your IT team avoid costly errors in compliance and data security?
Unfortunately, whether you're an internal trainer or an eLearning vendor, it's challenging to follow the journey of your corporate training projects from implementation to outcomes . However, you can anticipate the performance of your courses by obtaining insights from your marketing department.
Can eLearning course developers learn anything from marketers?
Yes! They can!
6 Things eLearning Course Developers Can Learn from Marketers
Determining training goals and objectives
Learning about the target audience
Choosing the eLearning format
Using catchy titles
Measuring performance and results
Promoting eLearning courses
You can create consistency and brevity in the training content that you produce, by learning from marketing strategies, campaigns, buyer personas, and user engagement tactics. Marketers specialize in market research, communication, and consumer psychology; thus, they can help you market your training in the same way that they sell their products and services to their customers.
In this blog, we'll share 6 lessons from marketing as applied to eLearning design. Keep reading to learn more about how you can apply these lessons to your corporate training strategies.
6 Things eLearning Course Developers Can Learn From Marketers
Here are six valuable lessons eLearning vendors or internal trainers can learn from marketing teams:
1. Determine Your Training Goals and Objectives
When creating a marketing strategy or campaign, the first thing marketers do is clearly define their objectives. eLearning designers need to understand their strategic intentions and answer questions, such as:
Why are we designing this course?
What skills will the employees learn and master?
How will this course improve customer satisfaction?
How will this course generate more revenue?
You can create a mission statement to get an idea of what you intend to do or achieve from your eLearning course. For example, your mission statement can sound something like this, "We aim to provide our customer support staff with interactive microlearning modules to help improve query management and customer retention."
2. Learn About Your Target Audience
Customer segmentation is one of the most important processes in marketing used to create different buyer personas. Marketers group their target audiences based on several geographic, demographic, and psychographic factors, such as age, gender, family life cycle, race, religion, social class, and lifestyle, just to name a few.
Not paying attention to this component can lead to failed campaigns with little or no client leads and minimal ROI (Return On Investment). The same applies to eLearning design. It would be best to segment your learners using the factors such as education, personality, age, workplace habits, and interests.
eLearning courses should be designed in such a manner that your learners can relate to the content. At the same time the courses should benefit your organization as they should be designed with a focus on the learners, their learning preferences and the learning environment.
3. Choose Your eLearning Format
Once marketers have listed their objectives, strategic intentions, and buyer personas, they then pick the best format to deliver their promotional content according to their budget as well as their audience's preferred media formats.
For instance, if they want to promote a pre-workout session targeting 18 to 30-year-old men with a keen interest in bodybuilding and fitness, they may want to promote their session on Instagram stories or vis-a-vis blog posts on a fitness site. The same logic applies to employees whom you're looking to train based on their buyer personas.
To determine which format would best serve your audience, consider their choice of devices (Android/iOS) and their preferred learning time. Learning media range all the way from interactive microlearning videos to podcasts and can include the following:
Infographics
Interactive PDFs
Simulations
Videos
SlideShares
4. Use Catchy Titles
Marketers need to create a memorable title when writing blog posts or creating taglines and product descriptions for ad campaigns so that they can grab their viewers' attention and persuade them to click on their content. You can incorporate the same principle to influence your learners by using catchy titles for your microlearning modules.
A case in point, let's say that you're designing a module for Cybersecurity Awareness. You may use the title "Module 1: Introduction to Cybersecurity". This title should make you want to take a hard pass. Now let's turn things around. Let's say you change this course's name to "Cybersecurity 101: Understanding the Basics of Online Security" or "How Much Do You Know About Cybersecurity?".
Whatever you call your eLearning course the name you create should be intriguing and it should entice your learners so that they end up choosing your course over others.
5. Measure Performance and Results
Another essential role of a marketer is to measure their campaigns' performance and impact using key performance indicators or metrics to prove their courses' ROI. Popular KPIs include conversions, sign-ups, click-through rates, and impressions, which marketers use to identify gaps in their campaigns' performance and adjust the same accordingly.
Similarly, eLearning vendors and training managers can measure the effectiveness of their corporate training programs by identifying knowledge gaps in their courses. However, here, instead of click-through rates and impressions, you'd be working with KPIs, such as Tin Can and SCORM, drop-off points, module scores, and completion time. You can then analyze this data and use it to update and improve your eLearning courses for better learning outcomes.
Alternatively, you can get actionable insights into improving your courses by creating and analyzing employee feedback forms. Marketers use surveys, questionnaires, and other engaging formats to lure their customers into sharing impressions of the products and services on offer. You can do the same for your eLearning courses by obtaining feedback on the quality of your eLearning solution's user interface in order to better the design of your courses in the future.
6. Promote Your eLearning Course
Marketers don't just post ads, articles, and other promotional content online and hope for the best. They have a strategy to help spur their audience toward their content by creating awareness and curiosity through incentivized call-to-actions. For example, many marketers use short teaser posts on Facebook and Instagram to build suspense and hype before launching a product.
eLearning course developers can use the example above to create an attractive campaign for launching training sessions in their organizations. By creating hype around the pre-release , they can mentally prepare employees for upcoming training sessions as well as gain their learners' buy-in. eLearning courses can be promoted through appealing trailer videos, and visually striking posters that effectively captivate learners. Here are a few more ways to promote your eLearning courses.
Use Infographics
That include graphics and texts to communicate with your target audience.
Offer incentives and rewards
To create interest and encourage competition amongst your learners.
Use Trailor Videos
To grab your learners' attention. Create videos that emphasize what your eLearning course will entail and what learners can achieve by completing the course.
Parting Thoughts
So, there you have it – these are the 6 things eLearning course developers and internal trainers can learn from marketers. By taking into account these lessons from marketers, you can revolutionize your learning and development strategies. This information will help you create an excellent sales pitch for your corporate training initiatives.
Remember, your employees are consumers who skim through marketing content every day. Therefore, applying a well-researched marketing plan that educates your learners about upskilling opportunities will create a sense of excitement and trust. So, what are you waiting for? Put on your marketing hat and start designing the campaign for your next eLearning course. Find out more about eLearning instructional design by checking out this amazing webinar on: "Instructional Design Strategies For Sticky Learning." Download now!