Top 5 eLearning Translation Best Practices That Guarantee Success
eLearning is more impactful when it is delivered in the learners' native language and that explains the popularity of eLearning Translations. Want to succeed in your translation? Read on for the best practices.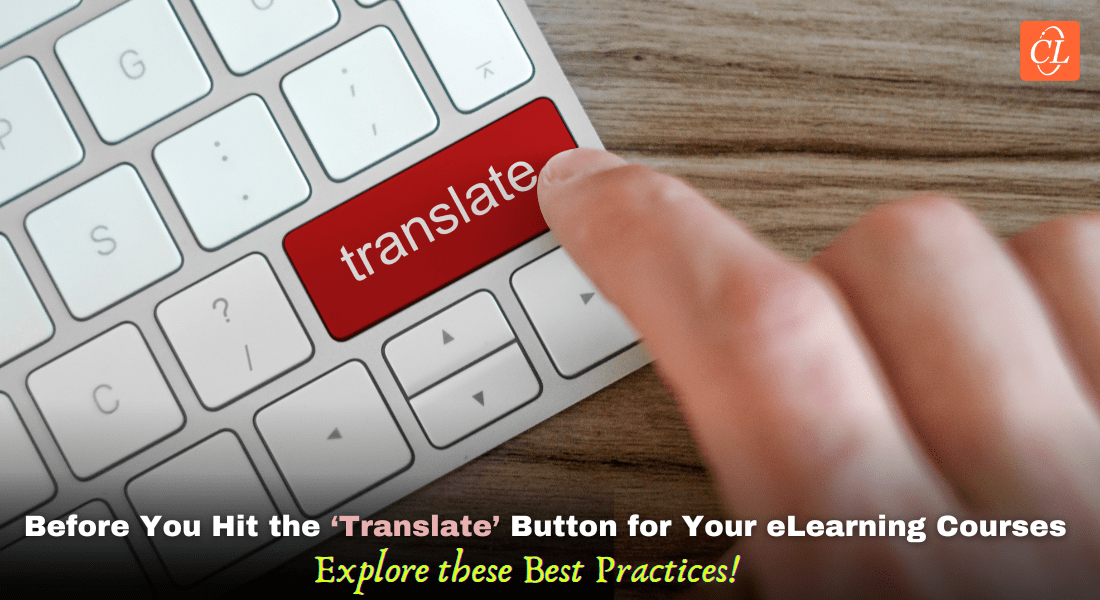 eLearning translation is one of the fastest-growing trends in the industry. This is because of the high demand for the localization of global eLearning modules. Owing to this, there is an increase in the number of companies investing in it. By doing so, global organizations are attempting to attract and keep employees interested in the training. As the numbers grow, eLearning translation will soon become unavoidable for businesses. So, if you are planning to excel in your eLearning initiatives, you will have to adopt translation practices as soon as possible.
Want to Succeed in Your eLearning Translation Initiatives?
Follow these best practices –
1. Develop an Understanding of Your End Users
2. Design Your eLearning Course for International Employees
3. Do Not Miss the Context during the Translation
4. Pay Attention to All Modes of Translation
5. Reassure Yourself before Sending the Course Livẻ
However, it can be a rather tough journey if you don't know the important dos and don'ts of eLearning translation. So, here we are with a well-curated list of best practices for eLearning translation. Knowing these best practices will help you in getting things done the right way without getting into the hit-and-trial method.
Top 5 eLearning Translation Best Practices
1. Develop an Understanding of Your End Users
Here you might think that you have already taken care of your target audience while developing the course module. But, do not rest at that! It is important for you to understand that the target audience for your original eLearning training module is different from the ones taking your translated module.
With the translated module, you are trying to reach out to employees from different countries, different cultural bases, and the ones who speak different languages. So, while getting your eLearning module translated, you must try and develop an understanding of your target audience i.e. the target audience who will be consuming the translated module. Based on this, you will have to make some tweaks to your content and delivery strategy. Not doing so will result in failed translation efforts.
Remember – There is no point in getting your eLearning module translated if that is not made to suit the need of people who would be consuming them.
2. Design Your eLearning Course for International Employees
An understanding of your global employees a.k.a the target audience for the eLearning course – you will realize that there is no need for you to develop multiple courses at a time; you simply need to build one versatile course design. A versatile course design refers to a design that can be easily tweaked to serve the needs of an audience settled in different global regions and using different languages.
Seeing this from a technical point of view, your course design should allow different text lengths to support different writing styles of different languages and it should also support different units of measurement, currency, time, and date.
Another thing that needs to be taken care of while developing a training module for your global employees is the use of examples. Make sure that the examples you use are relevant and can be understood easily by global employees. You might like to omit any reference to local culture and beliefs from your examples. In addition to taking care of your textual content, you should also pay attention to your pictorial and graphical content. No pictures should offend or feel insulting to any ethnicity or race all around the globe.
Keep in mind that developing the course by keeping global preferences in mind will save lots of effort during the translation of the module.
3. Do Not Miss the Context during the Translation
A literal translation may sometimes ruin the entire concept of the eLearning module. Whenever you hire a translator for getting your eLearning module translated into another language make sure that the translator understands the context and the essence of the course. You will need to provide a decent number of resources and effort to make sure that the translator understands the context well.
If a translator does not understand the context, they may do a literal translation from language A to B. Every language in the world has a different grammar and hence literal translation can ruin the entire course. While you may still have the option of correction afterward, you will have to understand that it will require you to spend double the efforts. Additionally, there might be very little you could do as the context is already ruined. So, be sure that the context of the module and concept is not ruined in the course of translation.
4. Pay Attention to All Modes of Translation
Just getting your textual content translated is not enough. Different formats like graphics, audio, and video are an important part of your eLearning module. So, each of these formats needs equal attention during translation.
Let us take audio and video formats for example; it won't be enough to get the spoken words translated. You will need to hire a voice-over artist who knows and speaks the said language into which the course is being translated. An accent is an important part of vocal language. So, you need to make sure that the voice-over matches your localization needs. A poor accent or voice without the touch of localization can ruin all your efforts in developing and translating the online training module.
5. Reassure Yourself before Sending the Course Live
Launching a translated eLearning training module requires more attention than launching an originally developed training module. Always test your translated course with the local teams to ensure that your translation and localization efforts do not get awry.
Translated material is always tough to understand and is more prone to errors so it is mandatory to be double-sure before taking the course to live for your target audience. You need a course that feels original to each of your target audiences.
Summing Up
Each of your employees, regardless of their place of residence and language, deserves to get the best eLearning materials. You can ensure this by following the best translation practices for the eLearning course we discussed above. This will be helpful in maintaining your brand consistency and clearing off any gaps between your international employees.
Do you have more questions about eLearning translation? This eBook will help resolve all your doubts.