Amazing eHacks to Jumpstart Your eLearning [eBook]
Unleash the power of eLearning and deliver perfect learning to your employees. We have compiled 32 impactful eHacks for you to kickstart your eLearning. This blog will give you a sneak peek into our eBook.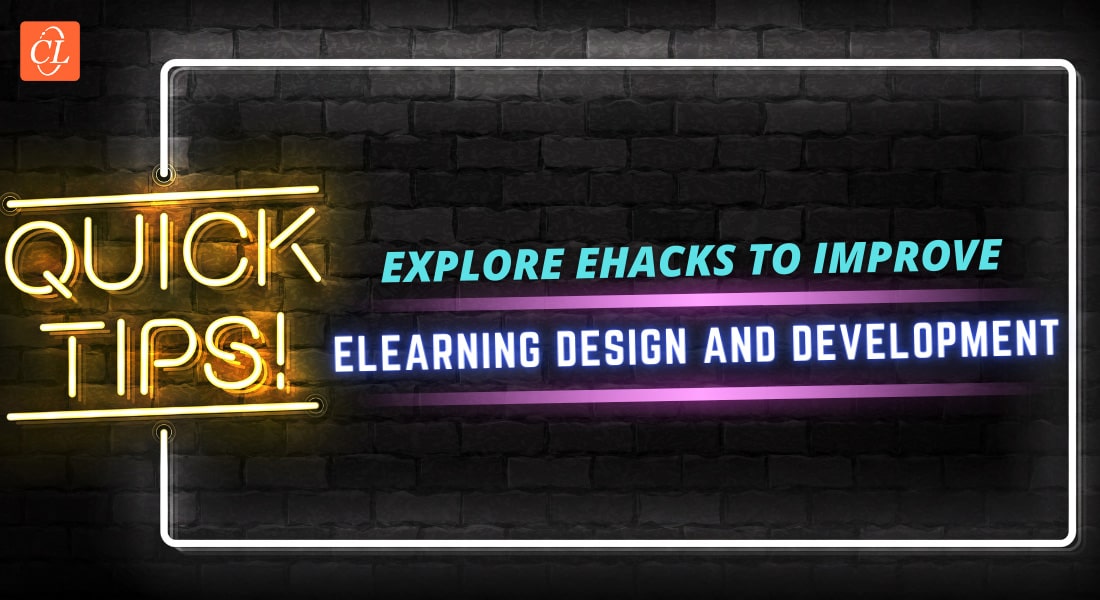 Are you planning to kickstart your eLearning journey? Let us be a part of it. We have some amazing tips for you that will help you throughout your eLearning Journey. Well, we all love a detailed and comprehensive read however, sometimes putting all your effort and time going through lengthy and vast information becomes a task. What comes to the rescue is a short compilation of hacks that can be put to immediate use.
Ultimately the goal is to provide the best eLearning and get desired learning output. What will help you, is receiving short incredible tips that you can use instantly to get maximum ROI, effective learning goals, enhanced engagement, and all the other elements for a better learning experience. Where will you get these eHacks? Well, you are at the right place.
Hack Your Way to eLearning Success!
Incredible eHacks to Jumpstart Your eLearning
Align Training to Business Goals
Ensure the 5 Essential Elements of Good Learning are Always Present in eLearning Courses
Set Learning Objectives that Include Performance, Conditions, and Criteria
Convert Your Classroom Content to eLearning Courses
Use Microlearning Assets for a Successful Learning Journey
And Many More…
We have compiled 32 amazing eHacks to jumpstart your eLearning. An eBook that will lead you to your digital learning success. This little gem contains everything a training manager requires to kickstart the eLearning journey. In this blog, I have discussed in brief a few eHacks to give you a sneak peek into the eBook.
A Few Incredible eHacks
1. Align Training to Business Goals
It all starts with aligning your training goals with business goals. Training is a vital input to the business's success. Learning helps to achieve business goals by training employees and enhancing their performance, knowledge, and skills. A well-trained and motivated employee will help you achieve your business goals. Here is a hack, align individual goals with the learning goals and learning goals to your business goals, and you are set for success.
2. Ensure the 5 Essential Elements of Good Learning are Always Present in eLearning Courses
Many ingredients go into the perfect recipe for eLearning. However, there are 5 important elements that cannot be missed. These elements will ensure effective learning and high-quality eLearning courses.
The 5 essential elements of good learning are:
Motivation: Motivation is a strong drive within learners to learn and perform better. Motivation is a strong and effective factor that leads to effective learning.
Stimulus:

Stimulus in eLearning is the learning content to make learners learn. The quality of learning content is a major element in deciding the effectiveness of learning.

Response:

An effective stimulus intrigues the response from the learners. The learner's response can be used to analyze the effectiveness of learning.

Practice and Reinforcement:

Practicing helps the learners to retain information better, Q&As, quizzes, etc. are useful elements that can be used to practice the content already covered during the course. Reinforcement through feedback again is an important element. So, make room for constructive feedback in your eLearning courses.

Reward:

Rewards are a great way to motivate learners and ensure continuous learning. Ensure you include elements like badges, levels, and leaderboards in your eLearning courses to instill competition among learners and facilitate active participation.
Make sure to include these 5 essential elements of learning and get the desired learning results.
3. Set Learning Objectives that Include Performance, Conditions, and Criteria
Learning objectives are outcomes an organization wishes to achieve through the learning process. Learning objectives can include a set of skills, knowledge of a particular domain, change in behavior, etc. Setting a learning objective is the primary task before starting the learning journey. What is it you want out of this course? Once you know the answer, you know your learning objective. However, there are a few things a learning objective should not lack.
Hence, you need to ensure that your learning objective includes these 3 components:
Performance: It is important to describe what the learner is expected to do after learning.
Condition: Condition is the environment or a situation where performance is expected to occur (Indoor, outdoor, etc.).
Criteria: It is the level of competence to be achieved or surpassed to succeed.
4. Convert You Classroom Content to eLearning Courses
Now that you are starting your eLearning you can make good use of the available classroom content. This classroom material can be quickly and easily converted to eLearning and saves you from the hassle of creating the content from the scratch. You can either do it in-house by hiring learning experts and multimedia developers who can convert the classroom material to eLearning based on sound learning principles. Or you can also outsource the task to experts. Once you have made these important decisions, you are all set with content for eLearning courses.
5. Use Microlearning Assets for a successful Learning Journey
Make use of microlearning assets that can be designed in a variety of interesting formats to make learning a journey instead of an event. Some examples of microlearning assets include animations, infographics, videos, games, eBooks, mobile apps, quizzes, and other interactive resources.
Well, these are only a few of the many eHacks we have compiled for you. This eBook also includes other incredible eHacks that will lead you to the path of digital success. Here are a few more tips we have for you.
Set the duration of the course right. Lengthy courses can be broken down into microlearning modules.
Blend different formats of learning to beat the "forgetting curve"
Follow an agile project management process while developing eLearning
Add gamified elements in your eLearning courses to engage modern learners.
And many more…
It's a Wrap!
Are you all set to embark on the journey of successful eLearning? This eBook will work as a trusted guide when it comes to starting your eLearning journey as many experienced learning and development professionals have compiled some of the most important tips to implement eLearning effectively. So, hurry and grab your copy now to get ideas, tools, and techniques and pave your way to digital learning success.