4 Rapid eLearning Authoring Tools: Comparison and Review
Which eLearning authoring tool is best for your needs? Here's a comparison of 4 popular authoring tools to help you decide!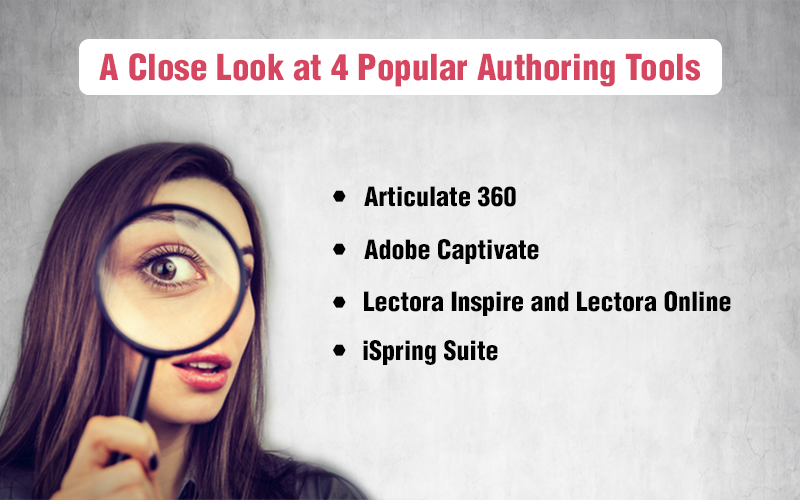 Do you want to get an existing PowerPoint presentation online? Do you need to create simulation-based online courses for software training? Do you have to rollout eLearning courses in 10 different languages? Do you want your learners to access courses on their mobile devices? Do you want to salvage your Flash-based eLearning courses? Fret not! Here are rapid eLearning authoring tools – a solution to every eLearning course requirement!
Rapid eLearning Authoring Tools: A Review
Top 4 authoring tools
Articulate 360: Storyline 360 and Rise 360
Adobe Captivate
Trivantis: Lectora Inspire and Lectora Online

iSpring Suite
Authoring tools are software packages used to create eLearning courses. While there are many authoring tools in the market, you have to go with one that suits your requirements. But, how would you know which rapid eLearning authoring tool offers functionalities consistent with your requirements?
In this blog, we will take a closer look at 4 of the most popular eLearning authoring tools that will help you pick the one that suits your specific requirements.
A Comparison of 4 Popular eLearning Authoring Tools
1. Articulate 360
Articulate 360 is a package of nine tools, two of which are designed specifically for eLearning course authoring – Storyline 360 and Rise 360.
Rise 360
Rise allows the development of fully-responsive eLearning courses in the web browser. No software downloads and no learning curve. The app offers different types of blocks (similar to templates)—text, statement, image, video, list, quote, interactive, chart—that can be customized to create unique courses. These customized blocks can also be shared with the team for reuse.
Moreover, developers in a team can collaborate to finish courses faster. Team members can create and edit different courses simultaneously or take turns to fine-tune the same. Since changes are made in real-time, everyone in the team is going to work with the most recent version of the course.
Best Suited for: Some of the situations where Rise fits perfectly are:
Digitizing text-based courses to digital learning assets
Developing fully-responsive eLearning courses with moderate interactivities
Rolling out courses quickly (within days)
Storyline 360
The most powerful standalone authoring tool by Articulate, Storyline 360 is packed with features to create interactive and highly customized eLearning courses. Most interactivities are created using Triggers, which make on-screen objects respond on click or roll over.
Storyline is a desktop-based tool that leverages a PowerPoint look-and-feel. Though it has a modest learning curve, it won't be a tough job for developers who know their way around PowerPoint. Moreover, the tool offers a content library that has more than 5 million royalty-free photographs, icons, characters, and videos. This helps in speeding work by reducing efforts otherwise spent on creating these elements from scratch. Storyline also helps create mobile-first courses.
Best Suited for: Storyline 360 should be picked when you need:
Highly-customized eLearning courses
Rapid development of digital learning assets
Rapid Flash to HTML5 conversions of customized courses
2. Adobe Captivate
Captivate is one of the most feature-rich authoring tools, more so due to its compatibility other Adobe tools.
One of the standout features of Captivate is its ability to create Virtual Reality-based courses. Captivate is also known for its support for creating interactive videos and high-quality HD videos by recording through a webcam and on-screen content simultaneously. To ensure engagement, interactivities such as information slides or knowledge check questions can be added. Captivate also offers a range of interactivities – puzzles, games, drag-and-drop, and more to make learning fun.
Captivate is usually preferred for creating software simulations. So if you have software training requirements, Captivate is the authoring tool to go for! It offers slide settings, triggers, and effects to make simulations realistic and present them in different modes such as watch, try, and do.
Unlike Storyline, Captivate has a steep learning curve. So, it might not be a good choice if you want technical simulation-based courses and your in-house developers are new to the tool. However, you can outsource the task to an expert eLearning vendor for effective courses and better turnaround.
Best Suited for: Captivate is a good choice when you need:
Simulation-based software training courses
Responsive eLearning courses
Interactive video-based courses
Section 508 compliant eLearning courses
3. Trivantis Lectora Inspire and Lectora Online
Lectora is an old player in the authoring tools market. While the desktop authoring tool—Lectora Inspire—has been around for a long time, the cloud-based HTML5 version of the tool called Lectora Online is pretty new and offers great flexibility in terms of collaborative authoring.
Lectora Inspire is designed to address different learning requirements, from making basic eLearning courses to highly interactive ones. Lectora Inspire stands out from the rest by offering external services as part of its package such as templates from eLearning Brothers, avatars, and an interaction builder.
The 'Responsive Course Design' feature allows creating courses in the desktop view. The tool then automatically rescales on-screen objects for the mobile view. You can even customize each view to fit your requirements.
The cloud-based version of Lectora offers options to review courses and share comments. This speeds up the feedback process and keeps comments from multiple stakeholders at one place. The tool can also be integrated with Snagit and Camtasia. That means making screen recordings, voiceovers and image editing is a little bit simpler.
Best Suited for: Choose Lectora Inspire when you want:
Fully-responsive eLearning courses
Scenario-based eLearning courses
Legacy course conversion to HTML5
Single interface for courses in multiple languages
Digitized text-heavy training courses
4. iSpring Suite
iSpring suite is focused on making rapid eLearning content development easy and quick. A major advantage of iSpring Suite is that it's a PowerPoint add-in, making for a familiar interface that is easy to use.
iSpring Suite gives a modern spin to the user interface by offering special tabs for various training types. For instance, there is a video and audio editor for creating video-based courses and screencasts, Quiz Maker for assessments, and a tool for making dialog simulations with branching. Now, creating interactions is easier with a host of pre-built templates for developing catalogs, glossaries, FAQs and references.
This allows you to focus on course development and avoid manual configuration of complex interactive elements and coding variables. To make the process even faster, you can utilize the Content Library that is full of high-quality, images, location backgrounds, characters, controls and icons.
Moreover, iSpring Suite is fully responsive, offering automatic adaptation of eLearning courses on different mobile devices. You don't need to create different versions of courses desktop, tablets, and smartphones.
Best suited for: iSpring Suite is a good choice when you need:
Rapid development of eLearning courses from PPT
Rapid digitization of existing manuals, instruction guides, handouts, PDFs
Dialog simulation-based eLearning courses
Quick conversion of legacy assets to HTML5
A Comparison of Popular Authoring Tools
To reiterate, here's a quick comparison chart of the authoring tools we've covered.
| | | | | |
| --- | --- | --- | --- | --- |
| Features | Storyline 360 | Adobe Captivate | Lectora Inspire | iSpring Suite |
| Ease of use | 5 | 4 | 4 | 4 |
| In-built Assets | 5 | 3 | 4 | 4 |
| Responsiveness | 3 | 5 | 4 | 3 |
| Publish to Multiple Formats | 4.5 | 5 | 4 | 4 |
| Interactions | 5 | 4 | 4 | 3 |
| Simulations | 4.5 | 5 | 4 | 3 |
| Online Review | 5 | – | 5 | – |
| Translations | 5 | 4 | 5 | 4 |
Wrapping It Up!
All these authoring tools have their own strengths and weaknesses, but you have to evaluate and pick the one that makes eLearning course development a breeze!
Moreover, authoring tools play a crucial part in future-proofing your online training. So, if you need Flash to HTML5 conversion, ensure you consider your existing training content and future requirements before choosing an authoring tool.
To make things easy, you can refer our free eBook on Flash to HTML5 eLearning Conversion. Apart from authoring tools for Flash to HTML5 conversions, the eBook also offers an introduction to HTML5, 4 conversion strategies, tips to select a vendor and so much more!