Does Rapid eLearning Really Dilute the Learning Experience?
Ever since the entry of rapid eLearning into corporate training, there have been lots of arguments for and against it. Is rapid eLearning about using authoring tools for quick course development? Or sub-standard courses that dilute the learning experience? Let's find out.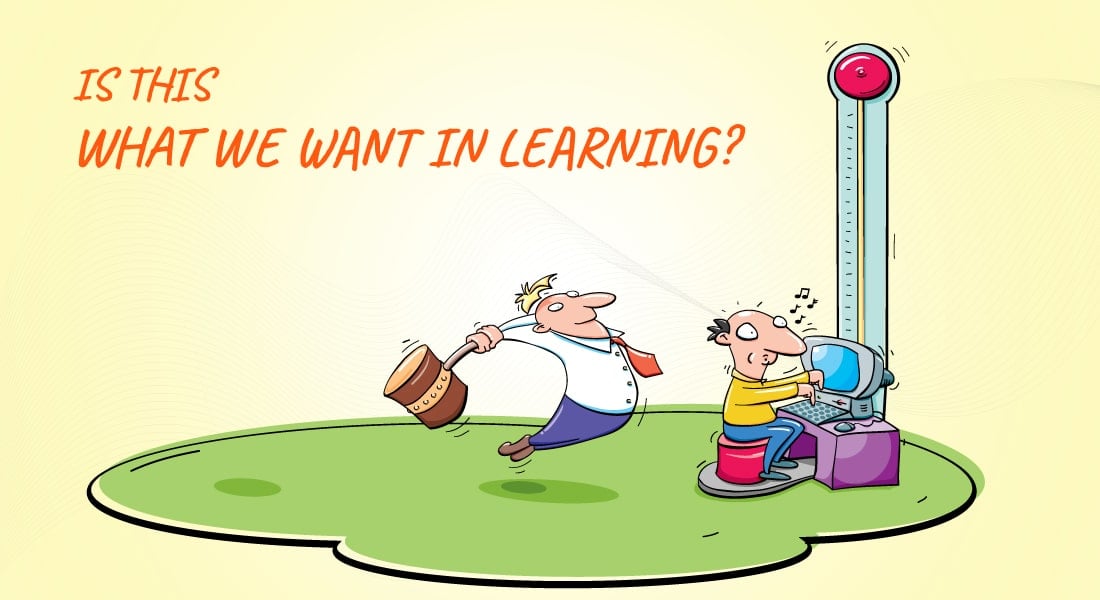 "Rapid eLearning doesn't meet learning objectives!"
"Rapid eLearning produces mind-numbingly boring courses!"
"Rapid learning is all about speed, not quality!"
Do these statements sound familiar? I'm sure they do, because this is what we keep seeing in some blogs and online discussion forums.
What is the Real Rapid eLearning?
A lot of people labor under the mistaken impression that rapid eLearning has no design; that it is just dumping content into rapid authoring tools; that courses developed through rapid eLearning look just like any garden variety PowerPoint presentation.
Many industry experts also opine that rapid eLearning results in poor quality eLearning that does not meet the learning objectives. That's because rapid eLearning, according to them, skips the essential steps of instructional design. And therefore, dilutes the entire learning experience.
But do these statements echo the truth? Or is reality something else?
So, let's first define what we mean by the term 'dilute'!
According to the Merriam-Webster dictionary, 'dilute' means "to diminish the strength, flavor, or brilliance of (something) by or as if by admixture".
Does rapid eLearning diminish the strength of learning?
Understanding Rapid eLearning
Rapid eLearning actually brings a lot of focus to learning by eliminating all the ornamental fluff so commonly seen in conventional eLearning courses. It uses existing training content (classroom training material, manuals, videos, legacy courses, etc.) to create crisp and concise courses that are intent on addressing the set learning objectives, with more focus on the 'need-to-know' vs. the 'nice-to-know' content.
So, where does the question of 'diluting' come? If you ask me, traditional eLearning courses that are peppered with a lot of bells and whistles are the ones that dilute learning. Because those extra trappings do not add anything to learning and in fact, help distract the learner!
"Training should not give the employee what he wants;
it should give him what he needs!"
Your employees might be more interested in eLearning courses that come with a lot of these extras. They might want to be entertained, not educated! But do such courses serve the purpose of the organization? The truth is, every organization wants to train their employees and improve their performance in the most efficient way, in the least possible time, with the least possible cost.
And that is what rapid eLearning does!
Why Rapid eLearning?
Folks who have not experienced the benefits of rapid eLearning don't know that rapid eLearning is built on the bedrock of instructional design and the principles of adult learning. It uses:
Learning objectives to inform learners what's in it for them. These objectives link the training with performance and ultimately, the desired business goals.
Free navigation to enable self-directed learning
New-age learning strategies to provide memorable learning experiences
About Rapid eLearning
Rapid eLearning:
Takes less time and cost to develop
Leverages the power of authoring tools
Engages learners through new-age learning strategies such as game-based learning, storytelling, and more.
So, it's not just about dumping content into authoring tools!
And that's why rapid eLearning has become such a boon for training managers, always struggling with tight deadlines and budget cuts.
Rapid eLearning and Creativity
Traditional eLearning has a very long development cycle, and highly customized media elements, templates, and interactions. So, is customization not possible in rapid eLearning? For all those who think rapid eLearning can only create simple page-turner eLearning courses, let me tell you that many rapid authoring tools like Lectora, Articulate, and Captivate have inbuilt instructionally rich templates that help create pages with rich text and media and help in building assessments quickly.
So, rapid eLearning does not produce mind-numbingly boring eLearning courses. Because it is possible to add a variety of interactivities with rapid authoring tools – slideshows, roll overs, click on numbers/images, hotspots, media tours, watch try do simulations, scenarios, and case studies, to name just a few.
Rapid authoring tools:
Enable delivery of courses across different platforms and mobile devices for learners to access easily on any mobile device, with any operating system.
Allow easy updates when there is a need to change some elements of the eLearning course.
Enable scaling up eLearning development from a few to hundreds of courses with the help of standardization and reuse of templates.
Offer an array of pre-built themes, templates, and interfaces that can be tweaked to suit your corporate branding and saved in an eLibrary.
Simplify and speed up eLearning translations with options to export course content as XML files.
Offer the option for online reviews where reviewers can view each other's comments and provide unified feedback that can be implemented by the design team.
Final Thoughts
Rapid eLearning enables you to say goodbye to stretching timelines, straining budgets, and inefficient development processes. And all this without compromising on learner engagement! It doesn't dilute the learning, and in fact brings a lot of focus into the learning by eliminating extraneous elements that don't add anything to learning.