Hi Training Manager, Have You Tried Rapid eLearning Yet?
Accomplish more with less – this is what rapid eLearning is here to say and prove. Let's look at why you can't ignore rapid eLearning for your organization.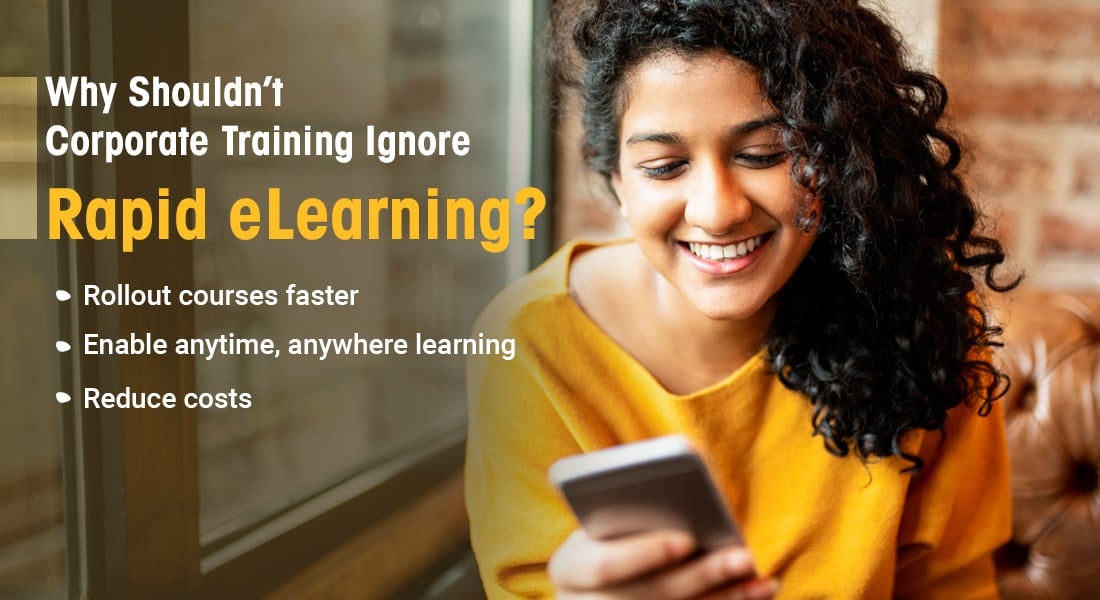 Accomplish more with less – this is what rapid eLearning is here to say and prove. Rapid eLearning allows you to use your resources effectively. This way, you can quickly and cost effectively produce eLearning courses. For someone who is highly stressed for time and wants to effectively balance timelines and budget, rapid eLearning supported by rapid authoring tools is the answer.
Rapid eLearning is developing eLearning courses quickly, leveraging the benefits of authoring tools. And contrary to popular misconceptions, it doesn't compromise on course quality. Rapid eLearning follows the basics of instructional design, while eliminating the fancy frills.
What Does Rapid eLearning Offer?
Faster development of courses
Lower costs
Ease of use
Here's an overview of the key advantages.
3 Undeniable Benefits of Rapid eLearning
1. Improved Course Development Speed
Courses are faster to produce and can be rolled out to a larger number of audiences requiring minimal resources. To be precise, rapid eLearning is a perfect way to keep your employees, especially the sales personnel, quickly updated on new policies and new products. This is because rapid eLearning uses optimal instructional design and eases development using rapid authoring tools. This helps organizations reduce development time and cut down the cost and production time.
A few ways rapid eLearning improves course development speed:
With online review tools, reviewing courses becomes faster.
Templates offered by authoring tools make it easy to design layouts for common screens.
Different assessment types can be designed easily.
2. Recused Cost with Rapid eLearning
As we discussed about the speed, rapid eLearning supported by rapid authoring tools allows you to leverage on existing training material – classroom training material, recordings of subject matter experts, videos, and more. Reusing media content can lead to substantial savings. In addition to this, these tools have inbuilt templates – characters that helps you meet time constraints and keeps costs down.
With these tools, you can have control over the graphical user interface, look and feel of the course, audio and video as these tools also allow some level of customization; hence the richness of the course can also be enhanced.

3. Truly Self-paced Learning
We use rapid authoring tools like Articulate Storyline, Adobe Captivate, iSpring, and Lectora Online to produce eLearning. These tools are easy to use and do not demand any programming knowledge. Courses can also be kept up-to-date and relevant using authoring tools if source files are available.
More importantly, authoring tools offer varying degrees of responsive output that make it possible to develop courses that play seamlessly on all mobile devices – in all orientations. This offers learners true anytime, anywhere learning.
Rise is a fully responsive web-based authoring tool that helps develop responsive courses that are template-based.
Adobe Captivate offers fluid boxes that reorganize onscreen content according to the device being used to offer seamless display.
Lectora's RCD (responsive course design) feature can makes it easy to design mobile learning courses in 5 views.

Summing it Up
And rapid eLearning makes it easy to design learner-centric courses, based in instructional design principles – such as using learning objectives to show learners what's in it for them, keeping the navigation free to enable self-directed learning, and including new-age learning strategies.
Explore more in this eBook.