Ready for Rapid eLearning? A 4-Point Checklist to Assess!
Rapid eLearning is buzzing in the corporate L&D space. Unsure whether you are ready for rapid eLearning? Read this blog for a checklist to assess your readiness for rapid eLearning!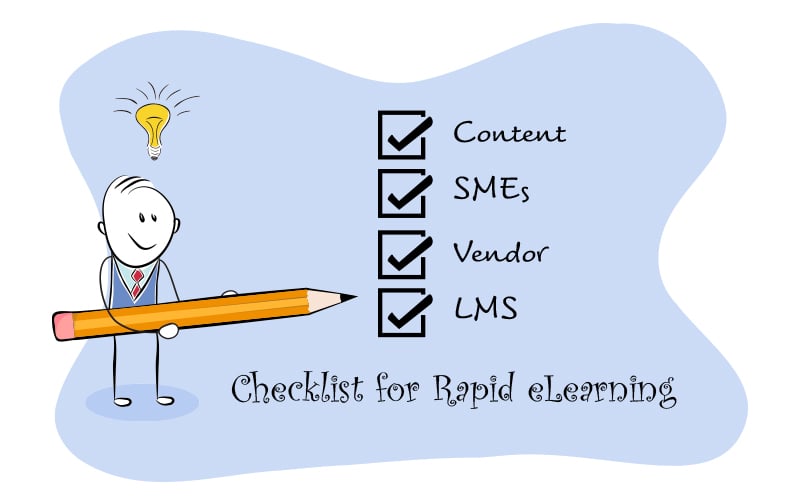 When you want to do something quickly and efficiently, like for example, deciding to invite people for a meal at the nth minute, it's very handy and also important to have a checklist at hand – things to get, things to do – in short, to check how ready you are for the event. There are checklists for a variety of things and ticking off items as soon as they are done gives us a sense of accomplishment. So, is there a checklist for rapid eLearning?
You plan to get started with rapid eLearning to roll out training programs quickly; however, do you know if you are ready for it? What?! You don't have a checklist and don't have a clue how to assess your readiness for rapid eLearning development in your organization?
Checklist to Assess Your Readiness for Rapid eLearning
Do you have?
Content
Subject Matter Experts
Vendor

Learning Management System
Here's a 4-point checklist that will help you with that, ensuring you don't miss out on anything. Quickly scroll through this checklist to avoid the hurdles you are likely to face when going for rapid eLearning development.
4-Point Checklist to Help Assess Your Readiness for Rapid eLearning Development
1. Content
Content is the most important element of your courses. Before getting started with rapid eLearning development, you have to ask yourself:
Do you have the learning content ready?
Before you start, you have to ensure your content is ready and aligned with the training goals. Content may include classroom presentations, webinar recordings, brochures, and FAQs and tips shared by experts. You need to decide on what you expect your learners to achieve from the training program and ensure your course content is relevant for that.
Are there any gaps in the content?
Rapid eLearning leverages existing content from the classroom and other training materials. In most cases, these materials have a lot of gaps, and in some cases, there is no proper or logical flow. These gaps and improper flow are taken care of in the classroom by the instructor who provides a lot of anecdotes and context from his vast experience. As there is no instructor in eLearning, all such content gaps have to be filled before moving ahead to development.
It's the job of the instructional designers to go through the content thoroughly, identify content gaps, and if necessary, take the help of the SMEs to fill those gaps.
2. Subject Matter Experts
As with the content, there are some questions that need to be answered regarding SMEs before going in for rapid eLearning development:
Do you have an SME for the rapid eLearning project?
SMEs are indispensable when it comes to rapid eLearning development as they have:
Domain expertise and knowledge to address subject-related queries
To validate content included in the training program
Help fill gaps and review content presentation
Review courses after development
Will the SME have time for reviews at the set milestones of the project?
Developing eLearning courses is not an SME's primary forte. Given their level of expertise and primary jobs, they are usually very hard-pressed for time. In certain cases, SMEs may be external consultants who are hired for their subject knowledge for a specific project.
So, you have to assess if they will have time to invest in the project and help complete it within the given time. You need to plan according to their availability and leverage online review tools to make the feedback discussions easier while reducing the number of touchpoints you have with them.
3. Rapid eLearning Development Vendor
If your in-house eLearning development team does not have the expertise and resources for successful rapid eLearning development, it is better to hire the services of a reputed eLearning vendor as their experience in working with rapid authoring tools can help you reap rich dividends.
Here's what you need to ask yourself before you go for rapid eLearning development:
Does your vendor have expertise in rapid eLearning development?
Not all vendors who claim to be experts in rapid eLearning will have expertise in leveraging authoring tools – an important aspect in rapid eLearning. However, if your vendor really has expertise in rapid eLearning development, you can benefit from their skill and proficiency in converting your learning content into highly effective online programs.
To be able to rely on a vendor, you need to check for his expertise and experience, their past work, development team, awareness of the functionality and capability of new technologies, and adherence to the schedule of agreed-upon deliverables.
Does he have enough resources to scale up development?
You need to assess whether your vendor has enough resources to scale up the development of your course. Do they have:
Well-established processes in place that will help efficiently manage the development of online courses?
An appropriate team in terms of size, quality of work, and usage of authoring tools?
You have a good eLearning vendor if your answer is yes to these two questions.
4. Learning Management System (LMS)
The LMS is a centralized platform to administer, monitor, and record training, and it can do this with great speed and accuracy than any manual system. Having an LMS is highly essential to the process of rapid eLearning development as it serves to provide quick and easy access to all learning resources available to learners and offers optimal support for tracking of courses.
Here are a few questions that need to be answered with respect to the LMS:
Is your LMS multi-device compatible?
It isn't enough to ensure your eLearning courses have a responsive design. You must ensure the software that hosts the digital content is compatible with various mobile devices.
With today's modern learners, you also need to ensure that your LMS supports social integration that offers online discussion forums, file sharing, and virtual chats to enable learners to collaborate and share ideas.
Do you need LMS support from a vendor?
If you do not have an in-house team with the expertise or resources to handle LMS support, it is always better to outsource it. You can outsource a variety of requirements such as consolidation of LMSs across the organization, full LMS administration, LMS administration for special projects, and LMS migration. Hiring an experienced vendor will relieve you of the responsibility of administering and managing the LMS and will also take care of the technical glitches that may occur in the LMS.
It's a Wrap
When considering rapid eLearning for your organization, use this checklist and save yourself from missing out on anything important. For answers and solutions to other challenges while developing rapid eLearning courses, give this eBook a read. It distills 5 best practices that instructional designers can apply to make the process smoother and more efficient.