Are You Ready for Rapid eLearning? [Infographic]
Are you ready for rapid eLearning? This infographic gives you a handy checklist to assess your organization's readiness for rapid eLearning.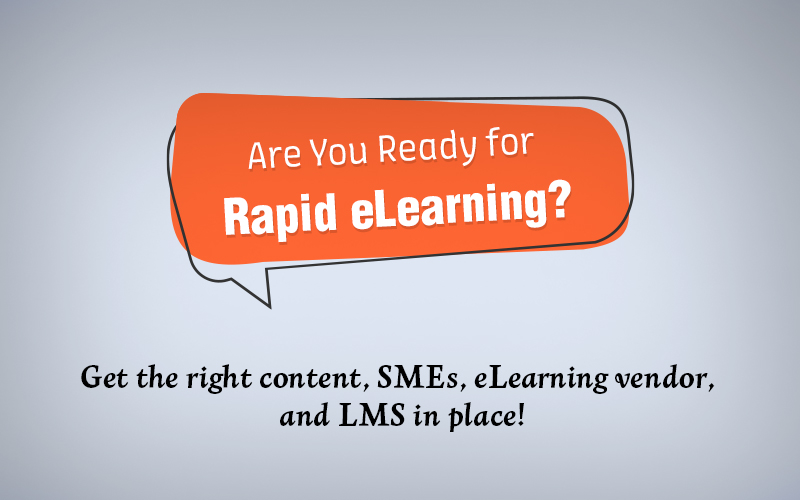 Rapid eLearning has emerged as the go-to solution to meet stringent budgets for eLearning development and tight timelines for training rollout. But this in no way means that rapid eLearning implementation can happen at the snap of a finger. Implementing rapid eLearning requires meticulous planning, just like any other training solution.
Before you get started, it would help to assess your organization's readiness for rapid eLearning development. In order to do that, pay careful attention to elements such as the availability of content, SMEs, the eLearning vendor, and the LMS.
Rapid eLearning is all about delivering content that's focused on addressing an important training need. So, focus on the right content and work toward closing the content gaps (if any). SMEs are indispensable when it comes to rapid eLearning development. Involving them right from the beginning of your rapid eLearning project can ensure they give their timely inputs and play an active role in eLearning development.
If you do not have the relevant expertise that's required for rapid eLearning development, it makes sense to partner with an eLearning vendor who has the expertise and the right resources to scale up rapid eLearning development.
Lastly, its your LMS you need to focus on. After all, it's a powerful platform that's responsible for administering, monitoring, and tracking your learners' progress and can determine the success of your rapid eLearning project to a great extent. Learning experiences matter and for modern learners who prefer learning on mobile devices, it's essential that your LMS offers multi-device support.
Here's an infographic that captures the readiness factors to look out for when implementing rapid eLearning, in a nutshell.