7 Features to Look for in an Authoring Tool for Rapid eLearning
When you know what to look for in an authoring tool for rapid eLearning development, it can simplify matters a lot.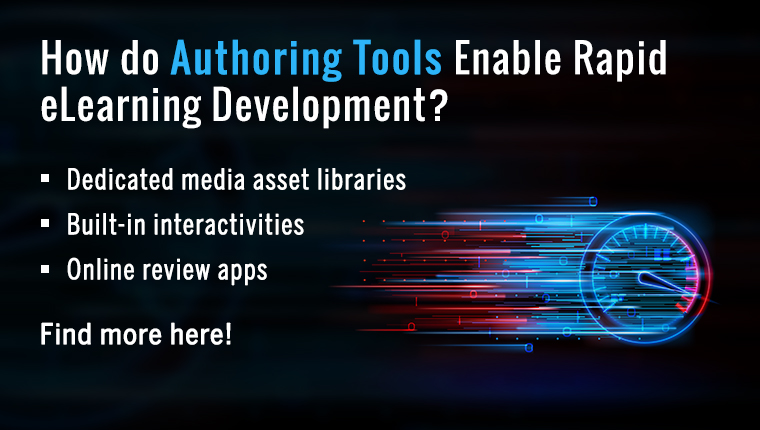 C

ost, quality, and development time – the 'Big 3'every training manager can't stop thinking about when starting with online training; wondering if they have to compromise on quality or pay a lot more if they want quick development! But what if I told you that there's a way to balance all three? No! I am not kidding. That is what rapid eLearning brings to the table.
7 Features that Make for an Ideal Authoring Tool for Rapid eLearning
Media libraries and templates for rapid eLearning design
Built-in interactivities for new-age learning design
Responsive design for multi-device accessibility
eLearning translations for consistent training to global workforce
Different question types for effective assessments
Latest publishing formats for technically compliant eLearning
Online review apps for rapid review/feedback cycle
Rapid eLearning + Authoring Tools = A quick and effective training program within budget!
A Brief History of Authoring Tools and eLearning Development
Flash (due to extensive coding which is cumbersome and time-consuming) wasn't able to keep up with changing training requirements for dynamic business needs. With the withdrawal of partnership by many technological giants – such as Microsoft, Google, Facebook – Adobe finally decided to pull the plug on Flash owing to its inadequacy in areas such as security, incompatibility with modern-day mobile devices, and so on. But, for all its faults, Flash was once the pioneer eLearning authoring tool but now, rapid authoring tools have taken over the market. Authoring tools are faster, more efficient, and user-friendly.

It wouldn't be wrong to say that authoring tools today hold the key to a successful rapid eLearning strategy. After all, it's the in-built features of these authoring software that make the entire design and development process rapid.

But what are these features and how do they reduce development time while maintaining the quality of rapid eLearning courses? Here, in this blog, I will list 7 key authoring tool features that are critical for rapid eLearning design and development.
7 Key Features of Authoring Tools for Rapid eLearning Design &Development
1. Media Libraries and Templates for Rapid eLearning Design
Unlike classroom training that relies on books, manuals, and other material, eLearning relies more on visual elements such as images, animations, videos, and the like, to deliver information. Just imagine how tiring and expensive it would be if every time you need a new image for the course, you either have to create it from scratch or download it from commercial stock sites like Shutterstock or Getty Images! And more often than not, you won't find images or videos of your choice. That is why most authoring tools have a built-in library of stock media assets such as buttons, clip arts, locations, and characters. These media assets are royalty-free and come as part of the authoring tool suite. They cut down a lot on expenses and help in rapid eLearning development. Authoring tools also have en-suite template libraries with a wide variety of layouts, built-in interactivities, and gamified elements that significantly reduce the time and cost of development. These templates act as ready-to-use blueprints for your eLearning courses, and help maintain a consistent and professional look and feel across courses. They are highly customizable and can be adapted to accommodate specific needs and can also be reused multiple times.
2. Built-in Interactivities for New-age Learning Design
Learning strategies have evolved over time and so has learning technology. New-age eLearning design involves highly interactive strategies like storytelling, branching scenarios, gamification, simulations, and augmented and virtual reality. However, using high-level interactivities in eLearning courses doesn't mean you have to spend a ton of training dollars or need months for course development. Authoring tools come with ready-to-use gamified templates that come in handy while designing courses and assessments. They also have screencast and screen recording features that allow 'watch-try-do' simulations. iSpring offers a special TalkMaster feature that allows the quick and easy creation of dialogue simulations. Many authoring tools like Storyline, Lectora Inspire, and Adobe Captivate are compatible with tools like BrachTrack that enables building branching scenarios. However, BranchTrack is integrated with Lectora Inspire to help you easily create and import scenario-based eLearning courses. Authoring tools like Adobe Captivate 2019 and Lectora CenarioVR have features that make it easy to develop VR-based eLearning. These courses boost learner engagement and improve knowledge retention by increasing learner participation, either by making them do or making them think.
3. Responsive Design for Multi-device Accessibility
Mobile compatibility is no longer an option in online training – it has become a necessity to accommodate the needs of modern learners. They need access to training anytime and anywhere they want, on the device of their choice. The mobile learning strategy has become even more important in the wake of the COVID-19 lockdown. As mobile devices became increasingly popular, courseware designers have been trying their best to make their eLearning courses mobile-compatible. After all, wasn't mobile incompatibility one of the main strikes against Flash that led to its phasing-out? Responsive design is a crucial authoring tool feature that allows the rapid development of mobile learning courses. Most modern rapid eLearning authoring tools publish mobile-friendly courses in the HTML5 format. But it is the extent of responsiveness to screen size and orientation that makes the difference. Storyline 360 offers responsive design, but the responsive element works only up to certain screen sizes and orientations. Adobe Captivate has an adaptive design with a special responsive layout feature called Fluid boxes. All you need to do is fit your content in these fluid boxes and it will automatically align when the screen size or orientation changes. It's the authoring tools Rise 360 and Lectora Inspire and Online that provide a fully responsive design. The RCD feature of Lectora allows content to tailor-fit mobile screens, without any need for tweaking from the developers' end.
4. eLearning Translation Features for Consistent Training for Global Workforce
Every language has its own script, formatting, and style and the translated eLearning course needs to reflect it to effectively engage your global and diverse workforce. Translating eLearning courses into multiple languages is one of the most difficult challenges in eLearning development. But thanks to rapid eLearning development with authoring tools, this has become a thing of the past! Rapid authoring tools have a translation tool feature that exports all content for translation into an RTF file. This fie can be translated into any language universally by any translation vendor. Adobe Captivate with its Geolocation and Storyline 360 with text labels have made it simple to localize translated eLearning courses. On the other hand, Lectora Inspire has a switchable interface that enables switching to different languages within a course.
5. Different Question Types for Effective Assessments
Assessments are an indispensable part of eLearning courses. They play an important role in evaluating learners' understanding of the course content at regular intervals (formative assessments) and verifying if they have achieved the set performance-based learning objectives (summative assessments). Creating eLearning assessments using rapid authoring tools is incredibly easy because of the built-in templates for quizzes, Q&As, flash cards, and more. Authoring tools also allow randomizing the sequence of questions and giving feedback in creative ways. You can also make use of customizable game-based, scenario-based, and simulation-based templates for engaging assessments. iSpring has the QuizMaker app that enables creating interactive tests and quizzes, setting up custom scores, and evaluating learners' progress online. .
6. Latest Publishing Formats for Technically Compliant eLearning
eLearning technology standards are a set of universally accepted standards that determine the compatibility of eLearning courses across Learning Management Systems (LMSs). They are responsible for LMSs' ability to track learners' activities, set customized learning paths, and interoperability between LMSs. AICC is the earliest, SCORM is the most-widely used, and xAPI/Tin Can and cmi5 are the latest technology standards in the market. Most authoring tools publish SCORM-compliant eLearning courses but many tools like Articulate Storyline, Lectora Inspire & Online, and Adobe Captivate publish courses to xAPI too. It is important to ensure that the authoring tool you choose can publish courses to the standard compatible with your LMS. Most organizations today still prefer SCORM courses, but if you want to implement advanced learning analytics for maximizing the impact of your online training, you should go for an authoring tool that can publish xAPI courses.
7. Online Review Apps for Rapid Review/Feedback Cycles
In traditional eLearning development, a lot of time gets wasted in the endless review-feedback loop between stakeholders, SMEs, and the L&D team (instructional designers and developers). But with rapid eLearning, the whole review process is managed in a seamless and cohesive manner with minimum rework. This is possible because of the online review apps offered by authoring tools. These online review apps provide a common digital platform for all stakeholders and SMEs to share their opinions and feedback. In case you are dealing with multiple SMEs and stakeholders, they can review courses simultaneously. This means everyone can see everyone's comments and conflicting feedback can be resolved in a cohesive manner. Using review tools streamlines your entire review-feedback loop and SMEs and stakeholders can access the courses to be reviewed anytime, anywhere.
Summing it Up!
I hope this blog has underlined the importance of authoring tools in rapid eLearning design and development. Rapid eLearning is becoming more and more relevant now because of the COVID-19 outbreak. Right now, organizations need a very quick and cost-effective training solution for their workforce and rapid eLearning solutions developed using authoring tools are the best way to achieve it. If you are looking for a quick way to design and develop eLearning, you should read our eBook on rapid eLearning.