Overcoming Top 4 Mistakes in E-learning Development with Storyline 360
Want to perfect the art of e-learning course development? Read the tips shared in this post and use Storyline 360 to pave the way to better, effective courses.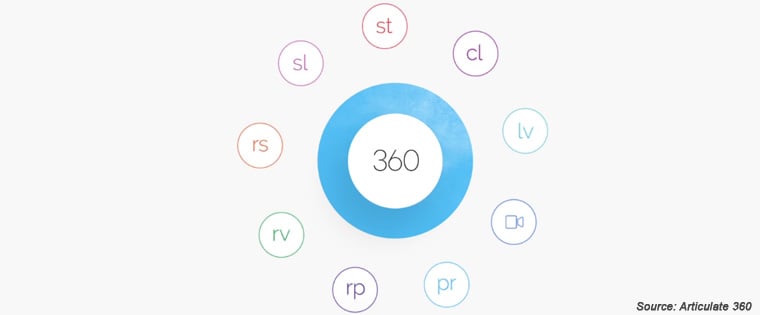 When you use a digital learning approach, you take the instructor out of the learning process. With a traditional learning approach, an instructor plays a huge role in engaging the learner and facilitating knowledge transfer. In the absence of one, this responsibility is shouldered by your e-learning course alone. That's why just creating a digital learning program is not enough, you need to make sure that your e-courses are nothing short of top-notch. High quality courses are the only way through which you can make sure your employees get the required knowledge from your eLearning courses.
The development of an e-learning program depends a lot on the authoring tool used by the developer. Depending on the tool used, you can create courses with different strengths and functionalities. In order to create a course that is strong in all aspects, like visual appeal, interactive methods, assessment techniques etc., choose Articulate's Storyline 360. With this tool, more than 83 million learners in 151 countries have learned new skills, gained new insight, and received career-boosting training. However, though the tool is powerful, developers can still make mistakes while designing and developing courses. Let's explore what they are and how Storyline 360's features can help avoid them:
1. Inconsistent Design
Course design is the first thing your learners are going to notice. The key to a good course is to create a simple, consistent design following some basic rules of thumb. This approach will help you create a platform that allows learners to focus on content and not the mismatched color scheme or contrasting fonts. Storyline 360 makes designing the course easier with its inbuilt library. With this, you can browse for templates and add them to your e-learning courses with almost no effort. You can even customize the templates to any degree as per your needs. For future courses, you can use the same templates and be worry-free about being inconsistent.
2. Not Enough Interactivities
Interactivities are the primary form of engagement your e-learning program offers to your learners. Often, developers tend to make the course too text-heavy without appropriate interactive elements to involve employees in the learning process. Storyline 360 allows you to create great interactivities very easily. Using the Triggers functionality, build any interaction you can imagine by assigning one or more triggers to an object from an easy-to-understand menu, choosing when and what kind of actions you want to occur. Apart from this, there are sliders, dials, buttons, markers, lightboxes, data-entry boxes and many more types of interactions that can be easily incorporated in your digital courses.
3. Technical Issues
As your digital training program is going to run on electronic machines, you need to make sure that all the technical factors are taken care of in order to ensure a seamless performance. Inexperienced developers often overlook the technicalities, which reduce the employee's learning experience. You don't have to worry about technical proficiency if you are using Storyline 360. The new Responsive Player dynamically adapts to different tablets and smartphones, providing an optimized view of your course on every device.
Storyline's output also supports Section 508 accessibility guidelines, including screen reader support, full keyboard navigation, visible focus indicators, and more. This helps your course reach an even wider audience.
4. Weak Assessment Strategy
Assessments are the final knot that ties the entire e-learning program together. Without an appropriate assessment and feedback strategy, you will never come to know if your e-learning course has delivered its learning objectives. Developers make the common mistake of not giving assessments as much time and effort as they give to the rest of the course.
With Storyline 360, you can easily assess your learners' progress by choosing from 20 predefined, form-based questions to build quizzes in seconds. You don't have to start every assessment from scratch. You can import questions from Excel or text files you get from a database or subject matter experts, and easily add a Result slide after each assessment to give learners immediate feedback on their quiz results.
Before you begin your e-learning course development process, keep in mind these simple considerations to make sure you create a top-notch learning experience. Above all, using a good tool like Storyline 360 and seeking the help of an expert e-learning vendor, you just can't go wrong.