Upgrading Courses from Storyline 2 to Articulate 360 – The Twin Benefits
Learn the benefits of upgrading e-learning courses from Articulate Storyline 2 to Articulate 360.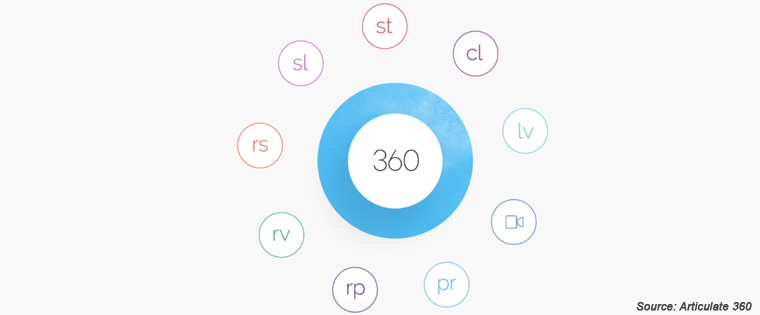 Jim is an e-learning developer in a reputable medical device company. The company has developed several online courses on industrial safety using Articulate Storyline 2. These courses are not responsive, and recently Jim was asked to make the web-based learning courseware compatible for use across multiple devices.
Morris is an online learning resource developer working with a leading automobile company. Over the last few years, the company has developed hundreds of courses for its service technicians using Articulate Storyline 2. Two months ago, the company launched a new series of vehicles, and Morris was tasked with updating these courses and incorporating new video-based learning elements.
Johanna is a web-based learning material developer working for a software giant. A few years ago, the company developed a series of e-learning tutorials for its ERP product using Articulate Storyline 2. Last week, the company released a new version of the ERP system and Johanna was instructed to develop learning videos on the product.
Jim, Morris, and Johanna are not alone. Many in the e-learning development community are faced with similar requirements, especially given the increase in popularity of mobile learning. Over the last few years, many companies have developed online learning resources using Articulate Storyline 2, and now are faced with the need to update these e-learning courses in order to provide multi-device and multi-browser compatibility, or to allow for the inclusion of video-based training elements.
How can these organizations go about upgrading these courses effectively, without losing the existing content? What does it take to deliver a high-quality online learning experience that caters to these new requirements? The answer lies in migrating web-based learning content originally developed using Articulate Storyline 2 to Articulate 360.
What is Articulate 360?
Articulate 360 is an online course development powerhouse comprising of nine software applications:
Storyline 360 – an e-learning development application
Studio 360 – a tool for the rapid conversion of PPT files into online courses
Replay 360 – an application that can be used to develop software simulations
Peek – a screen-casting tool for Macs and PCs
Rise – a responsive e-learning development software application
Articulate Review – a tool that allows stakeholders to review online learning materials
Content Library – a library of templates, characters, and other e-learning assets
Articulate Live – a collection of training webinars by experts
Preso – a video creation tool for iPads
What are the benefits to using Articulate 360 to update courses developed using Storyline 360?
1. Online courseware featuring responsive design
We live in the age of multiple devices. Access to the Internet is no longer confined to a desktop or laptop computer, but has expanded to include a range of mobile and tablet devices. The results of a survey by Gartner predicted that by 2018, 50% of web users will use a mobile device first for all online activities. The tremendous growth in the use of smartphones and tablets, coupled with the huge diversity of screen size across these devices has made multi-device compatible courseware a necessity.
For all its power and flexibility, Articulate Storyline 2 is not responsive, and this is a major limitation. Articulate's new product, Articulate 360, overcomes this problem by producing HTML5 output. Additionally, Articulate 360 contains a component called Rise which can be used to create courses that utilize responsive design to adapt to the screen size of any device.
Furthermore, Storyline 360, a successor to Articulate Storyline 2, comes equipped with a new responsive online course player. The player responds effectively to various mobile screen sizes, hiding sidebar menus, removing the chrome of browsers, and delivering excellent learning experiences across all smartphones and tablets, thanks to its mobile-friendly playback controls. Find out more about Storyline 360's responsive e-learning player here.
2. Effective development of video-based lessons
Videos are inarguably the highest trending online format. The phenomenal growth in the use of videos by consumers is compelling the corporate world to make the move to video-based learning solutions. Videos are an effective tool for delivering a wide variety of training programs, including: safety training, induction training, compliance and regulatory affairs training, sales training, and software training.
In comparison to Articulate Storyline 2, Articulate 360 demonstrates a marked improvement in its capacity for the development of video-based learning solutions. Although Storyline 2 allows e-learning developers to include video-based learning elements within an online course, it lacked a tool which would make it possible to develop video lessons. This shortcoming has been addressed in the updated Articulate 360. The online course development software comes equipped with an application called Preso, which allows you to easily develop learning videos, even on the go, using an iPad. Preso can be used to incorporate text, audio, and annotations into your video lesson seamlessly.
Articulate 360 is a power-packed rapid authoring tool that allows you to develop highly effective e-learning courses. To easily update your existing web-based learning materials developed with Articulate Storyline 2, opt to use Articulate 360.