Have You Implemented Mobile Learning to Make Workplace Safety Training Handy?
This blog explains 5 ways to leverage mobile learning for workplace safety training.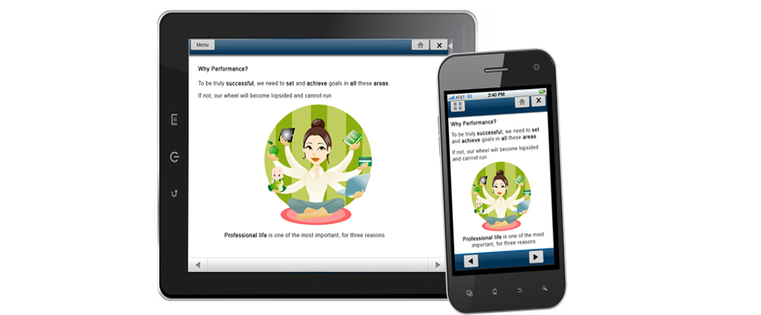 If you notice, most of our online activities have moved from desktops to mobiles: whether it is shopping, browsing, chatting, sending emails, planning, paying bills, or watching videos. Learning is no exception.
Therefore, multinational organizations want to leverage mobile learning for their employee training. Workplace safety is one such area where m-learning can be successfully employed.
Here are five ways to garner mobile learning for workplace safety training.
1. As Safety Job-aids/Performance Support Tools
Mobile learning helps you to access very important information when you need it the most or at the point of need. You can apply the knowledge gained immediately. The practical application of knowledge increases retention and makes safety training effective. In a way, mobile learning works as an aid to get the job done and offers tools to improve performance at the workplace. This nature of mobile learning is useful in reducing workplace injuries.
For example, if workers at a manufacturing site have access to a 'How to' guide on the improper lifting of weights, they can simply open the mobile learning module on safe lifting practices, before lifting heavy weights. These mobile learning job-aids and performance support tools are also useful in demonstrating how to use safety equipment, avoid accidents, and more.
2. For Safety Training Reinforcement
Employees can't remember all the training on safety over a period of time, as they are caught up with their regular work responsibilities. Bringing all of them to classroom for reinforcement training again is an expensive affair, a time-consuming exercise and wastage of productive hours.
So delivering safety training via mobile learning makes training reinforcement easier and effective for businesses. You can offer this as a part of a blended learning approach to safety training.
For example, deliver a bite-sized summary video on fire/electrical safety training best practices via mobile phones as part of training reinforcement. For safe performance support, send interactive infographics on how to use heavy machinery at the workplace through smartphones and iPads.
3. Safety Training in Interactive Capsules
M-learning is known for its bite size. This format drastically reduces cognitive burden on your employees by dividing the safety topics into smaller chunks. You can deliver bite-sized modules on safety training topics such as safety with electrical equipment, safety in hazardous areas, fall protection measures in the construction sector, and more.
These microlearning safety modules can be in the form of 2-3 minute videos, interactive infographics, fun-filled assessments, and more, to create maximum impact.'
4. Geo-location-based Safety Learning
Mobile learning is best used to disseminate granular information to your employees. You can make it even more focused and personalized based on your employee's location. It helps remove unnecessary details and keeps learning to the point, based on the learner's location.
For instance, in safety training, you will talk about safety equipment based on the job site employees work in. If it's a fire accident-prone zone, you can send custom alerts on how to use fire safety equipment. If workers are in an electric zone, sending relevant precautions will help. Likewise, it's applicable to manufacturing, construction, pharma, nuclear, and other sectors.
5. Mobile Apps for Safety Training
Mobile applications are most useful in sending out regular safety training modules to workers who are always in the field or in remote locations. Mobile apps give a true mobile learning experience, track ILT and field-level eLearning, and you can easily find the required documents/additional resources with the Search option in mobile safety training apps.
Developing native apps for iOS and Android is much easier now with the latest mobile technologies available. You can cover a number of safety topics on mobile apps. For example, heat safety for outdoor workers, a virtual tour of vehicle safety systems, chemical hazard guide, and more.
Companies can deliver safety training effortlessly to their employees using mobile learning. It keeps safety training at your field workers' fingertips. Try these five ways to implement online safety training through mobile learning effectively in your organization.