What Else Can a New-Age LMS Deliver?
Contrary to popular belief, an LMS is NOT just a repository for your training material. Today's LMSs open new horizons to help learners acquire skills and expertise, and organizations stay competitive and keep up with the corporate world. Explore what modern LMSs can do.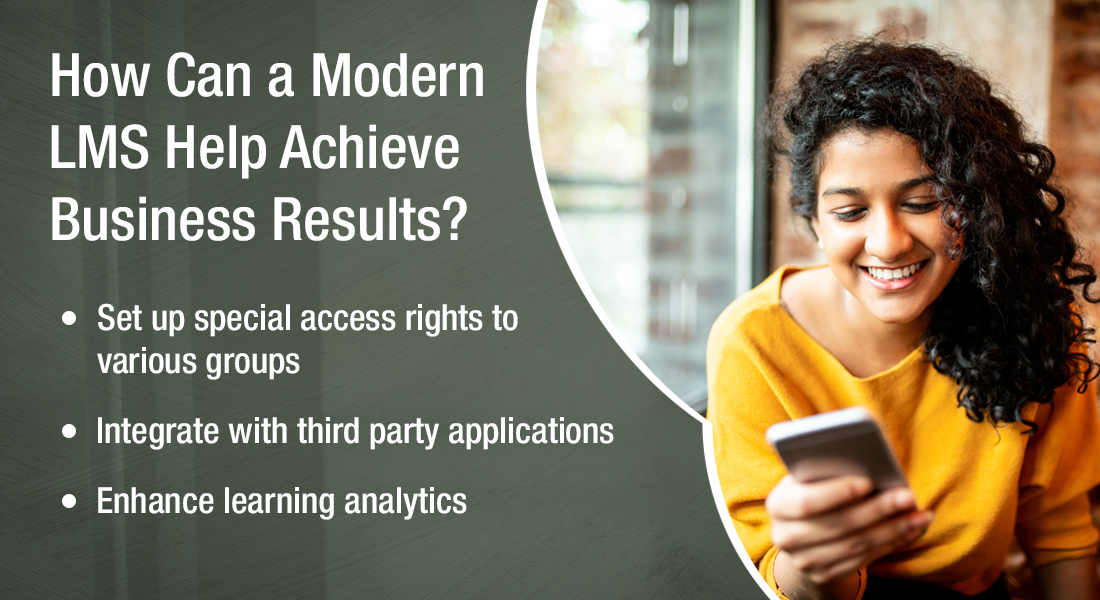 What do you think a learning management system (LMS) is? What do you think is its primary purpose?
Over the last few years, software tools for managing complex training databases have merged with digital learning frameworks, and as a result, modern learning management systems have come into their own. Today, they do more than just host training material. They offer a wide array of features for companies to choose from. Some organizations use the LMS to offer support to learners outside of the usual training domain, while others use it to facilitate informal learning environments.
What Can the New-Age LMS Do for You?
Manage the enrollment of your user base
Support LMS integration with third-party applications
Offer eCommerce capabilities
Meet the training challenges of a globally distributed workforce
Monitor, track, and report learner activity
The modern LMS's function, therefore, is multi-faceted and cannot be limited to one single feature—its usefulness depends entirely upon how much a company would like to use it to manage its training.
So, what can you do with the New-Age LMS?
1. Manage the enrollment of your user base and their learning needs
A global corporation's workforce usually runs into thousands. Managing a large user base and their learning needs can be quite challenging—unless you are using an LMS. We already know the LMS can be used to enroll users, manage registrations, and assign courses in bulk seamlessly; but there are other, lesser-known ways an LMS can be leveraged to manage the training needs of a diverse learner/user base.
Did you know that you can limit your LMS access to specific users – giving them only the appropriate level of access rights and privileges—according to their needs?
That's right. You can essentially create mini portals within the LMS for different types of training, where learners only see the training directly related to their job roles and department, and everything else is walled off. To illustrate my point better, here's an example of sales and product training.
For sales reps, the LMS can be configured in such a way that every time a sales rep logs in with their dedicated login credentials, their 'portal' will act as a mini LMS complete with:
Department branding
Various learning material (including courses categorized according to job roles), and performance support documents
Sales events and training calendar with timelines and due dates
Dashboards displaying ongoing, pending, and upcoming training sessions
Leaderboards showing each sales rep's learning progress in relation to fellow sales reps
On-demand sales coaching and mentoring support
Chat rooms and discussion forums; links to the department's social media channels
Details of the department's LMS administrator for technical support
Global search box to find the required sales content within seconds
In other words, the 'sales training LMS' restricts access to anything not related to sales, only giving access to material and information that matters to sales reps.
You can adopt the same approach for any type of training including new hire onboarding training and other types of skills training.
That was about training for full-time employees. But apart from them, there are others important to the organization who will also need training, such as:
Customers
Part-time consultants
Resellers
Vendors
Channel partners
How should you manage their training?
Provide them dedicated login portals for relevant courses and training programs – give each of them their own unique portal, preferred URL, and branding in the LMS. For additional security, you can provide the single sign-on (SSO) facility to enable users to click through to your LMS from an intranet or partner portal, without having to use a second set of login credentials.
2. Push the limits of your training with LMS integrations
LMS integration is about combining your LMS with other third-party tools/applications that you already use (or intend to use) to add to the value and efficiency of your LMS, making it even more powerful than it already is.
Here are a few examples of LMS integrations:
Video conferencing tools: When you offer webinars and virtual classroom sessions as part of your training, it makes sense to have access to all your data in one centralized system. Integrate your LMS with video conferencing and webinar tools (such as Zoom, WebEx, Adobe Connect) to schedule virtual classroom sessions, register attendees, report their attendance—all from one place.
eCommerce and payment gateways: By integrating the LMS with eCommerce tools, training organizations can sell online courses and in-person training events online. They can have customized storefronts and user-friendly payment gateways to deliver a personalized and secure shopping experience to your buyers. More on integrating eCommerce with the LMS later in the blog.
Single sign-on (SSO) integration: SSO allows your LMS users to access multiple services and applications using the same set of login credentials. We have already discussed an example of this – a channel partner/reseller logging into the LMS using a unique code or email address. SSO ensures authentication of the credentials of the user logging in, and allows access to the appropriate content as approved by the LMS administrator (authorisation).
3. Take advantage of the LMS's eCommerce capabilities
At the risk of stating the obvious, an LMS fully integrated with an eCommerce platform not only allows you to increase revenue by selling your expertise (courses, webinars, content, and events) online but also exponentially increases your brand's marketability.
If you are a training organization (in the business of selling training and other eLearning content), you will appreciate the eCommerce functionality that is included with the modern LMS. Make the most of the eCommerce features to drive business through:
Diverse payment gateways (PayPal, authorize.net, and numerous others)
International server/s
Managing different types of currencies
Configure the aesthetics of the user interface (UI) in line with your brand—including the user experience. You can choose to have a single storefront for all channel partners/resellers and vendors, or a separate portal for each partner—just like you would have a learning portal in the LMS for each channel partner/reseller. Offer a complete hassle-free customer interaction for:
Selling multiple courses in bulk to a single buyer/customer
Offering dynamic promotional pricing based on the size of the buyer's workforce, location, and current market trends
Automating coupons and discount codes for existing customers
Charging global customers in their local currency
4. Meet the training challenges of a globally spread workforce
The benefits of translating courses for your global workforce is well documented, but managing different versions of the same course on your LMS presents some challenges including:
Updating/replacing numerous versions of the same course to the LMS
Storing multiple source files and assets of translated courses
Facilitating switching and accessing of courses in the preferred language
That is where the multilingual shell comes in. As opposed to hosting different versions of translated courses, a multilingual shell enables the layering of numerous courseware files as a single SCORM file. This not only reduces effort and time, but also frees the system administrator from having to manage multiple versions of the same course.
Allow switching and accessing courses in multilingual languages
A good, user-friendly LMS adapts to the user's requirements—including language—to offer a smooth, seamless experience without any barriers.
It is a given that many organizations today have employees spread across the world who would prefer not to navigate a system in a foreign language. Besides, we are all well aware that familiarity breeds comfort, so, to that end, it's always recommended that your LMS interface be suitable to users from different regions.
A multilingual LMS platform offers companies the ability to ensure its employees, regardless of the country they are in, receive the same, consistent features and content. When the learner logs in to the LMS, they have the option to pick their preferred language to navigate the LMS (by way of a drop-down menu with all supported languages). Your multilingual LMS is also a localized LMS which means it allows users to set the language, date, and time settings to the region they are from.
5. Monitor, track, & report learner activity to offer personalized learning experiences
One of the remarkable aspects of the LMS is its tracking and reporting capabilities. Today's LMSs have evolved from simply hosting online learning material to offering data-driven learning analytics to help organizations make better decisions about their training.
There are many reasons why organizations might want to track learner activity. For example, to:
Track how your training is impacting learners
Monitor which learners might need additional help
See which employees are certified for compliance and regulatory training
In other words, the learning analytics from your LMS help you evaluate and measure the effectiveness of your L&D programs.
Gain access to real-time reporting: Use the LMS to get real-time insights into the overall effectiveness of your training. Generate reports to analyze training metrics – by learner, branch/department, course, or business unit.
Here are some questions you can get answers to with LMS reporting:
Are learners completing the courses assigned to them?
Is your training program proceeding according to plan?
Which courses are most popular among learners?
Have your eLearning courses helped poor performers perform better?
Improve learning and compliance: Apart from tracking course enrollments and completion rates, an LMS also provides training managers powerful insights into how and how much their employees are learning. For instance, you can generate reports on an individual learner's:
Most recent login and logout
Learning progression
Course status
Assessment results
Overall course history
List of certifications
This information allows you to drill down to specific learners and offer them whatever additional help or training they require.
Mitigate risks by monitoring compliance: Failing to complete mandatory training (such as compliance and regulatory training) can result in serious consequences for the organization. The LMS, by way of tracking, can help mitigate this risk by reminding learners via email alerts or notifications to finish the mandatory training program/s.
Monitor channel partner training and certification: In the case of channel partner training, you can monitor which partners are certified and which of them are due for renewal soon. You can schedule reports to be sent to selected partners—daily, weekly, or monthly—without requiring them to log into the system repeatedly. This data also help identify underperforming sellers and those who might require different training.
Training data is essential in the corporate world today, because it helps you make better decisions and prove the value of your training offerings to stakeholders. Therefore, consider investing in an LMS which helps you in optimizing learning analytics.
Parting Thoughts
Contrary to popular belief, an LMS is NOT just a repository for your training material. Today's LMSs open up new horizons to help both the learner to acquire skills and expertise, and organizations to stay competitive and keep up with the everyday demands of the corporate world.