Learning Management System: Features that Make it User-friendly
Does your old LMS address the needs of different users and not just learners? Most probably NOT! Well, here comes the new-age LMS which enables quick deployment, easy customization, and offers features for various end users.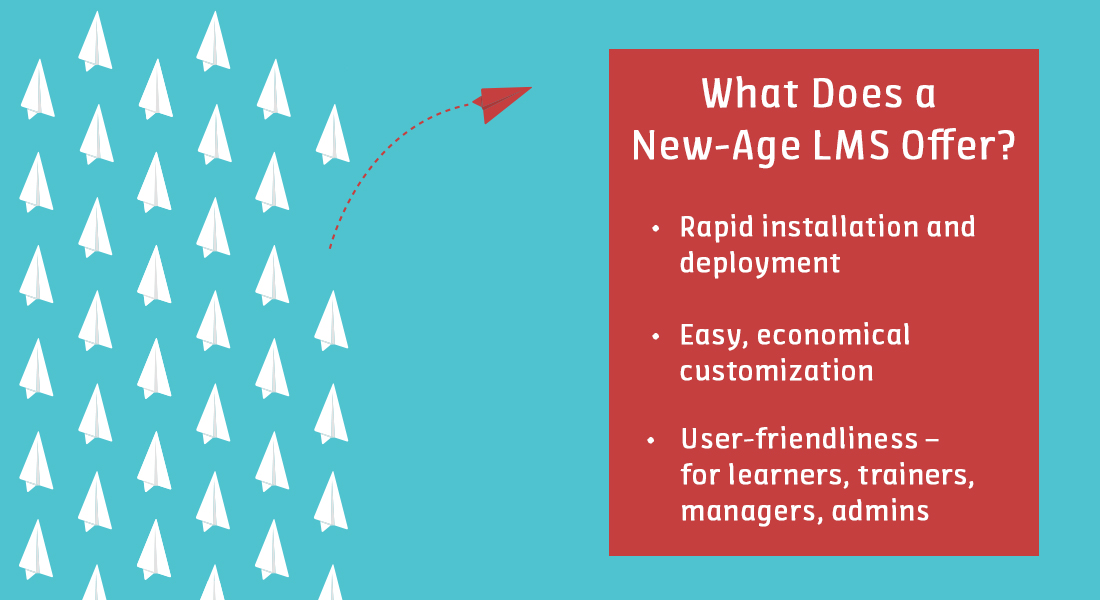 Learning in corporate organizations has changed dramatically. Gone are the days of flipping through heavy binders and attending lectures by instructors (who would be clicking through a slide deck). Fast-track to the current times where we have numerous technology-enabled learning solutions at our disposal. With employees preferring to learn in new and different ways, we need to ensure learning reaches them wherever they are – seamlessly – and the Learning Management System (LMS) has evolved to help you do just that!
Why Traditional LMSs are Finding No Takers Today
Earlier LMSs were technical mammoths – unwieldy, rigid, difficult to set up and customize, and totally unmindful of learner preferences for offline access, mobile compatibility, and gamification.
Not just learners – even trainers, managers, and internal admins often found handling and using the LMS a cumbersome chore. The unfriendly interface, complicated navigation, and convoluted set up had them scratching their heads to make sense of where they were and searching for ways to complete their tasks.
No one in the 1990's imagined the crucial role an LMS would come to play in organizational learning. An LMS was then just meant for tracking delivery – keeping track of the messages sent between the system and user.
The LMSs came into the limelight when the traditional classroom experiences were being "ported" online, redesigned (or at least reconfigured) for computer-mediated delivery and distributed via the Internet.
So, What's New about the New-Age LMS?
Over the years, the focus of LMSs has shifted from learning management to learning management – with learning finally taking center stage! LMSs are now being designed around the learning process to support individuals across their learning journey.
Having said that, new-age LMSs – such as Effectus – are not just about simplifying learning delivery. They are designed for:
Rapid installation and deployment
Easy, economical customization
User-friendliness – for learners, trainers, managers, admins
Deciphering the User-Friendliness of the New-Age LMS
The main point to note is that new-age LMSs add on to the traditional LMSs to address learner preferences, making many existing features/tasks quicker, easier, and more user-friendly. They do that by:
1. Making Learning an Event for 'Learners'
Learners' needs and preferences were seldom taken into consideration in a traditional LMS. You must have heard at least some (if not all) of these complaints about the conventional LMS from your learners.
I can't access the training I need to complete today.
How do I launch a course that I've been registered for?
My course completion status is not updated in the LMS
The LMS is so hard to navigate. I can't find a thing!
How do I share a resource with my peers?
I wish I could finish the remaining course on my smartphone.
………. And so many more!
Here's how the new-age LMS ensures a smooth learning experience for your learners.
Simplified Navigation
Modern LMSs offer a navigation that is easy to understand and use. Breadcrumbs help users figure out where they are and navigating back to the home page is always just a click away. Searching for resources is also easy, and most LMSs make this a matter of 3-5 clicks.
Another interesting aspect is that the interface can be customized easily to match your corporate branding, enabling learners to build an instant connect with the organization.
Personalized Dashboards
What's better than making learners feel at home while learning? Just like you can customize your Starbucks coffee, your learners can also customize their LMS dashboards. Modern dashboards are very visual – with color coded course completion status and highlighted or cascaded upcoming due dates and programs.
The LMS allows learners to add widgets of their choice (calendar, achievements/badges). They will also be able to sort courses based on priority or completion date. That's not all – you can also display:
Leaderboards to provide a sense of achievement
Learners' name to personalize the environment
Training history along with certificates
Gamification and Mobile Compatibility
Modern LMSs support gamification and can be programmed to unlock badges for learners based on course completion or scores. The scores can also be used to open more advanced training programs or assign refresher training modules. Function- or department-wise leaderboards can be configured to display top performers.
Modern LMSs are also mobile-compatible and offer learners offline access to resources, making learning truly anytime, anywhere.
2. Simplifying Training Design and Delivery for 'Trainers'
The modern LMS offers inbuilt tools that help simplify a lot of tasks, helping facilitators contribute more efficiently to training programs. It helps:
Create and grade assessments
Share resources such as glossaries
Create and send surveys and polls from the LMS
Integrate with videoconferencing platforms such as Zoom to conduct virtual sessions easily
3. Providing 'Training Managers' with Actionable Insights
Training managers need easy access to learner data to make adjustments to training programs and learners' learning paths.
Modern LMSs generate a lot of data – course completion rates, scores, time spent on each course (and each screen within a course), popular training tracks, most viewed courses/videos/digital assets, and more.
LMSs that can track offline learning activities provide a holistic blended learning picture. For in-depth information, you can even integrate a new-age LMS with a learning analytics tool.
All this data can be presented to managers at regular intervals and in desired formats to make analysis easy.
Training managers can also use the LMS for routine tasks such as:
Assigning courses to learners
Adding learners to specific groups
Reconfiguring learning paths based on performance
Sending notifications for classroom or VILT sessions
4. Helping 'Admins' Use the LMS Optimally
LMS administrators have a lot of routine tasks to do in addition to specific customizations and integrations. The modern LMS makes the former quicker and the latter easier.
Routine tasks include:
Creating user groups, setting up access rights, and assigning users
Generating reports at the desired intervals
Updating course completion status
Archiving old courses and regularly cleaning up the LMS
Customizations may include:
Integrating with payment channels (PayPal, CCAvenue)
Integrating with external applications using the single sign on facility
Integrating with virtual training platforms for webinars and VILT sessions (Zoom, GoToWebinar)
Generating custom reports in visual formats (such as pie charts, bar and line graphs)
Creating cohorts and setting up/customizing the LMS to give each cohort a unique experience according to their requirements
Ensuring information security
Customizing dashboards and notification system based on training requirements
If you don't have an internal admin team, look for an LMS vendor who will also take over the administration and support work, along with atypical customizations. They will also train your internal team to gradually take over the tasks, so that only major customizations need to be outsourced.
Wrapping it Up!
Does your LMS provide all these features for different users? If not, you're probably still pushing your conventional LMS to match up to the expectation of the current times. Why invest so much time and efforts when you can simply switch to a new-age LMS like Effectus which offers a one-stop solution for all your training needs? They are easy to use, deploy, and most importantly are user-centric!
Sign up for our free webinar on "Introducing the New-age LMS' for insights on how a new-age LMS can resolve typical business challenges, how it can maximize training ROI, and so much more! Register now.