A New-age LMS for New-age Learners!
Is your organization still using an old LMS? If yes, would you like to know about the benefits of a new-age Learning Management System? Read this blog to know about using a new-age LMS for your modern workforce.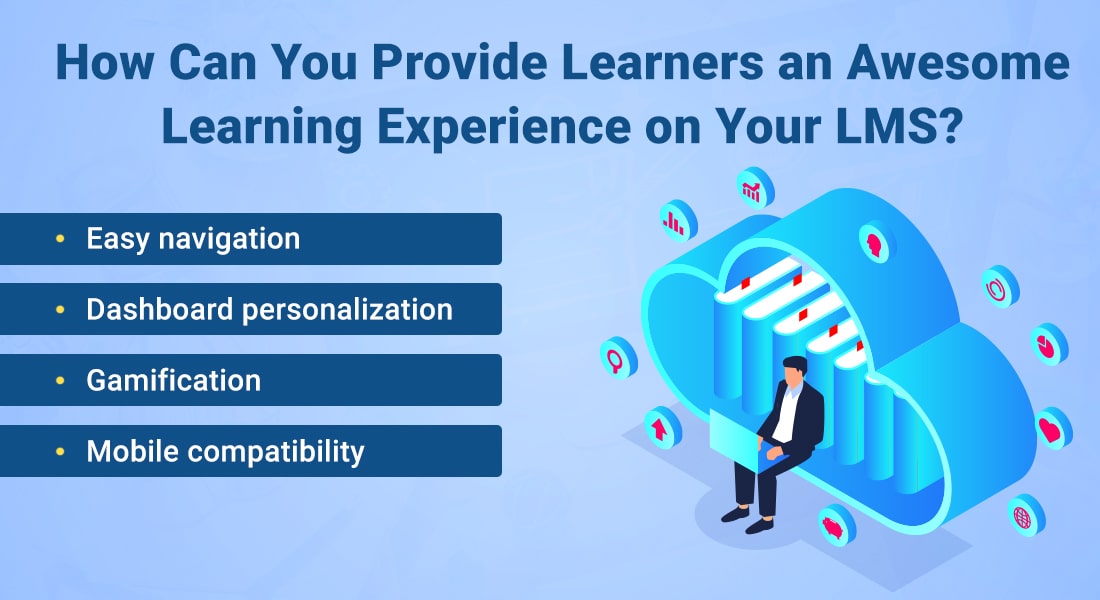 Let's talk about the Learning Management System (LMS) your organization is using currently. How is its navigation? Is it smooth and user-friendly? Or does it totally confuse your learners? Does the LMS offer a personalized dashboard for learners? Does it integrate gaming elements? Is it mobile compatible? Well, if you have answered no to most of these questions, then you might want to rethink your LMS, dear Training Manager!
Do You Need a New LMS?
Ask yourself 4 questions about your existing LMS:
Does it have smooth and user-friendly navigation?
Does it offer personalized dashboards?
Does it allow integration of gaming elements?
Is it mobile compatible?
If you've answered, "No" to any of them, it's time you shifted to a new-age LMS!
Today, a majority of your employees are millennials and Gen Z'ers. And to cater to their learning styles and preferences, you need to remember that they prefer learning to be a fun experience. Keeping them glued to traditional learning modules on the LMS can be counter-productive, and lead to an under-trained workforce that can't work to its best potential.
This blog discusses four critical aspects of a modern LMS that make it difficult, if not impossible for you to ignore the need to replace your traditional LMS with the new-age one.
How Does the Modern LMS Help Learners?
1. Easy, Intuitive Navigation for Learners
An LMS with well-designed and intuitive navigation allows learners to move from one learning point to another easily and with little effort. Regardless of how tech-savvy millennials and Gen Z are, pathfinding in an LMS is all about clear guidance. An LMS with poorly designed navigation may lead to a ruined learning experience.
Modern LMSs can facilitate self-guided exploration by learners and provide them with a well-designed map. Easy navigation menus can ensure that learners are aware of the next step, their past and current location, as well as what they are expected to do.
An LMS with easy navigation allows easy access to information for learners at the point of need. With the help of clearly labelled buttons, concise drop-down menus, and learning tips made available at various learning points, learners can access additional information instantly, and avoid wasting time on the LMS navigation.
2. Personalized Dashboards
Modern learners prioritize personalization in their learning experience and prefer learning from relevant and curated content, customized for their learning needs. A personalized dashboard can meet their requirements perfectly.
Since employee training is a recurring process in organizations, new learning content will keep adding to the LMS dashboard. This makes it necessary to display only the newest content on the dashboard. This way, learners can avoid the hassle and wasted time in trying to browse through volumes of training content when they need to learn something new. The components of the dashboard, and its look and feel should also be considered, keeping it mind the domain in which the organization operates.
Example
Compliance-driven organizations can have an LMS dashboard that displays expiring certificates in the center. Upcoming mandatory courses can also be displayed.
3. Gamification for Learners
"All work and no play, makes Jack a dull boy"
Millennials and Gen Z are 'active learners' who prefer to learn by doing, rather than simply being passive recipients for learning. They can learn and retain 90% of what is taught to them in engaging environments, and gamification meets this requirement effectively.
Gamification is integrating game elements and game principles in non-game contexts, to increase user engagement and learning to ultimately improve organizational productivity. The basic objective of gamification is to make work seem like play.
An LMS with interactive gaming elements can encourage learner participation. Gaming elements like leaderboards, points, badges, certificates, course currency, etc., can make the training sessions interesting enough to draw and keep learners entertained and involved in the training. Learners stay competitive as they are offered incentives for participation and engagement. Reaching set goals comes as a consequence of optimal learner involvement in such an environment, resulting in increase in overall productivity.
4. Mobile Compatibility for Remote Access
To facilitate mobile learning, all Learning and Development (L&D) activities must be hosted on an LMS and made available on mobile devices. With the increase in availability of mobile devices like smartphones, tablets, and laptops, making training accessible remotely on these devices can be incredibly beneficial for organizations, especially now due to the lockdowns.
A lot of organizations are already converting their classroom training material to eLearning, and making it mobile compatible. Organizations worldwide still have their workforces scattered geographically, and with mobile learning, they can make training accessible to employees, regardless of their location. As for learners, they can enjoy uninterrupted access to anytime, anywhere learning.
With social apps like Skype, Zoom, Slack, or MS Teams, learners can stay connected online and since LMSs can integrate with these apps, learners can easily switch between various eLearning modules, video conferences, and virtual instructor-led training sessions.
An LMS can provide seamless and uniform learning experiences across multiple devices through responsive design and themes.
Customized Native App LMS: Open-source native apps like Moodle can be customized according to your training requirements. Learners can download courses, training material, and additional resources, and enjoy offline access.
Web Apps: HTML5-based browsers can run web apps that have functionality similar to native apps. Just like with customized native apps, downloaded content can be accessed offline and any changes made to the downloaded courses during this time will get synced when they reconnect to the Internet.
Summing it All Up!
By making the modern LMS mobile compatible, organizations can leverage already existing and growing user base of mobile devices. Organizations can provide a fun and personalized learning experience for young learners by integrating gaming elements into the LMS and presenting it on personalized dashboards with easy navigation.
By making these features accessible remotely and maximizing the utilization of training resources, organizations can help learners minimize their time to productivity, which in turn increases their training ROI. For other tools, you as a training manager, should be hands-on with, explore our eBook!