How Kahoot! Can Help to Deliver Engaging and Immersive eLearning Experience
Kahoot! is a global learning platform that relies on the game-based approach to engage the learners. Wondering what's so special about Kahoot! as it has already delivered engaging learning to billions? This blog helps you find out.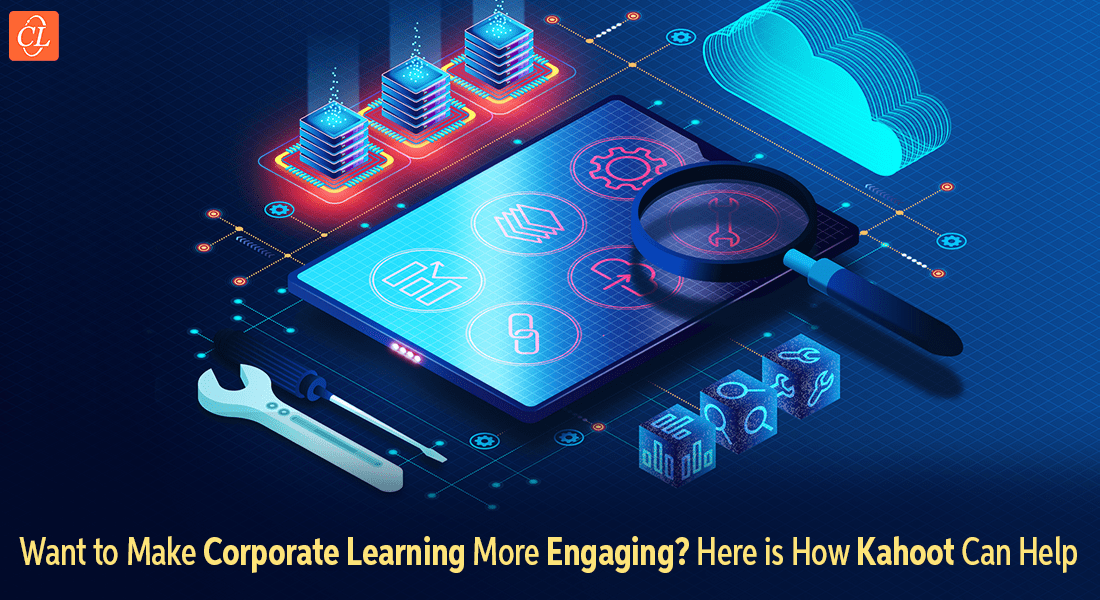 Kahoot! is an online cloud-based platform that operates on the concept of game-based learning to deliver engaging eLearning to billions in a fun and exciting way. Kahoot! majorly uses quiz style approach to design quirky and immersive games. Due to the fact that it is cloud-based, it is easily accessible on multiple devices like laptops or mobiles. The content on Kahoot! is categorized precisely, making it easier for trainers to target learners with different types of modules, depending on their abilities and expertise. This blog will help you understand Kahoot! in detail and how it helps to engage learners in eLearning sessions.
Are You Curious About Kahoot! But Confused About its Benefits?
Take a look at some of the best features of Kahoot!
Ghost – Compete against your own high scores.
Duplicate – Copy any pre-existing kahoots uploaded by other users.
Interactive Assessments – add multimedia like videos from youtube to support your quiz.
Analysis – get a detailed analytical report of all the participants in a specific Kahoot! quiz.
Read on to explore Kahoot! in detail.
How Kahoot! Works?
To understand at a beginner level, Kahoot! simply allows you to create a question and its respective answers whether in MCQ, fill-in-the-blanks, or puzzle format. With Kahoot!, you can create learning games or a trivia quiz on whatever topic, in a language of your choice. To host or share the quiz, the organizer would share their screen where all the questions would be displayed. The users can gain access to the session through a PIN and interact with their devices to submit the answers within the timer. Kahoot! can incorporate real-time polls and surveys as well to collect any sort of immediate data. Kahoot! follows the SAMR model if speculated with a bit deeper insights.
Substitution: Kahoot! allows learners to participate in an immersive quiz to answer questions after the end of a module instead of a traditional quiz.
Augmentation: Kahoot! works great as a formative assessment tool as it has the ability to add various engaging elements such as images, GIFs, or videos to the quizzes, that can enhance the engagement of learners.
Modification: Learners can access pre-designed quizzes and make modifications accordingly or just gain relevant knowledge about multiple topics.
Redefinition: Kahoot! allows the users to create a trivia quiz on any topic and there are no limitations on the number of learners that can participate at once.
Best Features of Kahoot!
1. Ghost
Allows the learners to compete with their own high scores through multiple attempts to facilitate improvement in any topic.
2. Duplicate
There are millions of Kahoot! users, and a lot of them have their Kahoot! saved on the platform. Kahoot! allows a user to make a copy of any of those pre-existing Kahoot! or even combine multiple quizzes to cause a possible overdrive( in a positive way).
3. Analysis
Kahoot! provides an analytics report of all the learners who participated in the quiz, which helps the organizations to understand the aspects their learners excel at or struggle with.
4. Interactive Assessments
Multimedia elements like videos can be directly added from youtube or any other supported platform followed by a quiz. Game elements such as points, leaderboards, levels, and awards make the eLearning assessments highly interactive and motivational among employees.
How to Make a Kahoot! Game or Quiz?
Open their website kahoot.com and sign up as a free user, choose your account type, and register with your email and password. This takes you to the dashboard, where you can choose whether to make a new Kahoot! or replicate an existing one.
Describe your Kahoot! followed by the addition of a title, description, and the target audience, then click "GO".
Add your questions, their options, and a correct answer and specify a time limit if needed. There are various tools on your dashboard to add a visual appeal to your Kahoot! quiz.
Confirm and save all your changes, and once you are ready, you can play or share your newly created Kahoot!, all for free.
Some Fancy Numbers!
More than 1,000,000,000 players a year.
More than 50% of teachers in the US work with Kahoot!
Players in more than 200 regions and countries.
More than 100 million public games or quizzes available.
97% of Fortune 500 companies use Kahoot!
87% of the Top 500 universities work with Kahoot!
1M+ paid subscribers across all Kahoot! services.
My Verdict!
Kahoot! is indeed one of the most influential cloud-based platforms in recent times to provide game-based learning in the form of actual games or quizzes to enhance learner engagement. Kahoot! can be used by various types of organizations either personal, professional, or educational which makes it a versatile tool. Kahoot! is available for free as well as paid, but most of the required features, unless too specific, are available in the free version, which makes it pocket-friendly. It can be useful for both classroom learning sessions or online eLearning modules, which are accessible on most modern devices with an established internet connection which makes its accessibility quite easy.
With all that taken into consideration, Kahoot! is pretty diverse on an overall basis. I would say it's a tool that receives a strong 9.5/10 with immense potential to be unlocked with time and technological advancements. While Kahoot! deals with game-based learning and its related aspects, there are other equally exciting eLearning trends that are influential for the hybrid and the virtual corporate world. This free eBook can help you explore those trends that can make your eLearning sessions productive.