A Quick Overview of iSpring Suite
Creating, designing, and editing rapid eLearning courses has never been easier. Learn how iSpring Suite can supercharge your organization's training programs!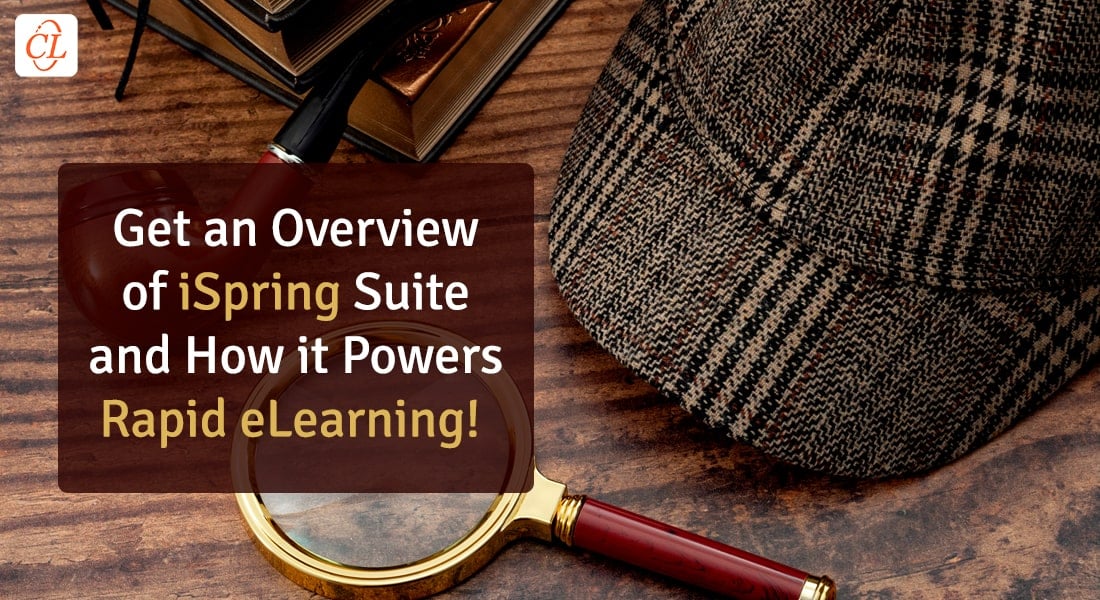 Designing rapid eLearning courses can be complicated, owing to the fact that it needs to be multi-device and concise. Online courses might seem simple, but there's a lot that happens behind the scenes. Designing successful courses might not be possible were it not for authoring tools like-iSpring Suite.
iSpring Suite delivers on every level of performance and delivery. There is no doubt that this authoring tool is among the world's best, because of its performance almost 35 times above the average as well its cost-effective price.
Do you want to design spectacular eLearning courses with ease? If you do, then read on to discover more information about iSpring Suite here!
What is the iSpring Suite?
Have you wanted to create an eLearning course, but stopped because you did not know how? Well, that is where iSpring Suite plays in! It is an eLearning authoring tool that helps you design and develop courses for multiple online platforms.
The iSpring Suite authoring tool supercharges the development of training videos, interactive assessments, text-to-speech conversion, screenshots, dialogue simulations, and much more to create an interactive learning experience.
Everything you might need to build a powerful eLearning course is available in iSpring Suite. It builds courses that can be accessed on multiple platforms including – mobiles, tablets, laptops, and desktops!
What Does iSpring Suite Tool Offer:
iSpring Suite is one of the best eLearning Authoring Tools because:
It is simple to use.
It comes with everything you need to develop and publish your courses.
It is cost-effective.
It has a very short learning curve.
It helps you design offline courses.
It allows you to add media that enables integration across platforms.
What makes iSpring Suite the ideal choice for most eLearning specialists and novices is that it is extremely interactive and simple to use. It allows your teammates the opportunity to collaborate and share content online. Therefore, the whole process of designing online courses is both simplified and fast-tracked.
Online courses made using iSpring Suite are coded into HTML5, so that you can view them on your device. eLearning courses are also designed for compatibility with modern eLearning standards, such as AICC, xAPI (Tin Can), cmi5, SCORM 2004, and SCORM 1.2. This way, you can host and track your courses on just about any Learning Management System (LMS) out there.
iSpring Suite is the best authoring tool for L&D specialists, eLearning authors, educators, and instructional designers. There is no better platform to make courses easily, quickly, and effectively.
What Does iSpring Suite Include?
iSpring Suite helps you build spectacular eLearning solutions. When you purchase an iSpring Suite subscription, you get access to:
iSpring QuizMaker: Helps you add unlimited quizzes to your online courses, making sure they enhance your learners' interaction. You get to choose from 14 quiz templates, which simplifies the eLearning design and development process.
iSpring TalkMaster: If you need dialogue simulations in your eLearning course, then iSpring TalkMaster is there for you. It simulates your course's dialogues from the text you input.
iSpring Flip: You can convert old-fashioned documents into eBooks that are visually appealing and boost interaction using this tool.
iSpring Audio-Video Editor: Has everything you need to edit audio-videos elements for your eLearning courses.
iSpring Cam Pro: You can make real-time videos with custom backgrounds and interactive elements using its robust video editing tools.
iSpring Space: You can easily store all your eLearning courses on the cloud. This way, they are accessible on any device through a captivating user interface.
iSpring Content Library: Helps you launch professional-looking and interactive eLearning courses online with multiple assets such as illustrations, templates, photos, and characters. This way, you can add many audio-visual elements to your courses.
Why Use iSpring Suite
Now that you know all the features of the iSpring Suite, let us talk about why you should be using these tools in the first place.
Cost-Effective: Investing in a separate software for video and audio editing, course mapping, and publishing can be extremely expensive. iSpring Suite packages all the tools you might need to author an eLearning course into one toolkit.
Easy to Get Started: Not many toolkits are as easy to use as iSpring Suite. It has a very small learning curve, making it an ideal choice for L&D managers and SMEs to design and update their eLearning courses quickly.
Offline Access: iSpring Suite allows you to build courses offline. Therefore, you do not have to always be connected to the net to build spectacular courses.
Compatible With Most LMSs: You do not have to worry about changing platforms to upload your online courses to a specific LMS. The overarching eLearning standard allows improved compatibility of your courses on any platform you can think of.
Multi-platform Compatibility: Your online courses are streamed easily and accessible on just about any device due to the HTML5 format.
Professional Courses: You don't have to worry about your eLearning courses looking bland and uninteresting. As they come from the iSpring Suite developer's hands they instinctively look professional and appealing.
Interactive Courses: iSpring Suite's quiz-making and audio-visual editing tools will give your courses superior quality and you don't need to worry about your course falling flat. They will always be interactive and interesting to your audience.
Summing Up
Sure, there might be a few things that are not ideal about iSpring Suite. However, when we weigh in the benefits of this rapid eLearning authoring tool, the reason to prefer it is clear. With a plethora of tools that make designing and developing eLearning courses straightforward, this is easily one of the best toolkits out there.
Have you set your mind on using iSpring Suite to develop eLearning courses? Great! Now, why not reach for this eBook and learn of the different designs and strategies that will enrich your eLearning courses? Get a copy of it now!