3 Absolute Features of Rapid E-learning Development
This blog highlights 3 characteristics of rapid e-learning development – when it is the best training choice for organizations.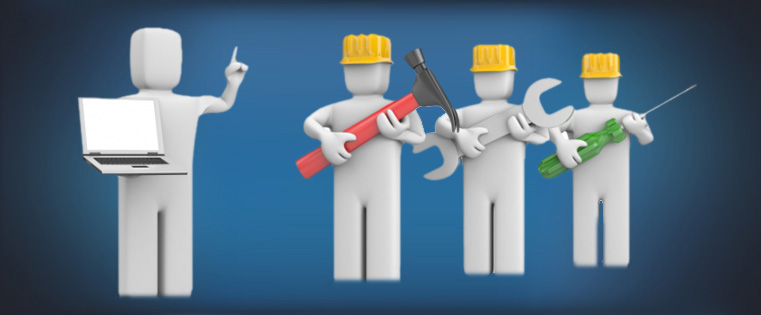 When organizations begin to look for rapid eLearning, one question that typically pops up is either 'What is rapid eLearning?' or 'Is it something my company can benefit from?' These questions, although they sound simple, are often hard to grapple with. My goal for this blog is to bring to the forefront the 3 absolute features that characterize rapid eLearning development. When is rapid e-learning the way ahead?
1. If the Material Already Exists in Some Other Format
So, who is rapid eLearning for? There are no definite types of topics or subjects that are better suited than others for rapid eLearning. However, one specific characteristic that lends itself to rapid development is material that exists in some format such as PowerPoint presentations or webinars/webcasts. These materials serve as the eLearning course outline – because the time it takes to identify and outline the project was already spent – and can be repurposed into rapid eLearning courses easily.
2. If the Content has a Short Shelf Life
Trainings that are time sensitive and require frequent updating, such as product training, sales training, compliance training, pharmaceutical & healthcare, banking, are the ideal candidates for rapid eLearning.
Constant course updates translate to more money and time. To keep up with the competitive demands of the market, you must train your learners quickly and for this rapid eLearning is the way to go.
3. If Courses are to be Developed Within Weeks, NOT Months
Less development time and cost are perhaps the biggest assets going for rapid eLearning development. This "rapid" development of eLearning courses is possible, thanks to the wide variety of rapid authoring tools available in the market. These tools consist of features which significantly cut down development time.
Developing a course end-to-end takes several months. Rapid eLearning, however, reduces development time by as much as 40% of the time taken to develop eLearning courses, compared to end-to-end development, all thanks to readymade animations and other design assets that are readily available.
A closer look at rapid authoring tools – how they accommodate different training requirements
Traditionally, rapid authoring tools such as Articulate Storyline, Adobe Captivate, Lectora, and iSpring, were used to convert existing training courses in the form of PPTs, to online learning courses. However, in recent years, expectations from authoring tools have only changed for the better. As a consequence, these tools come with a variety of features inbuilt, such as:
Readymade templates for scenario-based learning
Screen casting for simulation-based learning
Asset libraries with thousands of custom animations and assessment templates to make learning interactive and engaging
Some rapid authoring tools also support plug-ins, which help create powerful eLearning content. For example:
Lectora Inspire is bundled with Camtasia, which allows you to create, edit, and produce professional video tutorials
Adobe Captivate 9 has a built-in responsive screen capture feature that can record all of your mouse motions, audio, typing activity, and on-screen movements, in a flash
The BranchTrack application, specifically built to create simulated scenarios with branching, easily allows you to create and import scenario-based exercises in Storyline, Captivate and Lectora
As a result, these rapid authoring tools – which were originally used for quick development of courses – now, let you create rich and engaging courses without compromising on the functionality or the quality of the look-and-feel of the courses.
Rapid eLearning development is no longer seen as a cheaper alternative to the end-to-end development framework. It has become a well-accepted standard in creating impactful learning programs and has become more of a norm than a trend. For some, it means tools that let them build eLearning courses without special programming skills. For others, it means being empowered to quickly share their expertise with others. Ultimately, rapid eLearning is about getting the right information to learners in quick and efficient terms.