5 Rapid Fire Questions for Flash to HTML5 Migration [Infographic]
Want to successfully migrate Flash eLearning courses to HTML5? Find answers to the most important questions about Flash to HTML5 conversion.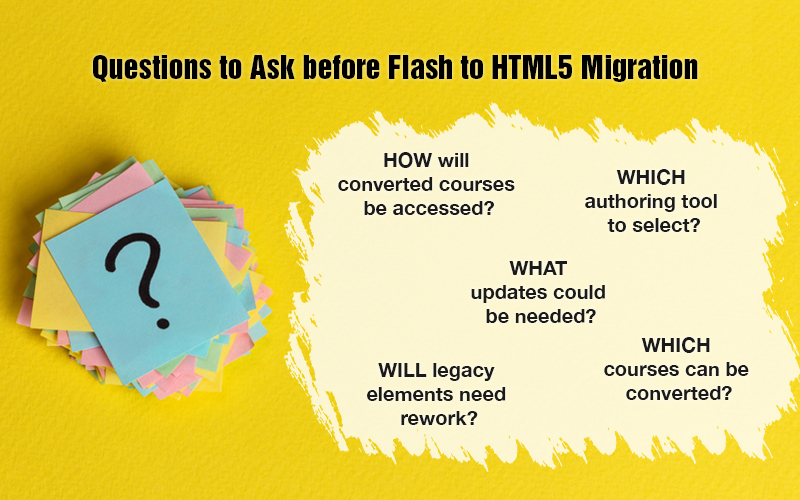 You know what the most frustrating thing is for an organization considering converting its Flash courses to HTML5?
THE AVALANCHE OF INFORMATION ON THE FLASH TO HTML5 CONVERSION PROCESS.
There is SO MUCH information about Flash to HMTL5 conversion out there in the form of articles, whitepapers, and eBooks. Most of these articles mostly underscore the obvious benefits the Flash to HTML5 conversion process has to offer.
However, there is little to no information about questions such as:
'How will the learners access the converted HTML5 courses?'
'Apart from conversion, is there scope for other updates?'
'What authoring tool should you pick to convert Flash courses?'
These are questions that need to be answered before an organization embarks on the Flash to HTML5 conversion. Thankfully, we have an infographic for you that will answer these questions and many more.
For example:
If your learners wish to access learning on the go, responsive learning is the way to go.
Apart from conversion, you can update legacy courses instructionally or reconfigure them to a curriculum of microlearning modules.
When it comes to picking an authoring tool, you can pick Articulate 360 if Flash courses have a lot of interactivities, and Adobe Captivate for simulations.
Find answers to many more crucial questions about the conversion process – questions that will help you better prepare for Flash to HTML5 conversion. If you are planning to convert your Flash courses to HTML5 and need a little jumpstart, you cannot go wrong with this informative infographic!
Here's the infographic!