How Can You Smoothen Flash to HTML5 Conversion Outsourcing?
Outsourcing Flash to HTML5 conversion? How can you contribute to the Flash to HTML5 conversion process, by supporting your vendor? Get the answers here.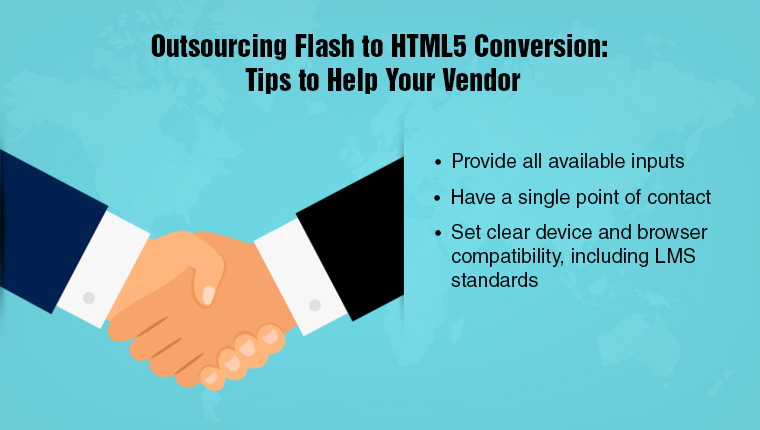 The decision to outsource Flash to HTML5 conversion is something you would not regret. After all, the process becomes a cakewalk with the expertise and resources your eLearning vendor-partner would bring to the table. Attempting to do the same with your in-house team – who are not experts in Flash to HTML5 conversion – would entail a lot in terms of time, efforts, and quality assurance.
That said, the mantra to a successful project lies in the partnership between your team and the vendor. Your inputs and support can make a huge difference, but how can you contribute to the Flash to HTML5 conversion outsourcing? Read on to find out!
Flash to HTML5 Conversion
What You Should Provide the Vendor to Get Started
Inputs: To Kickstart the Process

Assets and published files
Templates, branded GUI
Style guide

Project Management: To Enable Smooth Development

Point of contact
Timelines or schedules of SMEs and stakeholders
File formats for review

Quality Assurance: For Zero-error Course Conversions

Device and browser compatibility standards
LMS standards
Flash to HTML5 Conversions: What YOU can Provide Your Vendor at Different Stages
1. Inputs to Kick Start the Process
For your vendor to get a head start, provide all existing inputs you have including:
Source Files, Assets, and Published Files
Gather and pass on all the published courses and final media files including the source files used to create the existing courseware. You can easily identify these resources with their extensions (e.g. .html, .xml, .psd, .css, mp4, mp3, raw audio). The source files make the conversion process smoother, reducing the time and efforts that would be otherwise needed to recreate courses from scratch.
Existing Flash courses whose source files are not available, can be converted to HTML5 using the 'Record' conversion strategy. You can also extract text from these courses using software such as OCR Online and One Note.
Templates and Branded GUI
You can save a lot of time by providing the vendor with pre-defined templates and your branded GUI. Standardizing these templates also helps save on development time, in addition to adding consistency in design and enabling learners to connect to the courses.
If you don't want to reuse the existing templates and GUI, and wish to give a fresh look to the courses, your vendor can choose from the array of templates offered by rapid authoring tools. These pre-built templates for content slides, assessments, GUI, etc., can be tweaked to match your branding guidelines. A template library also can be created for future use.
Style Guide
A style guide provides accepted guidelines on template design, writing style (including fonts, tone, and language), symbols, numbers, page layouts, graphic design, and so on. This acts as a point of reference for developers converting your Flash to HTML5 eLearning courses.
A readymade style guide helps adhere to best practices, saves time, and ensures a consistent and uniform look and feel of the final output.
2. Project Management to Enable Smooth Development
Much like how a director directs his team while making a movie, a good project management team can steer the Flash to HTML5 conversion project to success. Irrespective of the quantum of work required, project managers ensure your project stays within timelines and cost, and with the desired quality. However, your support at this stage can ease the process and save considerable time.
Here's how you can support the vendor's project management team.
Specify a Point of Contact
Regular and effective communication is crucial to ensure timelines are met. It's important to specify the points of contact between the vendor and your team. Begin by allotting roles and responsibilities to your in-house team. For instance:
Who is the SME for this Flash to HTML5 conversion project?
Who will be reviewing the converted courses?
Who will be the decision-makers?
Who will be responsible for gathering and resolving feedback?
Who will sign off on the quality?
Schedule SME and Stakeholder Time
The primary responsibility of your SMEs and stakeholders is not training. In fact, these highly valued professionals are usually very hard-pressed for time. However, their expertise in the subject makes their participation imperative for designing effective eLearning. How can you ensure a smooth working relationship between the SMEs and the instructional designers of the vendor?
Take note of their schedules and find out when they can be available for calls with the vendor's team. Inform the vendor's team of the same to help them prepare in advance for the calls.
Prepare an overview of the stages in the conversion process where SME involvement is needed. You can even put down the amount of time they need to be available at each stage.
Find out how the SMEs would like to be contacted – via email, phone calls, or messages? Knowing this helps the ID team reach out when quick clarifications are needed.
File Formats for Review
What are your team's preferences when it comes to reviewing courses? Would they be more comfortable with the conventional method of downloading zip files and reviewing them, or the new-age way of online reviews? The latter involves online review tools such as ReviewLink that enable collaboration with the vendor's team over the web. Whether it is to suggest edits or provide in-context feedback, online tools ease the process by reducing multiple review rounds.
3. Quality Assurance for Zero-error Course Conversions
As important it is to complete the Flash to HTML5 conversion project on time and within budget, you would not want to compromise on quality. Although most of the onus is on the vendor, your contribution is integral in the quality assurance process. How?
Review and sign-off on the vendor's quality assurance process. You can even validate it with a pilot project if time permits.
Establish the device and browser compatibility of the courses. For instance:

Do you need courses to run on the latest version of browsers such as Internet Explorer 11.0 and Edge?
What screen resolution are you looking for mobile-friendly courses – 1024×768, 1280×720 or 1080×1920?
Should the converted courses be compatible with Android, Windows, and iOS?

Set forth the LMS compliance standard. Do you want the courses to be published to the latest version of SCORM (SCORM 2004) or are you looking for xAPI, or cmi-5?
Wrapping Up
While the inputs and support needed to convert various Flash courses can differ, these are some of the areas where you can make a difference. Your contribution not only eases the Flash to HTML5 conversion process, it also ensures the project is accomplished in time, within budget, and with the desired quality. Can you think of any other way you can support your eLearning vendor? Please share your thoughts in the Comments section below.