Move from Flash E-learning to HTML5: Ring in the New
Convert Flash eLearning to HTML5 or skip conversion? Check the blog to know why an organization needs to convert their Flash-based e-learning to HTML5.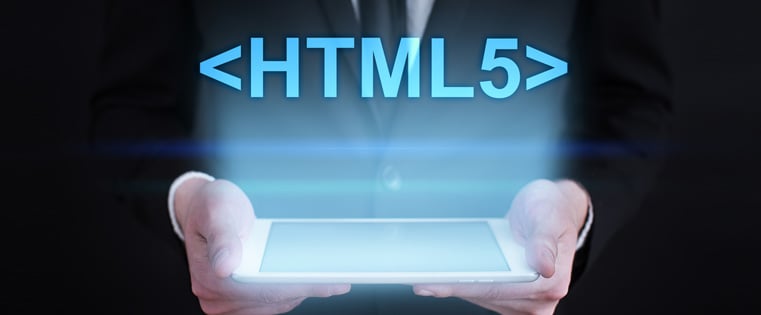 Ring out a slowly dying cause,
And ancient forms of party strife;
Ring in the nobler modes of life,
With sweeter manners, purer laws.
– A stanza of the poem In Memoriam, by Lord Alfred Tennyson.
Ever since Google announced it would make HTML5 the default experience in Chrome, and start blocking Flash by the end of this year, many organizations have been wondering why. One of the reasons these organizations require Flash is because of their Flash-based e-learning courses. Now that these courses won't work on many browsers and devices, Flash eLearning courses need to be converted into a compatible format; which is HTML5. So to understand the exodus toward HTML5, I've listed a few disadvantages of Flash and the advantages of HTML5 from the perspective of e-learning accessibility.
Reasons to Convert Flash eLearning to HTML5
Adobe Flash has disadvantages as it:
Requires a plugin
Needs more load time
Is not supported by mobile devices
The advantages offered by HTML5 are that it is:
Multi-browser compatible
Accessible on mobile devices
Why Switch from Flash eLearning to HTML5?
Disadvantages of Adobe Flash
Flash might be a very powerful tool for creating classy animations, developing interactive games, or creating vector graphics; but creating a complete e-learning course in Flash might not be a good idea these days. If you do so, you will face several disadvantages. Let's see what they are.
Requires a plugin
If you want to access any Flash-based content on any browser, you need to install the Flash player plugin first. If learners do not have it installed in their systems, they will have to put up with a lot of inconvenience – click the link to the Flash player download page, download the setup file, and install it. This process would eat away their valuable time. Even if they have it installed, it needs to be updated often. In case a learner has no knowledge of such plugins and no one is available to assist, he would have to wait until he finds someone to fix it for him.
Needs more load time
Flash components usually take more time to load. Not everybody has a high speed Internet service or a 3G/4G mobile connection. So this again, wastes valuable learning time. If this repeats on every slide, learners may lose the interest to complete the course.
Android and iOS devices do not support Flash
Apple has withdrawn support for Flash in its devices long back; Androids too gave up after the initial support. With the number of mobile users growing by the day and their increasing preference for mobile devices to access information, creating your e-learning in Flash would deprive your mobile users of the training. Convert Flash eLearning to HTML5 to deliver mobile-compatible learning.
Watch this short video of Steve Jobs to know why Apple decided to withdraw its support to Flash.
Source: https://www.youtube.com
Advantages of HTML5
With everyone withdrawing Flash support, HTML5 has gained prominence. But why HTML5 for e-learning? How is it different from Flash? Is it really worth converting your legacy courses to HTML5? Let's see what it offers.
Multi-browser compatibility without a plugin
Unlike Flash, an HTML5 e-learning course does not need any plugins to access the multimedia elements. This makes it easy for learners to access the e-learning courses on the browsers they wish. Be it Microsoft's Internet Explorer, Google's Chrome, Apple's Safari, or Mozilla's Firefox, learners can access courses immediately. This saves a lot of valuable time and is convenient even for the not-so-tech-savvy learners.
Accessible on mobile devices
Which smartphone do you own? A Windows phone? An Android? Or an iOS? Whichever smartphone you may carry, they all support HTML5. All mobile browsers have adopted HTML5. So in case your learners do not have a computer or a laptop to access e-learning (with HTML5 output), they can access it on their personal devices. If these courses are responsive, that's an added benefit.
These are a few reasons why everyone is leaving Flash behind and moving toward HTML5. Are you worried about your Flash-based courses becoming unusable? We can help.