4 Tips to Effectively Convert Adobe Flash E-learning to HTML5
Are you planning to convert Flash content to HTML5? Looking for tips to convert Flash to HTML5? This blog gives you 4 useful tips.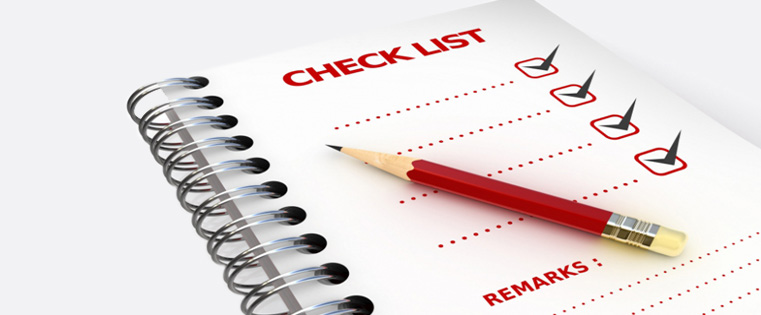 Let's admit it! Adobe Flash is dying. Long ago Steve Jobs stopped the usage of Flash in Apple devices. But, as the users of Apple devices around the globe were comparatively low, this decision did not impact everyone. But, ever since Google announced that it would block Flash in its browsers, the impact has been huge and there's a need to convert Flash to HTML5. Also, most of the Android devices too do not support Flash.
4 Tips to Convert Flash to HTML5
Collate the source files of Flash-based courses
Extract the media elements
Chunk courses into short nuggets
Choose an authoring tool that gives a responsive output
Apart from Flash-based websites, another area that has been facing the implication is online training. Organizations have been converting their Flash-based e-learning to HTML5 so that employees do not face any issues while accessing training courses. However, it's not just a click-and-convert process. There are a few tips you must keep in mind.
Tips to Convert Flash to HTML5
1. Bring All the Source Files of Flash-Based Courses Together
The first thing you must do in the Flash to HTML5 conversion process is to identify the courses that are being converted from Flash or legacy formats to HTML5 and bring together all their source files. These source files include .fla files, XML files, and JavaScript files.
Getting all these files together will avoid confusion and hassle during conversion and give you an overview of the work that lies ahead. Getting the source files together lets you to prioritize the courses, thereby, helping you draw a detailed schedule, to streamline your work.
2. Extract the Media from the Existing Source Files
Once you have gathered all the source files, extract all the media files and content from the source files. You might need to update these elements before you put them into the HTML5 course. If you want the courses to be converted as they are, without modifications of any kind, you can directly give the courses to the developers who will extract the content themselves and put them into the HTML5 course.
However, as the courses would have been created long ago, they would mostly need tweaking and updations. Even if you do not have source files, you can convert Flash to HTML5 using Record methodology.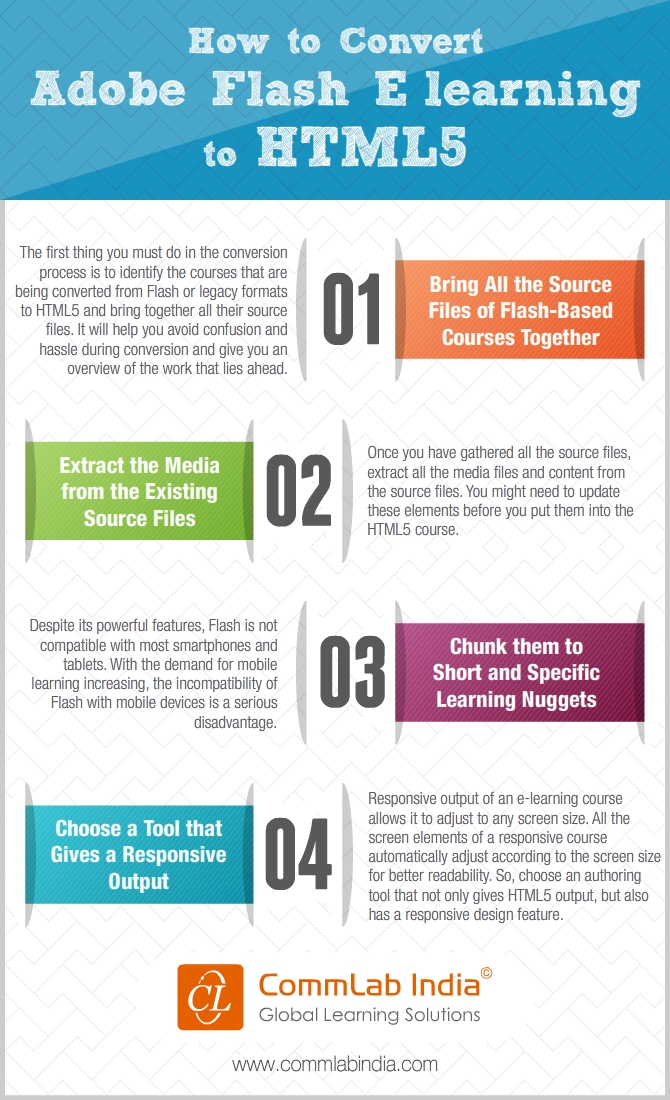 3. Chunk Courses to Short and Specific Learning Nuggets
Chunking Flash courses into short and specific learning nuggets can be one of the most difficult aspects of this conversion process, because it usually involves some major eliminations and revisions. You must do this for 2 reasons:
Fight the shrinking attention span of today's learners
Reduce the loading and download time
Many learners might access these courses on their mobile devices, lengthy courses might take a while to download and learners might not feel like going through it completely on smaller screens. So, keep it short and simple.
4. Choose a Tool that Gives a Responsive Output
Responsive output of an e-learning course allows it to adjust to any screen size. All the screen elements of a responsive course automatically adjust according to the screen size for better readability. You must remember that a responsive course is an HTML5 course, but an HTML5 course is not a responsive course. So, choose an authoring tool that not only gives HTML5 output, but also has a responsive design feature. Adobe Captivate is one such authoring tool that is widely known for developing responsive HTML5 courses.
Whether you convert your Flash or legacy courses yourself or outsource them to an e-learning vendor for conversion, these tips will always be helpful in making the conversion process hassle-free.