Convert Flash to HTML5: Why Does It Make Business Sense?
What are the benefits of converting Flash to HTML5 in eLearning? Find out why it makes business sense to convert Flash to HTML5 in this blog.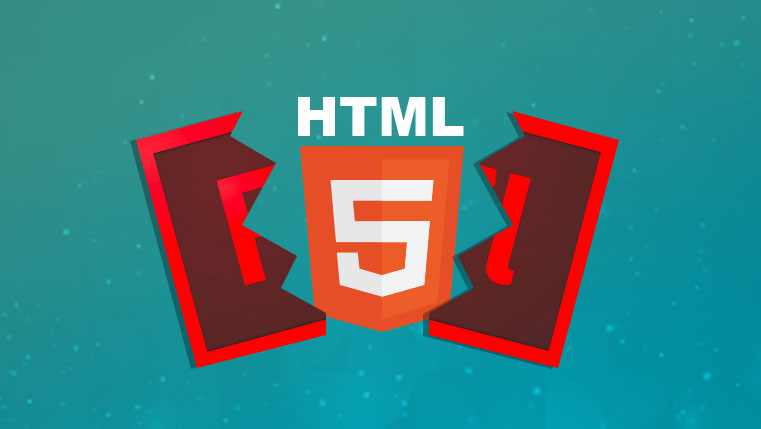 You must be aware that Adobe Flash, once the undisputed king in eLearning course development will cease to remain so. And that means Flash-based courses will no longer be accessible once browsers withdraw support for Flash. You would also know that converting Flash to HTML5 is a necessity for organizations that have already invested time, effort, and money in building a huge repository of eLearning courses using Flash or ones that have courses in old versions of authoring tools containing Flash components.
How Flash to HTML5 Conversion Benefits Learners and Organizations
1. Benefits for learners
Make device-independent learning a reality
Encourage anytime learning
Support the offline access of learning resources
2. Benefits for organizations
Maximize return on training investment
Ensure the security of online content
Promote a learning culture future-proof learning
Effect ROI positively
With the availability of authoring tools that offer HTML5 output, converting Flash to HTML5 is made easier. What difference does HTML5 in eLearning make for your employees and the organization as a whole? Read on to find out.
Can an Investment in Converting Flash to HTML5 Have an Impact on Learners?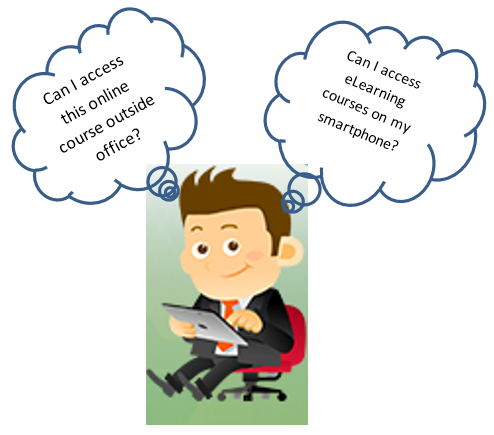 Absolutely! Here's what learners stand to gain with HTML5-based eLearning.
1. Convert Flash to HTML5 and Make Device-Independent Learning a Reality
With HTML5-based eLearning, course content is optimized for display, irrespective of the device used to access the e-learning course. Learners are no longer restricted to accessing e-learning courses from their desktops or laptops. Blurred images or heavy videos that do not play on smartphones are passé. It does not matter whether you access e-learning on your iPhone or from a tablet, HTML5 ensures that the output remains consistent.
2. Convert Flash to HTML5 to Encourage Anytime Learning
Next generation learners love the flexibility of accessing learning resources anytime, anywhere. HTML5-based e-learning makes it possible for learners to access e-learning on their mobile devices.
HTML5-based e-learning courses are known to load faster and consume less bandwidth (and bandwidth does matter when you are accessing e-learning outside the organization) as compared to Flash-based courses that are capable of draining the battery life of mobile devices.
3. Convert Flash to HTML5 and Enable Learning on Multiple Browsers
Learners who are familiar with Flash-based e-learning courses might be aware of this problem – where the course does not run on browsers such as IE or Firefox. This is because Flash requires a third-party browser plugin to be installed. Unlike Flash which requires a Flash player, HTML5 does not require any additional plugins to display e-learning content across various browsers.
4. Convert Flash to HTML5 to Support Offline Access of Learning Resources
Offline learning might be required in the following scenarios:
Employees on the move – E.g.: Sales and service technicians frequently commuting for sales calls and field work might have to deal with intermittent Internet access.
Employees in remote areas – E.g.: Employees in oil rigs who work offshore, or healthcare workers in remote locations where Internet connectivity could be a problem.
Part-time or home office employees – Gives them opportunities to upskill even when they are not physically located at the workplace, and without connecting to the organization's network.
HTML5-based e-learning supports offline viewing, thanks to authoring tools such as Articulate Storyline. The learner needs to be connected to the Internet initially to download the course before he can access it offline.
Note: You would need an LMS that supports Tin Can or install a mobile app to facilitate offline learning.
What's the Business Impact of Converting Flash to HTML5?
Converting Flash eLearning to HTML5 is not only beneficial for employees but also the organization.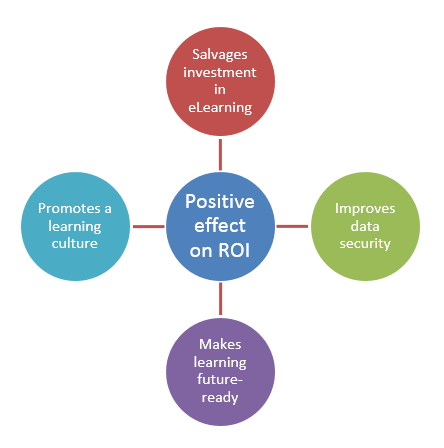 1. Convert Flash to HTML5 to Salvage Organizational Investment in E-learning
Imagine rich resources of online learning content lying unused only because of lack of browser support for the Flash format. Organizations that have already invested in Flash-based e-learning are at a loss if they do not plan for Flash to HTML5 conversions. With effective Flash to HTML5 conversions, you can make the most of existing content and ensure that relevant training content remains accessible to learners.
2. Convert Flash to HTML5 to Beef up Security of Online Learning Content
In Flash-based eLearning, a plugin used by browsers to play audio and video content runs in the background on learners' computers. CVE Details, a data source of security vulnerability lists more than 1060 security vulnerabilities on the Flash player. Naturally, that makes the device used to access Flash-based e-learning susceptible to security threats.
Compared to that, HTML5 offers enhanced security for your learning content. Considering that data breaches and cyberattacks are among the top information security concerns in organizations, converting Flash to HTML5 proves to be a wise decision.
3. Convert Flash to HTML5 and Promote a Learning Culture
Can opting for Flash to HTML5 conversions promote a learning culture? Yes, because HTML5-based e-learning is accessible on multiple devices, learners have the flexibility to learn anytime.
Training does not always have to be mandatory, there are other scenarios when learners look for e-learning resources. They are:
Desire to learn (They are genuinely interested in learning, but at their own pace)
Moment of need (When they are looking for performance support or just-in-time training)
When your e-learning courses are made available to learners in these situations, it automatically contributes to building a learning culture.
4. Convert Flash to HTML5 to Future-proof Learning
Flash to HTML5 conversion give you an opportunity to update text, reuse the content, and replace or recreate Flash-based interactivities. Authoring tools such as Articulate Storyline, Trivantis Lectora, and Adobe Captivate ease the process of converting Flash to HTML5 and guarantee that your learning content is up-to-date.
5. Convert Flash to HTML5 for a Positive Effect on ROI
Converting Flash to HTML5 can have a positive effect on your return on investment (ROI) from training. Your existing training content can not only be ready for mobile learning but also enhanced using interesting design (both instructional and visual) strategies. For instance, a lengthy Flash-based course can be broken up into microlearning modules during the conversion process to HTML5-based e-learning. Also, authoring tools make it easier to update content (if required). So, you do not have to incur huge expenses creating a new e-learning course when all that is needed is updates to the existing training program.
Converting Flash to HTML5 is definitely going to be worth it, as it boosts employee productivity and offers multiple benefits to the organization. Would you be able to reuse the content and media elements in the existing course, or would you be required to redesign the entire course from scratch? How can you convince your stakeholders to invest in Flash to HTML5 conversions? Stay tuned for our next blog on a Business Case to Convert Flash to HTML5.