Developing Online Microlearning Modules for Sales Training: A 6 Step Process
Find out what it takes to develop effective online microlearning modules for training your sales force.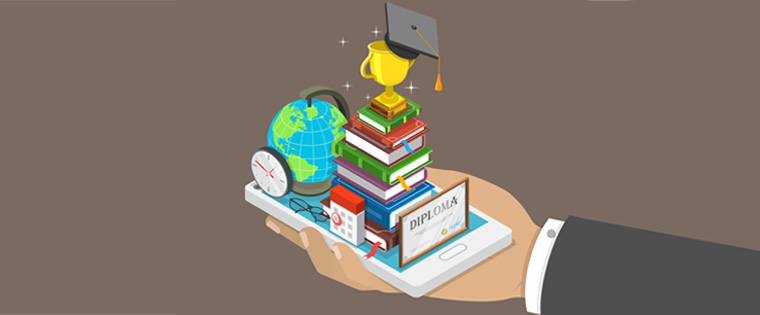 We are moving from a world where computing power was scarce to a place where it now is almost limitless, and where the true scarce commodity is increasingly human attention. – Satya Nadella, CEO of Microsoft
A recent survey conducted by Microsoft revealed most Millennial learners have attention spans of just 8 seconds, shorter than those of goldfish which can remain focused for 9 seconds. The tiny attention spans of this new age learners is compelling organizations to come up with micro-learning modules. In this post, we will look at the 6 step process to create good bite-sized online learning courses for training your sales reps.
Step 1 – Decide what you intend to teach your reps using online nuggets
You need to be clear about what you want to achieve using the bite-sized online sales training course. Is the online learning nugget being developed to help them handle customer objections? Or, is it used to help reps compare your products with those of your competitors? Or, is it used to train them on the functioning of the product?
Step 2 – Organize and analyze the sales training content
Once you are clear about the purpose of developing the micro-learning course, you need to collect all the relevant learning material. Then, you need to prepare a comprehensive outline detailing how many bite-sized online courses need to be developed.It is important to identify the "need-to-have" and "nice-to-have" information. You also need to look at ways to reduce the quantum of the learning content and yet convey the intended message effectively. For instance, you may consider using relevant images to replace bulky text.
Step 3 – Divide content logically into microlearning modules
You now need to "partition" the sales training content into bite-sized courses. You need to see that each online learning nugget is a self-standing instructional element addressing one learning objective.You need to make sure your salesreps can access these training modules in any order and yet be able to comprehend the subject-matter thoroughly.
Step 4 – Design the bite-sized online learning courses
This is arguably the most important step in the creation of online microlearning courses. You need to come up with an appropriate instructional design strategy based on the objective of the learning nugget. For instance, if the micro e-learning course intends to train your sales reps on handling customer objections, you need to go in for scenario-based learning. On the other hand, if you wish to impart training on the functioning of products, it is better to use explainer videos. If the objective of the online micro-learning course is to help your salespeople differentiate your products from those of competitors, comparison tables are the best option.
Step 5 – Develop the micro-learning course using the right rapid authoring tool
You need to choose the right rapid authoring tool, based on the nature of the learning content. For instance, Articulate Storyline is very useful to create scenario-based online sales training courses, as it comes with a huge library of illustrated characters in various poses.
Step 6 – Deliver the course to the learners
It is time to deliver the online micro sales training module to learners. It is advisable to use a powerful Learning Management System (LMS) such as MOODLE to deliver the e-learning nuggets, as it provides good support to mobile learning (most microlearning modules are designed for the mobile) and is compatible with Tin Can API, a learning standard that helps you correlate job performance with training.
Online learning nuggets are very useful to train your sales force effectively. To create a good micro online learning course for your sales reps, you first need to determine the objective of the "coursel". Then, you need to collect and analyze the sales training content. You then need to divide the learning content into bite-sized modules. Then, you need to formulate an appropriate instructional design strategy for the module. In the penultimate step, you need to develop the online learning nugget, using the right rapid authoring tool. Finally, you need to deliver the microlearning module using an LMS. Hope you liked this post. Do share your views.