Explore the Real Reasons Behind Converting Flash eLearning to HTML5 [Infographic]
You can convert Flash courses to HTML5 even if you've missed the deadline. Explore all the reasons you should be converting Flash to HTML5 – from updating content to introducing microlearning, and more.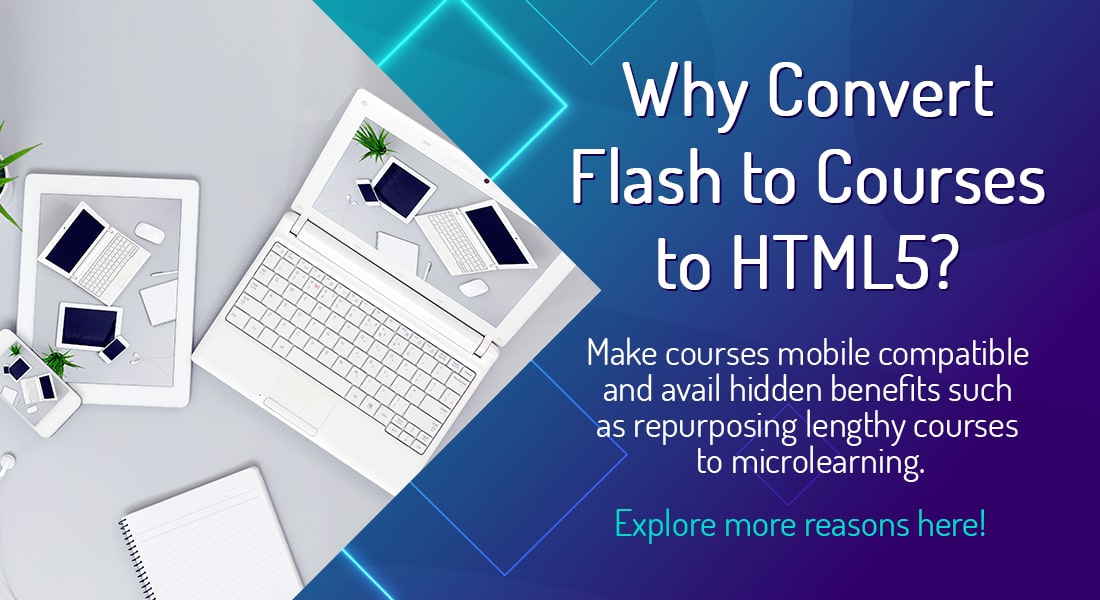 If you've missed the deadline for Flash to HTML5 conversion and still wondering if you can extend the utility of your Flash-based courses – YES, you can. And if you are thinking extending the longevity of your courses is the only benefit to be had with Flash to HTML5 conversion, then you are in the right place as this infographic will help you discover all the other reasons to convert Flash to HTML5 and maximize your training ROI.
Why Convert Flash to HTML5?
You can reconfigure lengthy courses as a curriculum of microlearning nuggets, convert assessments to micro quizzes or games, add a dash of personalization by asking for each learner's name and addressing them using it through the rest of the course. Exciting possibilities, right!
When you do so, you make your courses readily accessible to today's learners on their preferred devices. You also cater to the millennials' learning preferences of:
Short online learning bytes
Autonomy and self-paced learning
Edutainment
Collaboration and social interaction
You can also offer them a blend of online and offline learning experiences by covering the theoretical concepts via eLearning or microlearning and move skill development to the (virtual) classroom.
Later on, microlearning assets can be used – to reinforce learning, provide practice opportunities, test recall, and assign remedial/follow up measures – in the form of simulations, scenarios, quizzes, or learning games. The content for this can again come from your legacy courses!



Tips for Successful Flash to HTML5 Conversion
Finally, here are a few tips to help you get started with the seamless Flash to HTML5 conversion of your legacy courses.
Pick the right authoring tool to convert to HTML5 based on your legacy courses and conversion requirements. For example, if your courses are text-heavy, Articulate Rise 360 with its inbuilt templates will help you.
Not all Flash courses will be the same – some source files might be missing; some might be published in an authoring tool, but to Flash. So don't settle for a one-size-fits-all solution. Explore the 4 Rs of Flash to HMTL5 conversion – 4 proven strategies – and select the best fit for each group of courses.
Have a well-defined project scope in place to estimate the work involved. And for error-free courses with speed, scale, and quality – outsource Flash to HTML5 conversion to the right vendor with proven expertise in handling large volumes of conversion with a wide variety of authoring tools!
There you have it, all the success mantras to ace the Flash to HTML5 conversion of your legacy courses, even well past the deadline!