6 Essential Features of The Top 5 Rapid eLearning Authoring Tools
Finding the best rapid eLearning authoring tool to meet your corporate training needs can be challenging. Here's a blog that shares 6 essential features as well as the top 5 authoring tools of 2022.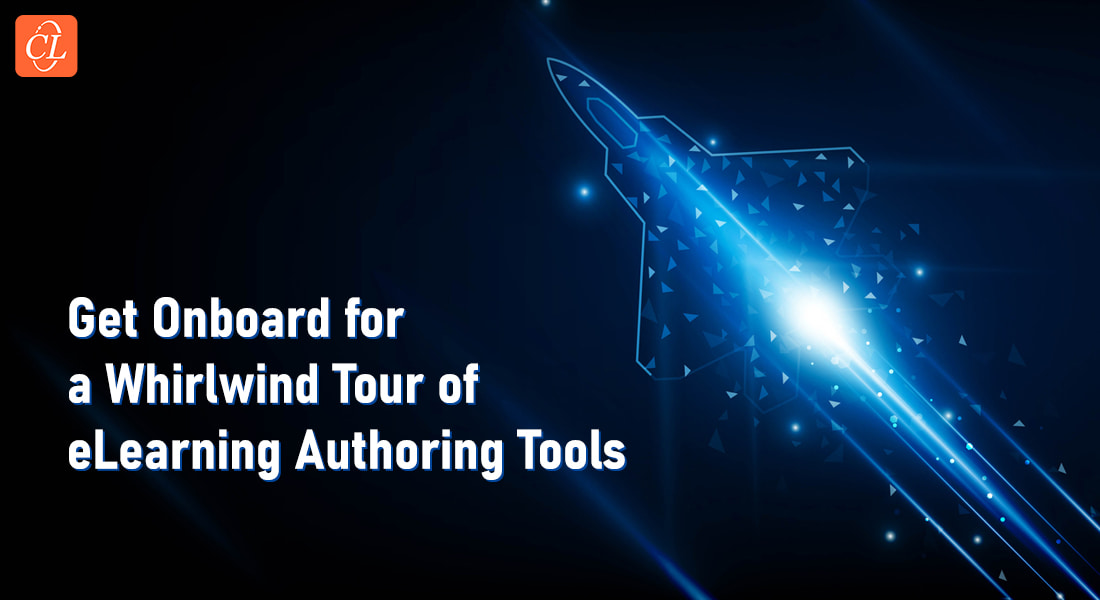 Let's admit it. One of the core responsibilities of L&D (Learning and Development) in the new normal is choosing the right authoring tools and strategies, especially when developing a rapid eLearning course. Since rapid eLearning cuts down development cost and time, vendors and internal trainers favor this innovative approach to eliminate the fancy frills by adhering to core instructional design principles and maintaining quality.
Are you looking for the best rapid eLearning authoring tool?
Here are the top 6 features to look for when choosing a rapid eLearning authoring tool that's right for you:
User-friendly and Intuitive User Interface
Enables Collaboration
Enhances Compatibility
Applies Gaming Formats and Tactics
Offers a Variety of Assessment tools
Permits Posting Interactive Videos
However, as the market is overflowing with authoring tools, choosing the right rapid eLearning tool can be challenging. In this post, we'll share the six essential features to look for in a product along with our top 5 picks of 2022.
Let's get started!
6 Essential Features to Look for in a Rapid eLearning Authoring Tool
Before you splurge on the first tool you find in the market, here are some essential features to look for in a rapid eLearning tool:
1. User-Friendly and Intuitive User Interface
Firstly, you need to consider the rapid eLearning authoring tool's user interface. Ideally, every learner, regardless of their roles, skills, and expertise, should be able to use digital tools with ease. For instance, it must allow them to choose from unique design templates, upload training content, and develop courses with ease. Of course, each tool has a learning curve. However, the easier the navigation, the faster users can master the authoring tool.
2. Enables Collaboration
L&D is a team effort. Therefore, any authoring tool you choose should provide access to real-time communication and collaboration from anywhere and on any device. This way, users can assign and delegate tasks, share feedback, and exchange files to ensure eLearning design and development is always quick and on track.
3. Enhances Compatibility
The last thing you want is to spend weeks developing a microlearning video or training simulation only to find out the content isn't compatible with your LMS (learning management system). To make sure this doesn't happen and avoid costly and time-consuming substitutes or reformatting, you need to go for authoring tools that support formats such as HTML5, SCORM, and xAPI, to name a few.
4. Applies Gaming Formats and Tactics
Gamification has become a trending buzzword in the L&D industry as it helps trainers boost participation and engagement. So, when looking for authoring tools, consider those that allow you to apply gaming formats and tactics such as presentation pop-ups, branching scenarios, virtual missions, sales simulations, and rewards-based quizzes, to name a few.
5. Offers a Variety of Assessment Tools
Any authoring tool you pick should include diagnostics to determine your learners' knowledge and help you measure skills gaps and develop future courses. The most common tool is the quiz maker. It is designed to help trainers strategically place regular knowledge checks during the learners' journey.
You can also choose from a variety of formats including multiple-choice questions, fill-in-the-blanks, spin the wheel, true-false assessments, sorting and classification.
6. Permits Posting Interactive Videos
Interactive videos are taking the eLearning industry by storm. This shouldn't be surprising as we live in the era of Instagram, YouTube, and TikTok. Videos are far more eye-catching and engaging compared to other visual formats, and this makes them the best training tool for modern employees.
Therefore, any platform you go for should allow you to post videos and customize them with captions, subtitles, and audio-visual elements.
The Best Rapid eLearning Authoring Tools in the Market
Now that we're all caught up with the essential features of rapid eLearning authoring tools, here are our top 5 picks from the current market:
1. Articulate Storyline 360
Articulate Storyline 360 is arguably the world's most popular rapid eLearning authoring tool and the go-to choice for eLearning developers. Primarily, this is because it helps users develop visually stunning and engaging courses with modern features, such as gamification, animation-based storytelling, simulations, and branching scenarios.
Here are a few other features that make sure the best authoring tools appeal to you during your eLearning design and development journey:
A library stocked with over 6 million free multimedia assets, including templates, images, and characters.
Several built-in interactive templates to design assessments.
High-quality animations with up to 10 different triggers and motion paths.
2. Adobe Captivate
Although Flash is outdated, in the market today, Adobe Captivate's latest version is worthy to compete for the best authoring tool title. It is the go-to tool for eLearning developers transitioning from Flash to HTML5, which is the new gold standard in the eLearning industry. Moreover, it is incredibly powerful. It helps you develop training simulations and promises a more immersive and interactive learning experience than its counterparts.
Here are a few other features of Adobe Captivate:
360-degree images and VR (Virtual Reality) templates for immersive experiences
Features that transform passive videos into interactive ones with subtitles, knowledge checks, narrations, and quizzes at specific locations
The Fluid Box 2.0 feature to optimize responsiveness, and develop courses for devices with different screen sizes
3. Easygenerator
Easygenerator is one of the latest tools in the market with a user-friendly interface. It has become quite popular in the industry being incredibly easy to pick up. This cloud-based authoring tool is easy to install, access, and is used by eLearning developers and learners at all levels. It also encourages learners to design their own training courses and share them with colleagues.
Here are a few outstanding features that make Easygenerator stand out:
Multiple author collaboration for rapid eLearning development
Fully responsive courses for optimized remote training
Vast range of content blocks and layouts for quick and easy creation
4. Lectora Inspire
Lectora Inspire is one of the most popular tools for organizations with remote and hybrid workspaces. It allows them to design a fully responsive course that ensures mobile-first eLearning. This way, learners can access their training material and courses from any online device.
Lectora is also an excellent authoring tool for organizations transitioning from Flash to HTML5 with a media library stocked with 120 million free, built-in images, 10,000 PowerPoint layouts, 90,000 customizable icons, and 1500 interactive templates.
A few other features:
Built-in screen recorder and editor for interactive videos and simulations
Multilingual interface for eLearning localization
Lectora Online on the cloud with multiple author collaboration
5. iSpring Suite
iSpring Suite is regarded by experienced eLearning designers and developers as one of the most agile and flexible authoring tools. Its critical value lies in being able to decimate the time and resources required to develop an eLearning course, which comes in handy for organizations with continual training programs.
iSpring Suite has a short learning curve since it serves as a PowerPoint plug-in that triggers a familiar sense for eLearning developers. It allows users to convert PPT files to xAPI, SCORM, cmi5, and other trending formats in a few clicks.
A few other features:
Powerful quiz maker with multiple built-in templates and formats such as drag and drop, multiple-choice, and subjective assessments
TalkMaster enables eLearning developers to create branching scenarios and dialogue simulations
It's a Wrap!
So, there you have it – an overview of the top 5 rapid eLearning authoring tools in the market today. Any tool you choose should allow you to design a stunning eLearning course quickly and cost-effectively. Whether that tool is Articulate Storyline 360, iSpring Suite, or Adobe Captivate, the choice of the authoring tool that's right for you depends on several factors, such as your budget, capabilities, as well as your learners' needs and preferences. Are you eager to explore more on how you choose the best authoring tool? Here's a comprehensive guide to help you successfully make that choice.