How to Deliver High-Impact Virtual Training Sessions?
Virtual training requires thoughtful planning, and more effort to make it success. Here are some tips to make virtual training effective and immersive.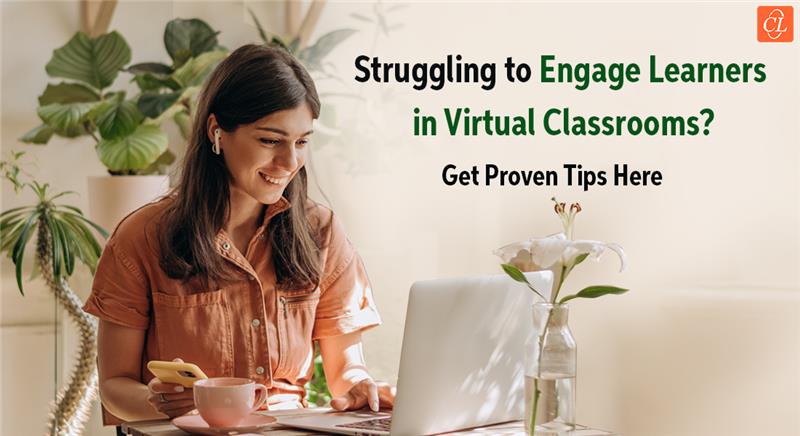 So, your organization has made the right choice of shifting from classroom training to virtual training. But how can you get the essence of face-to-face classroom training in virtual training? What are the ways to make your learners receptive to virtual learning? Ways to ensure learner engagement and ensure the success of virtual training?
These are only a few out of many doubts you must be having post this transition. I understand what you want is to deliver high-impact virtual training with the help of power-packed eLearning courses. Well, let me help you with it. I will give you a few amazing tips to overcome the challenges and deliver a successful virtual training session.
Struggling to Engage Learners in a Virtual Classroom?
Here Are Some Tips to Make Virtual Training Engaging
Letting Learners Know What's in it For Them
Educating Learners on Virtual Platforms
Enhancing Engagement Through Collaborative Activities
Offering Reinforcement Through Digital Learning Assets
Some Hard-to-Say-no-to Tips for Successful Virtual Training Sessions
Letting Learners Know What's in it For Them
Modern learners are aware. They need to know how the training is going to benefit them and what is in it for them. It is a good initiative to have a session with them before the training to let them know about the objectives of the training and its relevance.
They need to know how the training will benefit them and how it will help them in the future. Once they are content that the training is beneficial for them, they will be more engaged in training and hence better learning outcomes.
Some ways to make your learners aware are:
Short videos to let learners know what the training is all about.
A pre-assessment to check learners' prior knowledge and allow them to identify gaps in their knowledge and how training will help in that.
Educating Learners on Virtual Platforms
Virtual learning is full of amazing features that can be used for effective and immersive learning and enhanced training results. However, to understand those features and use them effectively instructors and learners need to be well aware of the platform.
Also, there are constant updates as the technology is evolving, keeping them updated about the current changes helps them understand the tool better and make effective use of it.
How do you familiarize your learners with the learning platform?
You can make use of 'How-to' guides.
Instructors can take separate sessions to make learners aware of different features of the virtual platform, they can use screen sharing, digital whiteboards, or media sharing.
By giving access to learners and letting them explore the tool on their own.
Enhancing Engagement Through Collaborative Activities
Collaboration has always helped when it comes to learning. Now that you have taken an important decision to go virtual, the next step is to make sure your learners don't miss the face-to-face interactions. Well, worry not, make use of collaborative learning to keep them engaged. You can easily replicate classroom interactivities in a virtual session to make up for the absence of an instructor and enhance engagement.
How can you do that?
Make use of features like online polls before, during, and after the training session.
Using digital whiteboards to communicate better.
Using breakout rooms to know each other well.
Roleplaying to understand their jobs better.
Offering Reinforcement Through Digital Learning Assets
There is only so much human memory can hold. With so many constant updates and changes, learners tend to forget what they learned earlier. Hence it is important to reinforce training to help them retain what they have learned in a session. For effective learning, it is important to follow up on that and make sure that learners are well learned and are retaining knowledge. Organizations need to identify such learning gaps and work on those. Let's find out how it can be done.
How to do that?
Provide learners with the recording of the session that they can access anytime they need to revise.
Breaking the session into microlearning modules, hence learners will easily get all the need-to-know information.
Making use of infographics, and creating an infographic with all the required information is also an effective way.
Using discussion boards and providing answers to frequently asked questions.
Ready to Deliver High-Impact Virtual Training?
So, are you ready to level up your virtual training? I hope following these tips gives you better learning outcomes and most importantly happy learners. Effective usage of technology, clear communication, and timely reinforcement will help in the long term. Well, I am sure you are ready to see your training results soar. If yes then grab our eBook and get some amazing tips, tools, and solutions for effective virtual training.