4 Key Benefits of Video-based Learning for Effortless Onboarding
Employee onboarding is an important task. Rather than spending hours and burdening new hires with the task of reading endless written materials, new formats like video-based learning can work wonders in onboarding. In this blog, we will see four main benefits of this technique for effortless onboarding.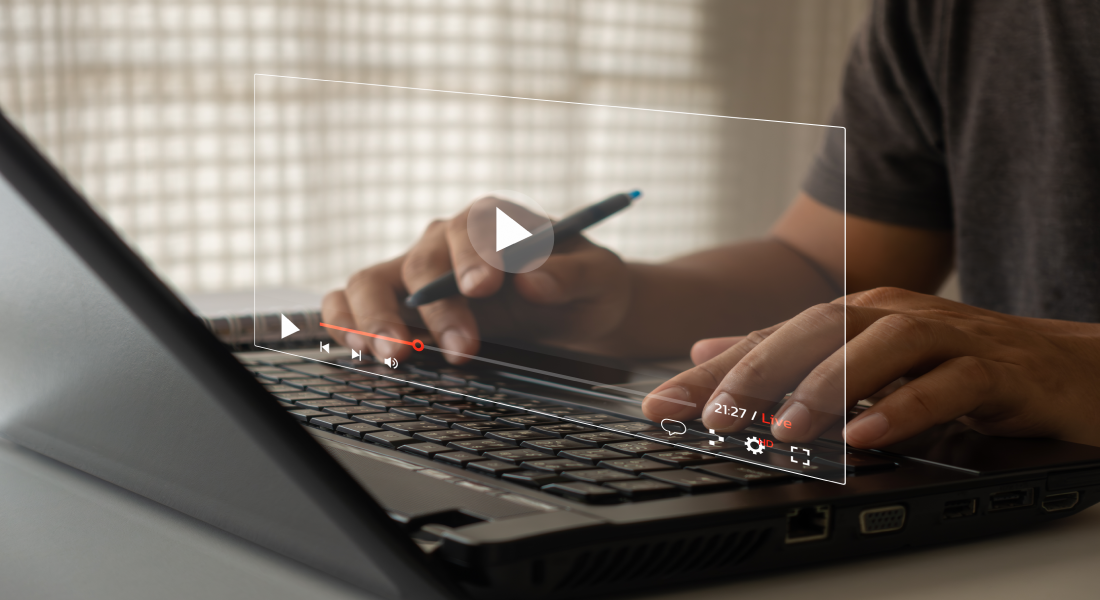 Onboarding is the quintessential starting point of every employee's journey in a new organization. This process empowers the new hires by offering them a cross-section of the organization, getting them well-versed in company policies and regulations, and if done correctly, cements a healthy and long-lasting professional relationship. Considering the growing remote workforce of today, every organization has started opting for personalized, yet universally accessible digital learning models for various corporate training needs, including onboarding. The onboarding process needs to be engaging and thorough, yet it should feel warm and welcoming for the new employees. This is where new-age techniques, such as video-based learning, can come in handy.
Video-based Learning Models Offer a Great Way to Amp up Employee Onboarding
Benefits of using video-based learning models for onboarding process are:
Flexibility & convenience
Enhanced memory retention
Cost effective
Highly engaging content
Rather than handing off moth-ridden protocol binders and orientation materials to the new hires, a new format is making waves in the orientation/ onboarding landscape – video-based learning. Owing to the highly engaging nature of videos, this microlearning format allows new hires to consume the required materials in bite-sized portions at their own pace, and results in captivating onboarding training sessions.
What is Video-based Learning?
Video-based learning is a microlearning format that incorporates videos as the primary means to disseminate important information. With the advent of social media and countless streaming platforms, videos are becoming the preferred type of content. The mixture of audio and visuals help a great deal in offering an exciting alternative to traditional modes of learning. This model is also extremely effective, as our brains can process visuals at an astounding rate. A study by 3M Corporation and University of Minnesota found that the human brain processes visuals or images 60,000 times faster than text.
What Advantages do the Video-based Learning Models Offer in Onboarding ?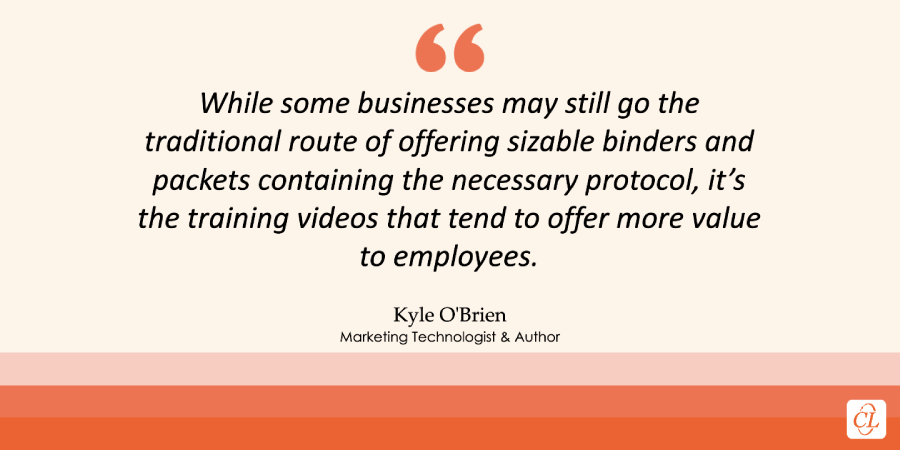 First impressions last and this rings true even in professional relationships. A smooth and memorable onboarding process, wherein the newly hired employee feels valued and welcome has a massive impact on the employee's future within the organization. According to research conducted by the Brandon Hall Group for Glassdoor, organizations with a strong onboarding process improve new hire retention by 82% and productivity by over 70%.
Courses created using the video-based learning models can help new employees connect easily with the organization. These videos can offer employers a fun way to educate the new employees about the company's history, vision, mission, modus operandi, protocols, and various administrative processes. The highly engaging nature of videos means that the employees will be more likely to retain essential information throughout their journey within the organization.
Top 4 Benefits of Video-based Learning that Ensure a Smooth Onboarding Process
Flexibility and Convenience
Onboarding courses that are divided into smaller sections, featuring videos between 2 to 4 minutes per topic would ultimately prove beneficial than dedicating whole days or weeks. These smaller training sessions can be completed by the employees at their own speed and convenience, allowing them to take in the new information as and when they feel comfortable. Onboarding sessions designed using video-based formats also offer employees the opportunity to revisit certain sections for more clarity or move quickly through certain sessions they might already be familiar with.
The Human Connection
The onboarding process is where the employee gets to know not only about the organization but also about the people that make it work. The need for humane, social connections looms larger today, especially in remote environments, and this training method can be easily used to remedy that. Using the documentary-type narrative format, wherein the new hires can see and listen to the management or leadership team of the organization, can prove to be a great help in building trust and morale.
Compared to traditional lecture-based videos, these semi-formal documentary-styled videos can have a greater impact. A comparative study by Research.com found that the group that watched the documentary-style video performed better than the group that watched a lecture-style video.
Multi-sensory Experience for Enhancing Memory Retention
Videos engage a person through a multi-sensory medium, as they contain both audio and visuals. This multi-sensory nature results in enhanced knowledge retention and allows employees to gain a deeper understanding of any subjects or processes or policies in a short amount of time. Any demonstrations or physical processes that need to be conducted by the new employees can be showcased step by step, with ample opportunities for close-ups, rewinds, and overall engaging visual demonstration.
Time and Cost Effective
These video-based lessons are meant to be accessed by employees on their devices, thereby negating the significant amount of time and money required for in-person onboarding training sessions. This ends up saving the time of the organization's leadership, as well as mid to senior-level management. There's no need to dedicate a specific time and space to conduct these sessions. The development cost for making these videos is also considerably low, and the instructors or management do not need to allocate their time to these activities recurrently.
Tips for Integrating Video-based Learning Models in Onboarding Sessions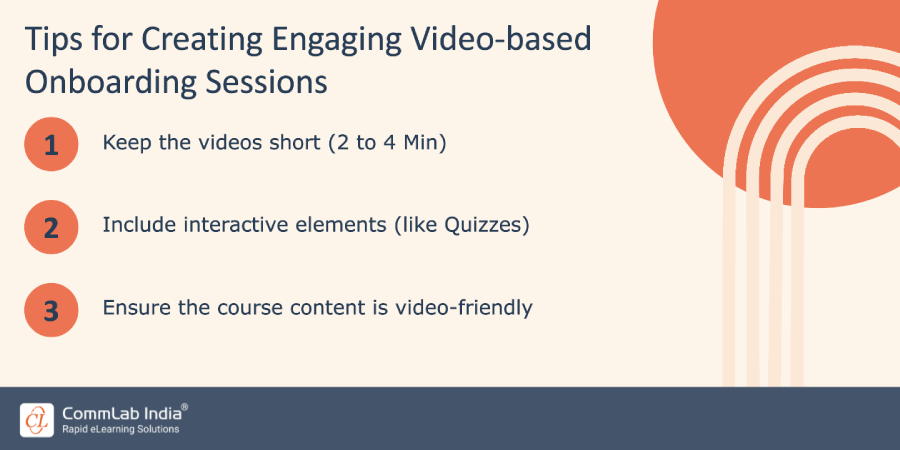 Divide the entire onboarding process in small chunks, dedicating no more than two to four minutes per video. Studies have found that learners display the highest engagement towards videos shorter than three minutes.
Incorporate short quizzes in the videos to make them interactive and ensure the videos hold the learner's attention. You can also think about adding certain gamification elements in video training sessions to increase the engagement.
Ensure that the content you have decided to convert into/ supplement with a video benefits from the addition. While some onboarding sessions, such as welcome to the company, organizational structure, job role debriefing, and company culture sessions may work brilliantly in video format, certain technical training sessions that deal with complicated machinery may prove to be most effective when conducted in person.
Focus on offering a holistic video onboarding experience through the culmination of 5 Cs: Culture, Compliance, Confidence, Clarification, and Connection.
Parting Ways
Video-based learning models can prove to be a great option for streamlining employee onboarding processes. They offer higher flexibility for both course designers and employees, ensure enhanced memory retention, offer a human touch, and a cost-effective solution for content creation. Wondering what are some of the other ways you can enhance the quality of your training sessions or looking forward to designing engaging onboarding programs? Download our free eBook to learn about some interesting instructional design strategies.