The Ultimate Guide to Rapid eLearning for Corporate Training
Are you looking to train your employees following the skills gap that was brought on by the pandemic? Learn how to leverage the power of rapid eLearning and accelerate your transition into the digital age.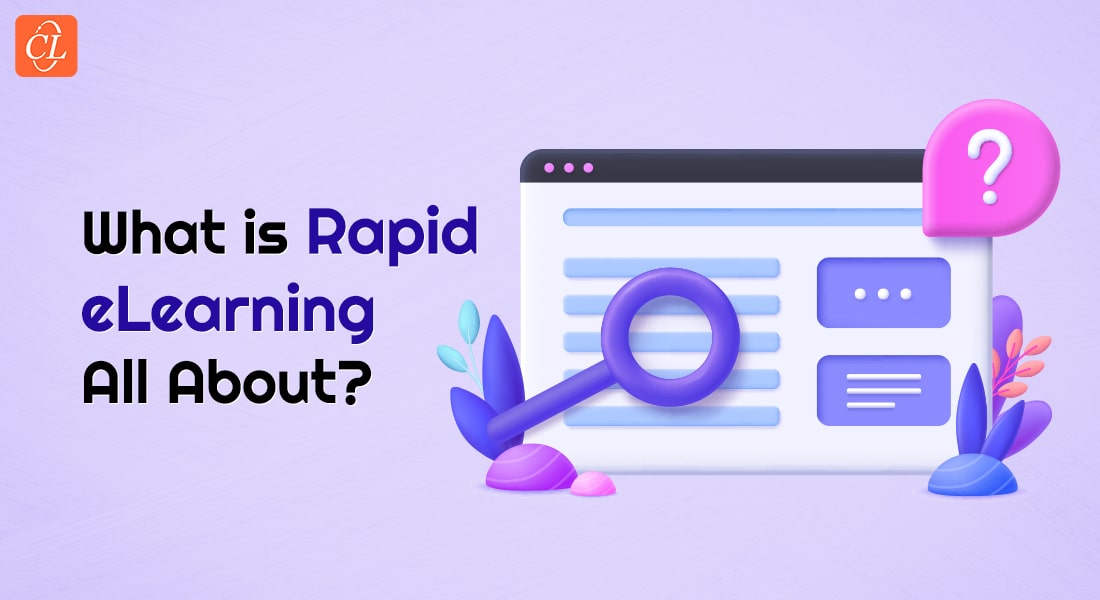 Did the recent Covid-19 lockdowns and restrictions hit the 'pause' button of your corporate training initiatives? If it did, then you may be looking for solutions to make up for lost time and upskill your workforce to prepare them for the new normal ahead. You may also want solutions that offer shortcuts to improved learning outcomes without compromising on the quality of training on offer. Fortunately, there is one such solution that is cutting through the 'digital' noise – Rapid eLearning.
Rapid eLearning has been making waves in the corporate sector in recent times. The concept appeals to a range of companies with minimal budgets, busy routines, and tight deadlines. This innovative solution makes it possible to quickly develop online training programs.
The Ultimate Guide to Rapid eLearning for Training Managers
Rapid eLearning Helps You:
Quickly Develop Courses and Reduce Training Expenditure
Easily Update Content
Creatively Designed Courses
In this blog, we'll answer the 'what', the 'how', and the 'why' of rapid eLearning. It is aimed at helping you determine whether this innovative methodology makes a valuable addition to your training strategy as well as whether it benefits your employees' learning and development journey.
Rapid eLearning – What It Is and What It's Not
If you look up rapid eLearning online, you'll find a variety of definitions and explanations based on individual perceptions surrounding this trending methodology and its effectiveness. It is described by some as a solution designed to enhance corporate training programs by incorporating techniques such as storyboarding into the design process. Others believe rapid eLearning to be a method that has been created to accelerate the rollout of training courses.
Let's dive deeper into what rapid eLearning is and what it isn't:
What Is Rapid eLearning?
Rapid eLearning is a faster, more cost-effective advancement of custom eLearning courses that are designed to align with your company's learning objectives and goals. This agile process helps businesses save both time and money by leveraging the power of instructional design principles, authoring tools to design engaging and fun training materials. It also aims to deliver and regularly update courses with short life spans that need to be delivered within strict deadlines.
To boost their effectiveness, rapid eLearning courses are designed and verified by Subject Matter Experts (SMEs). Getting organizations involved in eLearning design can be challenging as most modern corporations are focused on their core business activities and outcomes.
As a result, most companies outsource their course design and development to professionals who manage everything from gathering content to implementing instructional design strategies and designing timely interactivities and assessments.
What Rapid eLearning Isn't
Unfortunately, many modern organizations consider rapid eLearning to merely be a shortcut to training. While this is true to a certain extent, it's also an oversimplification. Rapid eLearning provides a cost-effective alternative to conventional training methods without compromising on the quality of training content. It's based on robust instructional design principles, making sure that its courses aren't monotonous, tedious and unrelatable.
So, if you're expecting to find quick slides and videos with redundant information or questions, prepare to be presently surprised. Rapid eLearning courses use the following to maximize learner engagement and outcomes:
Scenarios
Case Studies
Storytelling
Icebreakers
Rapid eLearning Course Development
Rapid eLearning is a faster way to design and develop corporate training courses. Instead of spending months or even years developing a training program, this innovative method allows companies to build courses within days or weeks. Here's a brief overview of the development process:
1. Choosing The Right Authoring Tool
Today, you can find an abundance of rapid eLearning authoring tools, such as iSpring, Lectora, dominKnow, and Articulate Storyline 360. These tools allow you to design corporate training courses without prior knowledge or skills in software programming. Some courses also include predesigned themes and templates that can reduce the time of development even further.
2. Doing Your Research
At this stage, you need to identify your employees' strengths and weaknesses along with your learning objectives. You also need to determine which software you will use, as well as the concepts and skills you want to inculcate, and use them to structure your courses by module, section, and topic. If you're outsourcing the development of your training to an eLearning solutions provider, then you need to be deeply involved during this stage to ensure that you're on the same page by sharing your requirements and providing feedback in an ongoing manner.
3. Gathering Your Course Content
You need to establish methods of swiftly sharing your training content to your employees. This can be done using a variety of formats including text, slides, short videos, audio clips, and infographics. However, it would be beneficial to organize training content in a way that facilitates a rapid and effective development process.
Popular tools to help you optimize the process of designing your training content include Trello, Notion, SharePoint, Google Workspace, and Evernote, just to name a few.
4. Organizing Your Course and Adding Additional Modules
Most rapid authoring tools come with inbuilt templates, making it easier to select the right designs so that you can improve your training presentation. You can use them to add text, images, and any other media format that you want to complement your courses' slides and navigational features.
Once you have the outline of your course ready, you can optimize it with exciting and engaging features such as videos, dialogues, simulations, and gamified assessments.
5. Publishing and Sharing
Your course should be ready, and, at this stage, all you need to do is decide where you want to publish and share your course. If your organization has its own a Learning Management System (LMS), then you can use it to share your courses with the team. You could also do it the old-fashioned way by sending your course in an email, or you can upload it to your company's website.
Key Benefits of Rapid eLearning for Corporate Training
Here are a few reasons to help you consider designing and implementing rapid eLearning courses:
1. Quickly Develop Courses and Reduce Training Expenditure
Rapid eLearning courses are much more affordable as it takes far less time to develop than conventional courses. This provides significant benefits for startups and small companies. The course development process typically involves using the agile methodology that eliminates time-intensive tasks and maintains active communication between managers and trainers.
2. Easily Update Content
Thanks to rapid authoring tools like Lectora, Storyline 360, and dominKnow, managers and instructors can easily update their existing or outdated training content to match their new requirements and industry trends. Furthermore, since these tools are easy to use, you can use them independently instead of hiring a partner organization.
3. Creatively Designed Courses
For today's multigenerational workforce, you can't expect a one-size-fits-all, conventional corporate training strategy to work. Modern organizations are developing courses using the blended learning strategy that caters to a host of age groups including baby boomers, gen Xs, millennials, and gen Zs. Rapid eLearning makes room for real-time access, and it enhances the flexibility of training.
Trainers can employ several strategies that make for an easier and smoother learning curve:
Microlearning
Microlearning is a training method that offers information in bite-sized chunks – making it ideal for modern learners who are pressed for time.
Social Learning
Social learning mimics the feel of a traditional classroom. Creates a similar environment where learners can be distant yet involved from remote locations. It emulates face-to-face interactions of conventional forums using social platforms such as social media groups, video conferencing tools and corresponding chat rooms and discussion forums.
Virtual Training
Rapid eLearning has played a crucial role in helping organizations beat training disruptions especially the one caused by the COVID-19 pandemic. It also provides managers and trainers the opportunity to design and implement their corporate training courses using virtual classrooms and self-paced modules.
The Bottom Line
Rapid eLearning is not a challenging concept and can be easily adapted. The only issue is to execute it effectively in line with your business needs as well as keeping your learners in mind. By learning the key benefits of this innovative and trending methodology, and by taking advantage of its quick development process, you can improve your corporate training outcomes and upskill your workforce faster and more cost-effectively.
Get ready to face your training challenges. Learn more about rapid eLearning and the different strategies you can use to implement your training programs by clicking on this link – 'Rapid eLearning and the 4 Rs: The Answer to Disruptive Training!'. Download this free webinar now!