A Ready Reckoner on Rapid eLearning Services for Corporate Training [SlideShare]
What is all the buzz around rapid eLearning? It is just speed minus quality? Here's a post that will take you on a tour of rapid eLearning and its various services for corporate training.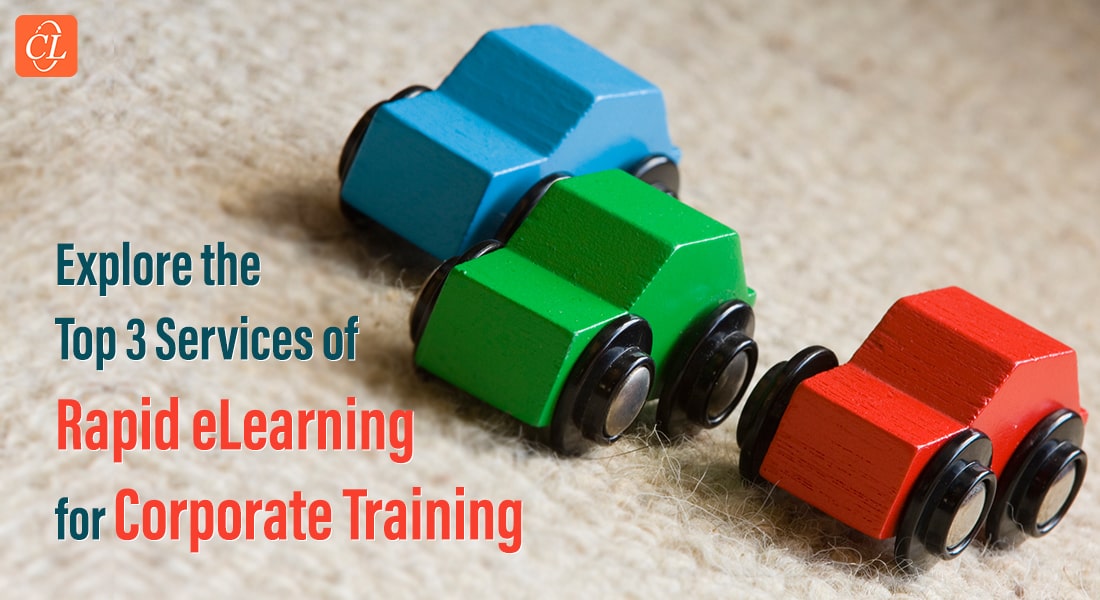 Rapid eLearning solutions help you deliver high-quality online training, quickly. There is no better alternative than rapid eLearning to train today's employees – especially when dealing with the huge need to upskill and reskill, remote employees, hybrid work models, and more.
What is Rapid eLearning?
Rapid eLearning involves more than just publishing a well-designed PowerPoint deck with authoring tools. Rapid eLearning is a speedier version of custom eLearning; however, while custom eLearning takes months to plan and design, rapid eLearning can develop a course in a matter of weeks.
Rapid eLearning ensures that business objectives are met on schedule – by closing performance gaps through training. Rapid eLearning also saves subject matter experts (SMEs) a lot of time by decreasing the number of touchpoints during the eLearning development process.
How Does Rapid eLearning Ensure Quality?
Given that rapid eLearning rolls out courses within weeks, does that mean it compromises quality? No, a lot of care is taken while designing rapid eLearning courses. It ensures that eLearning courses are instructionally sound. It leverages authoring tools to offer scale – without compromising quality and creativity.
What Goes into Rapid eLearning Development?
Here are four main aspects that contribute to successful rapid eLearning development.
Preparing – Set clear and SMART learning objectives. For the successful development and rollout of an effective eLearning course, proper planning is essential.
Getting the content ready – Begin by identifying content that is required to meet the learning objectives.
Collaborating with SMEs – SMEs are the primary source of information. Educate them on the design and development of eLearning.
Planning for roles and responsibilities – At the start of the project, define roles and milestones to ensure that everything runs well.
Rapid eLearning Services
Now that we know how rapid eLearning elevates corporate training, let's take a closer look at the top 3 services it offers:
Classroom to eLearning conversion
Legacy course conversion
eLearning translations
Would you like to learn more about these services? Then don't miss this SlideShare!
Parting Thoughts!
Well, that was all about rapid eLearning services in a nutshell. Isn't it time it becomes a staple in your training framework? Learn more about rapid eLearning and how it meets various training needs in this free webinar 'Rapid eLearning and the 4 Rs: The Answer to Disruptive Training.'