This Fall, Make Sure You Know About These 4 Rapid eLearning Challenges
Rapid eLearning is unquestionably a fantastic solution for all of your training requirements. Is that it, though? No, Rapid eLearning has its challenges, and I'm here to walk you through them and their solutions.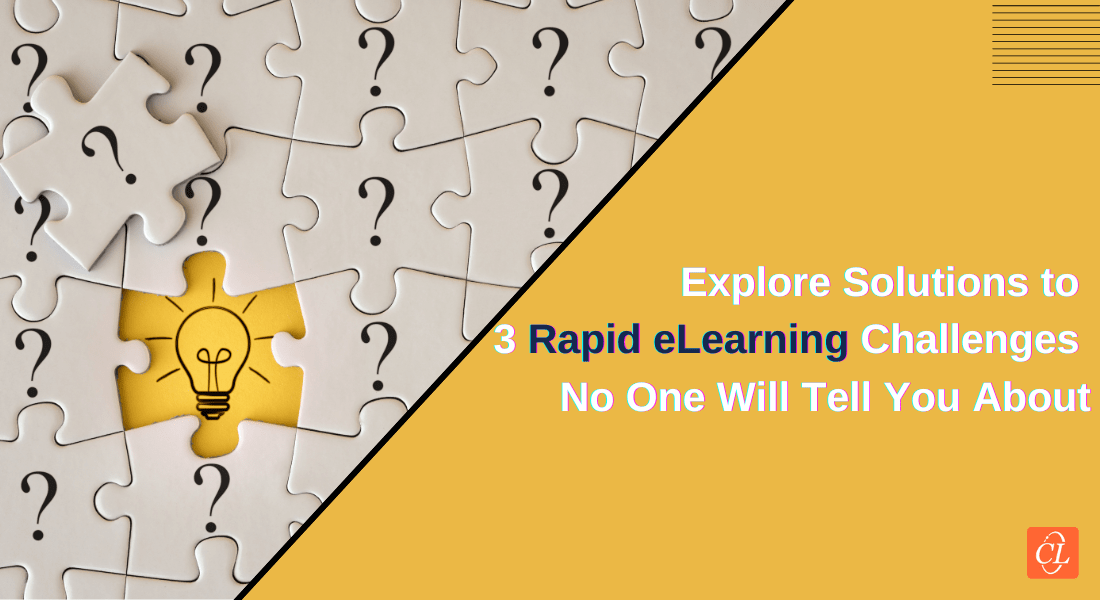 We've all been there, and we all know that training employees in this dynamically changing world sometimes seems to be very difficult. For training managers to prevail over these challenges rapid eLearning is the go-to solution for them. While all of us have heard the good side of rapid eLearning it also has a bad side which is the challenges that it comes up with.
4 Rapid eLearning Challenges – That eLearning Developers Neglect
Let's see what they are:
Busying SMEs Time for Rapid eLearning
Deciding the Right Authoring Tool
Managing Too Complex Content
Desiring Access to Resources Outside of Work
This blog will take you through 5 rapid eLearning implementation challenges and solutions for them Do not miss it out, continue reading and decode all the solutions for the challenges.
Rapid eLearning has been the go-to solution for organizations. Why? Because rapid eLearning develops eLearning courses quickly without compromising on quality. Rapid eLearning's focus is to understand the need-to-know content. Rapid eLearning also makes sure that the 3 essentials that are cost, quality, and speed and balanced properly.
You must be wondering why the blog title talks about challenges and here you are reading about the benefits of rapid eLearning. This is just a recap about rapid eLearning for you and for all the new people reading this blog.
Let us now see what the challenges are and quick fixes for them.
Top 4 Challenges That Hamper Rapid eLearning Implementation and Quick Fixes for Them
1. Buying SMEs Time for Rapid eLearning
Be it classroom training or digital training, subject matter experts (SMEs) play a crucial role in the learning and development of an organization. Though their primary responsibility is not training, SMEs decide the final training content. Usually, SMEs have a lot on their plates and do not have enough time to review or finalize the developed courses, which causes the development and delivery of the courses to be delayed.
Quick Fix
The quick fix for this is to include the SMEs at the beginning of your rapid eLearning development. Set clear timelines to brainstorm ideas, finish reviews, and for approving the projects. The deadlines can be fixed depending on the availability of the SME. Having a proper plan and keeping the SME informed prior will make them feel invested in the projects and will help us in winning their support.
The review process can be streamlined by using tools like ReviewLink or Review360. These tools record the review comment and make it easier for multiple reviewers to work together. These tools allow the reviewers to collaborate and work together. These tools can be accessed on mobile devices. So, even if the SME is traveling it will be easy for them to stick to the timelines.
2. Deciding the Right Authoring Tool
Rapid authoring tools play a crucial part in creating rapid eLearning courses. Selecting the right authoring tool to create your rapid eLearning courses sometimes can be challenging because the market has many options. If you are developing your courses internally, you can choose the authoring tool depending on the needs and the usability of the tool for developing your eLearning courses. A tool with a steep learning curve is not advisable when creating the courses internally.
A Handy Guide to Help You Decide the Best Authoring Tool for Your Course Development
Quick Fix
There are 3 categories of authoring tools:
Installation-based authoring tool
Cloud-based authoring tool
PPT-based authoring tool
These authoring tools are a good fit for skilled developers of eLearning who are experienced in creating various kinds of unique eLearning solutions. When there is access to large eLearning development teams, these are frequently used. Adobe Captivate, Lectora Inspire, and Articulate 360 are a few examples of installation-based authoring tools.
Cloud-based authoring tools are well-liked because of their accessibility. All that the developers must do is open the application in the web browser and start programming. They need not install any software nor need to configure hardware. These tools are preferred when multiple eLearning developers are working together on one project. dominKnow one, articulate rise are examples of these authoring tools.
PowerPoint-based authoring tools are accessible as add-ins. They are the best option for organizations that want to use internal sources for rapid eLearning development because they are simple to use and have the same interface as PowerPoint. With these authoring tools, you need not consult the experts to update the courses. Adobe presenter and iSpring Suite are examples of PowerPoint-based authoring tools.
3. Managing too Complex Content
Just like any other training, content is the main character in rapid eLearning courses. It is believed that lengthy complex content is not appropriate for rapid eLearning courses.
Quick Fix
Get skilled instructional designers to chunk your complex content. You can use effective microlearning modules in place of time-consuming eLearning courses in place of lengthy modules that are packed with content.
It's time to dispel the myth that rapid eLearning lacks instructional design if you have any misconceptions about it because reliable instructional design principles are used when developing rapid eLearning.
4. Desiring Access to Resources Outside of Work
Today's workforce needs on-the-go training which allows them to take the training anytime and anywhere. Service and sales technicians frequently need to be on the go and do not have a lot of time for training. However, to achieve the organizational goals, they must be trained.
Quick Fix
Rapid eLearning authoring tools have a feature called responsive design; this feature allows to development of responsive eLearning courses. This means, whether the learners are using laptops or tablets, responsive design has the capability to automatically resize and align the content to the screen. Therefore, the course gives the best viewing experience possible regardless of the learner's device.
Wrapping Up!
Rapid eLearning enters the picture and completely changes the game while creating efficient and rapid eLearning courses. It increases the corporate training materials' effectiveness and engagement. It's time for you to start using rapid eLearning and give your dull courses a quick makeover now that you have a better understanding of what it is and solutions for the problems you might encounter. Here is an eBook that will help you get started using rapid eLearning to create your eLearning courses, making your work even simpler.