4 Tips to Enhance Your Training Programs with Rapid eLearning
Companies are being asked to do more with less. Learning and development teams understand this better than other parts of an organization. In this blog, we discuss the top 4 tips to speed up your training programs with rapid eLearning.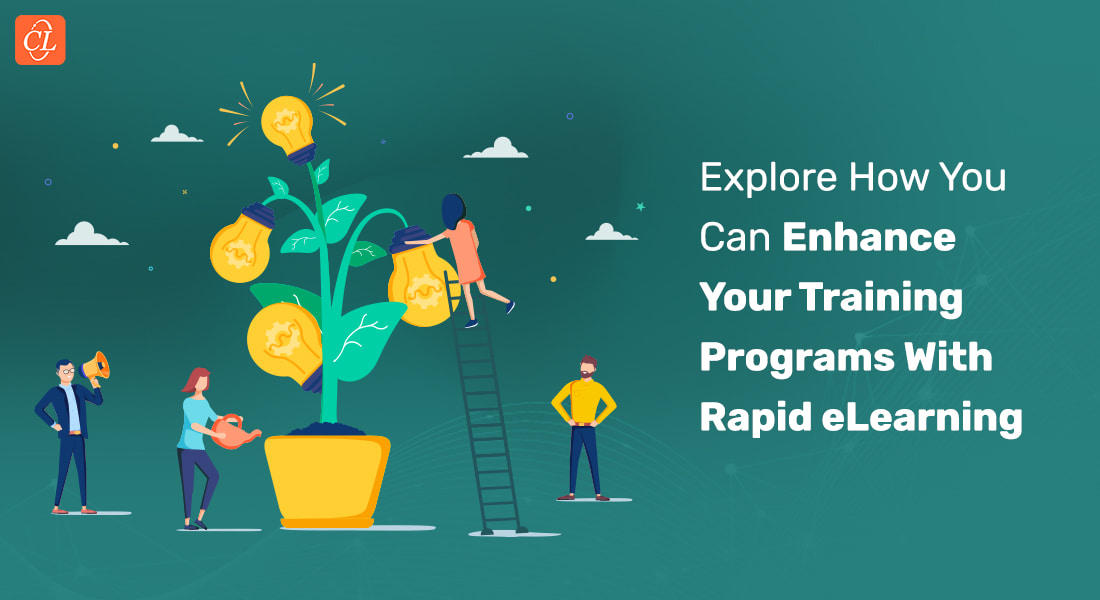 What are the top three enemies of L&D leaders? The answer is cost, time, and budget! Most of us are constantly looking for quick solutions to create rapid eLearning. The COVID-19 issue has made it even more imperative to create quick eLearning courses. To be clear, rapid eLearning is still a real boon; however, there are certain best practices and methods that when employed can aid in the eLearning design and production process.
What are they you might ask? And can we apply these best practices in any situation where rapid eLearning is required? Let's look at the answers.
Are You Wondering How You Can Create Courses That Are Results-Driven and Engaging?
Let's go through 4 amazing tips to help you build rapid eLearning courses with excellence:
Design courses with consistent templates and typography
Use an agile design and development process
Ask for feedback
Diversify your team's skills
What is Rapid eLearning?
Rapid eLearning offers the know-how to plan and develop powerful eLearning courses within weeks. It leverages authoring tools and follows instructional design principles. Rapid eLearning meets a wide range of corporate training requirements, such as:
Using classroom content to create eLearning, virtual instructor-led training (VILT), microlearning, and other online assets
Making legacy courses mobile-friendly
Translating eLearning courses
Here's an infographic with the 6 best instructional design strategies that are rapid eLearning's best friends!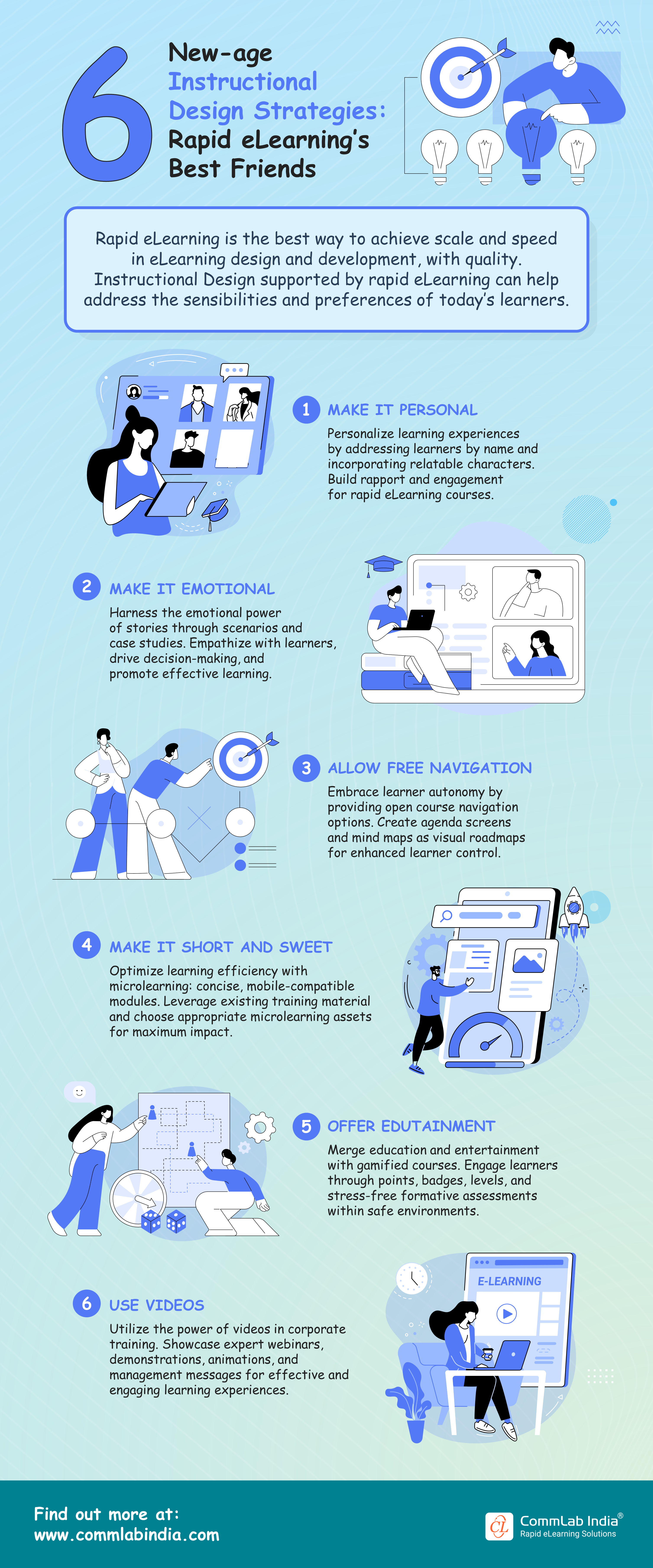 If you need a course that satisfies these requirements, then you are looking at developing a rapid eLearning course. It may well be your best option if you are short on time and working on many projects simultaneously. And you don't experience a decrease in the quality of content or learning experience.
How do you create courses that are both results-driven and engaging? Let me take you through the top 4 tips for developing excellent rapid eLearning courses.
Top 4 Tips to Develop Rapid eLearning Courses
1. Design Courses with Consistent Templates and Typography
You need to ask your organization, particularly the line managers who are looking for updates on employee performance. What are the communication and content distribution styles that work best for them? Then, you must create a master template that everyone can agree on, and you should make use of this template for all your prototypes.
This saves time that you might spend switching between managers and SMEs (subject matter experts). It also contributes to a conducive learning environment.
Create standard templates for:
Graphical User Interface
Common screens, such as welcome, learning objectives, assessments, and summary
Develop a style guide for:
Fonts
Color of the highlighted text
Style of bullet points
2. Use an Agile Design and Development Process
Hold a kick-off meeting with the L&D team and key stakeholders
Create a completely working prototype for stakeholders and SMEs to examine
Prioritize courses depending on the urgency of the training requirements
3. Ask for Feedback
The only way to get your course just the way you want it is to provide frequent feedback. You need to include information on page design, navigation, course structure, picture descriptions, interactive elements, and other key design elements. Also, you must discuss the modifications you've made with the customer as soon as possible to get them to sign-off on the course swiftly.
4. Diversify your Team's Skills
Apart from improving your professional abilities, you need to guarantee your workforce is up to date on the knowledge and skills needed in their roles. Is it necessary to create a new position? Is your team lacking a certain skill? Many instructional designers run into a brick wall when putting their plans into action, because of their restricted development skills. As a result, a coder or graphic designer begins to compensate for the absence of the required development skills. This goes to show that instructional design and eLearning development are collaborative endeavors.
Parting Thoughts
Rapid eLearning may appear easy, but it requires expertise in robust instructional design principles, established communication channels, authoring tool competency, quality assurance techniques, and easily accessible resources to support the quick and easy scale-up of your training programs. When you follow these four tips to speed up the design of eLearning you also aid in streamlining your future training projects. Download this free eBook on 'Rapid eLearning Design for Quick Rollout' to get more insights. Get your copy now!
Editor's note: This post was originally published in June 2022 and has been updated for comprehensiveness.