What is Rapid eLearning and Why is it Relevant at the Present Time? [Infographic]
Rapid eLearning is flexible and responsive to the needs of learners. It helps you quickly focus on the need of the hour. Let's understand why it's relevant at the present time.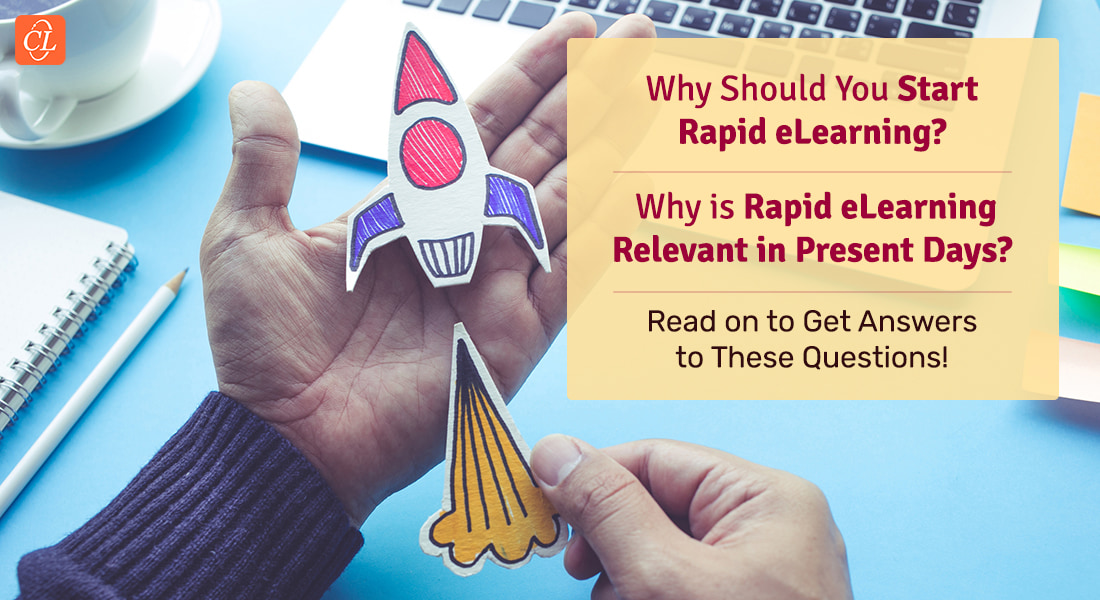 The corporate training world is changing at lightning speed. This poses a challenge for learning experts to quickly create and roll out eLearning courses that are within the budget, and that maintain the quality of the course. Rapid eLearning addresses this challenge by striking the right balance between the three factors that play a critical role in the development of online training programs, that is, cost, speed, and quality.
Rapid eLearning and Its Relevance
Post pandemic, cost-effective and time-saving training solutions have become a priority. Organizations have started implementing rapid eLearning solutions. Online learning is a highly pertinent approach to corporate training in the present-day scenario. The idea behind it is to build and roll out eLearning courses quickly, within weeks rather than months. Rapid eLearning involves developing eLearning courses by leveraging the benefits of authoring tools without compromising on quality. It's the best way to increase training productivity and effectiveness.
Why do You Need Rapid eLearning
Today, many organizations are relying on online training. With so many changes rapidly taking place around the world, training experts have committed themselves to provide the best courses for their learners. Training managers are focused on creating courses that don't bore their learners but instead motivate them to learn and improve their efficiency and productivity at work.
Let's Take a Quick Look at Some of Its Advantages:
Rapid eLearning is the best way to save on cost, time, and resources and improve eLearning effectiveness and efficiency.
Rapid eLearning cuts down development time by almost 40% as compared to traditional eLearning development.
Rapid eLearning courses are compatible with almost any device like laptops, tablets, and smartphones.
Rapid eLearning courses provide many advantages. It enables an immersive learning experience by including elements such as:

Storytelling: To make concepts more relatable. relearning providers use visuals and a storyline to develop and enhance rapid eLearning courses.
Simulations: Simulations follow the watch, learn, and do approach. Learners attempt to tackle real-life situations at work without the fear of failure in a risk-free environment.
Gamification: It's used to make courses even more interactive and engaging.

With the help of several powerful authoring tools, you can regularly update your courses.
Development of eLearning is quick. For instance, you can develop a 60-min course in under 3 weeks using rapid eLearning strategies.
Rapid eLearning is relevant. When you consider present-day learning strategies and learners, it can be easily said that rapid eLearning has become the need of the hour. Take a tour of this infographic to learn about rapid eLearning and its relevance to today's generation of learners.



The Bottom Line
The advantages of rapid eLearning are abundant. All these benefits make rapid learning a one-stop solution to many obstacles faced by global learning and development teams. I'm sure you want to know more about it. So, what are you waiting for! Grab our eBook and get an overview of the process of developing rapid eLearning courses.