4 Important Steps Before Converting Your Classroom to Online Training
When shifting classroom training to eLearning, you have to ensure your organization and learners are ready for it. This post shares four important considerations you can't afford to miss – including prepping your content and picking the right tools.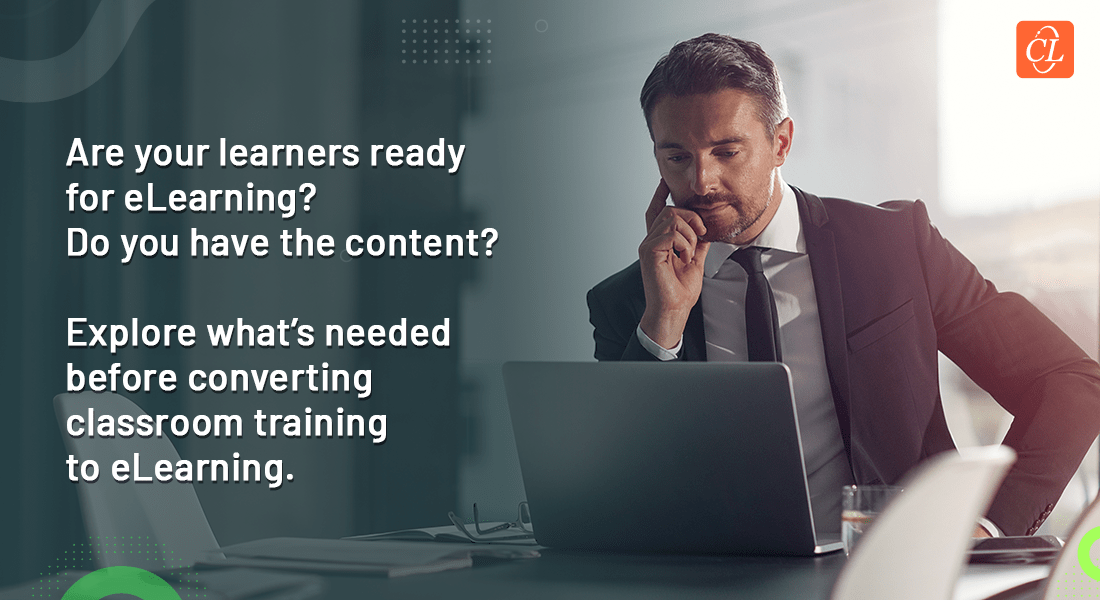 It's an easy mistake to make. Like missing the trees for the forest. I'm talking about shifting from the classroom to eLearning to train your employees without ensuring you (your organization and learners) are ready for it.
But before going into those considerations, let's review the reasons organizations all over the world are for opting for eLearning. E-learning is a viable solution because of its potential benefits that include:
Convenience: Anytime, anywhere learning
Affordability: Reduced training costs in the long run
Increased employee productivity and ROI for the company
Quick implementation and scalability
For a long time now, organizations across sectors have been recognizing the need to shift their classroom instructor-led training (ILT) to an online format, mostly eLearning, for training their employees.
The pandemic just added to the urgency by emphasizing the value of eLearning in upskilling new employees and reskilling old ones – remotely. While many companies have the necessary technology in place, others are still planning on investing in it.
Converting Classroom to Online Training?
4 Important Steps You Shouldn't Miss
Assessing learners
Making content ready for eLearning
Selecting the right authoring tool
Investing in an LMS
If your company is one of them, there are a few important steps you need to consider before introducing eLearning in your organization.
So, what are they?
4 Important Steps Before Converting your Classroom to Online Training
Step 1: Assess your learners
You need to ask yourself:
Who are you going to train?
What is desired the outcome of the training?
Who is the target audience?
Organizations today have a mix of Gen X (born between early 1960s to early 1980s) and Gen Y (aka millennials, born between early 1980s to early 2000s). And millennials are fast overtaking Gen X to become the majority generation in the US workforce.
As is quite well known, millennials have very short attention spans (so engaging their attention is a huge challenge), are very tech-savvy, and need anytime, anywhere access to information. It is essential to keep their needs and characteristics in mind while designing online training programs.
How do we do that?
By offering innovative training programs that cater to their unique needs. The old page-turner courses won't do. You need to think of:
Mobile learning: Bite-sized online modules compatible with all mobile devices – Smartphones, iPads, Android devices – that learners can access anywhere, anytime.
Microlearning: Short, 3-5-minute learning modules that focus on 1-2 learning points
Video-based learning: Short videos and video-based courses that appeal to the highly visual millennials (BTW, they hate text-heavy content.)
Gamification: Game-based eLearning courses that engage them and make them want to complete the game (course)
Blended learning: Different digital assets addressing different learning modalities, that make learning more interesting and engaging
Step 2: Make the content ready for eLearning
Before even looking at the classroom content, evaluate whether the training need can be met by ready-to-use (off-the-shelf) courses.
If your need is for custom courses, you need to check if you have classroom material available (PowerPoint decks, facilitator guides, participant handouts, etc.). Any organization already doing some form of training will always have content! Converting your existing content to eLearning using rapid authoring tools saves a lot of time and cost.
What you should not do is to develop content from scratch. This would be costly, time-consuming, and can cause a complete breakdown of processes and programs. Look at what you already have and identify content best suited for eLearning.
Whatever form the content is in (SOPs, PDFs, eBooks, documents, or ILT handouts), it can be converted to eLearning, as long as it is aligned with the learning objectives. Identify the content and update it with the help of SMEs.
Here's an infographic that'll give you an idea of what needs to be done with the content to make it eLearning-ready.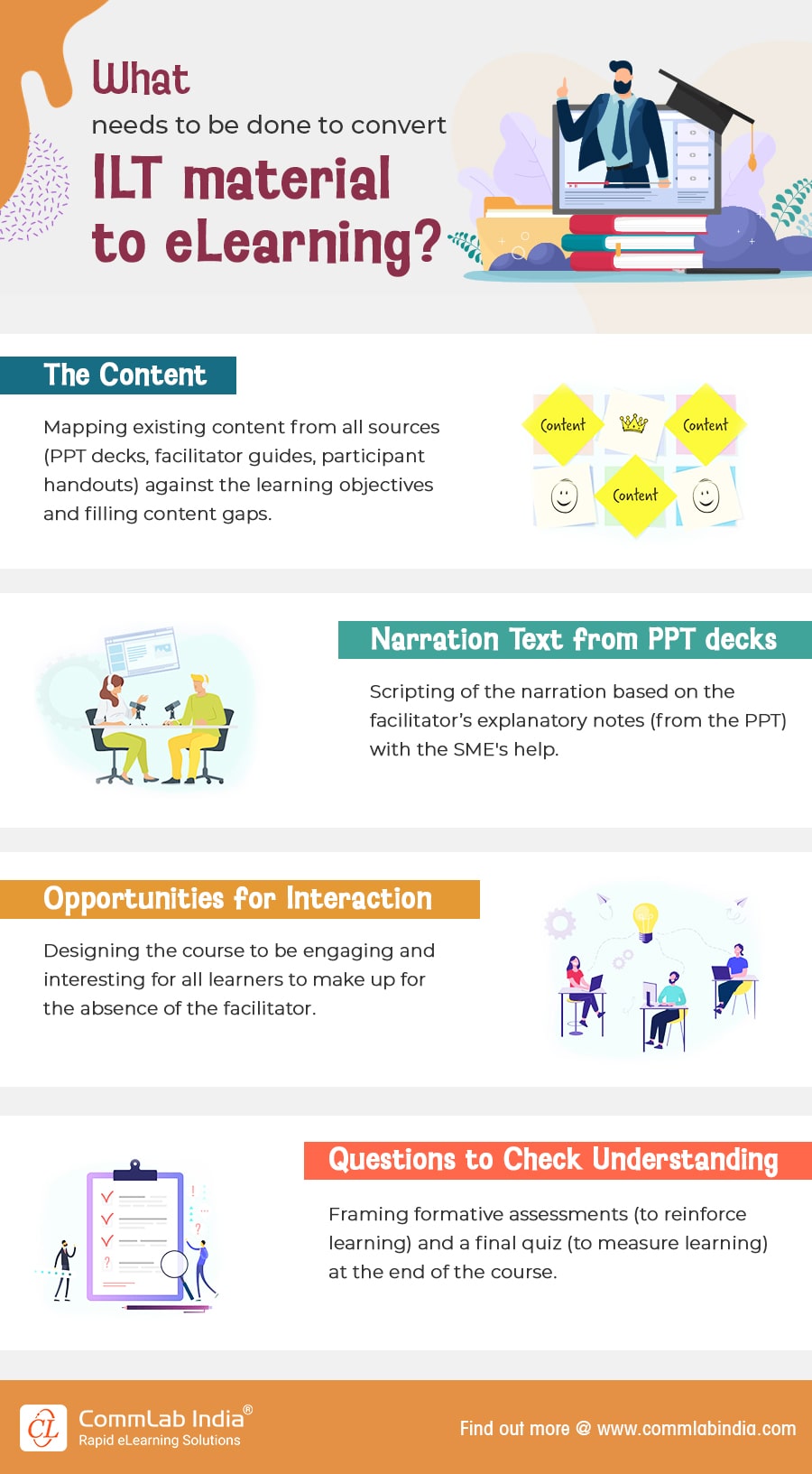 Step 3: Select the right authoring tool
Rapid authoring tools (desktop or web-based) enable eLearning developers to create meaningful learning experiences, quickly and effectively – from creating interactive modules and multimedia assets to making them mobile-compatible. So, it is important to choose the authoring tool that is just right for your organization.
Your choice will depend on:
Your budget and the cost of the tool
Level of interactivity you want in your courses
Here are some popular eLearning authoring tools and where they can be used.
Articulate Storyline 360 and Rise: Storyline 360 helps create highly interactive eLearning courses that can be made multi-device compatible with a single click.
Rise is a fully responsive web-based authoring tool that is ideal for converting text-based courses.
Adobe Captivate: Adobe Captivate 2019 is the ideal tool to create simulations in your eLearning courses.
Lectora Online: Adobe Captivate 2019 is the ideal tool to create simulations in your eLearning courses.
iSpring Suite: iSpring Suite is one of the most popular authoring tools to convert PowerPoint decks to eLearning.
Step 4: Invest in an LMS
An LMS (Learning Management System) is a software application that helps organizations manage learning effectively and improve employee performance. It can host all types of courses which learners can access via unique usernames and passwords.
The LMS:
Enables training managers to administer, track, and report training
Manages ALL training initiatives – classroom, online, blended and performance support
Serves as a repository of training material
You have a variety of options to choose from proprietary or commercial LMSs to open source LMSs like Moodle.
What's Next?
So now that you know what needs to be done, take a look at how classroom training material is made eLearning-ready. It involves proper planning, instructional design, a careful analysis of high-level considerations, and more. Get all the insights in this webinar.