How to go About Your eLearning? Should You Develop it In-House Or Outsource?
Although inhouse eLearning design and development allows you complete control over the procedure. You can roll out efficient courses rapidly with outsourcing while needing to worry about timeline or efficiency. What choice should you make?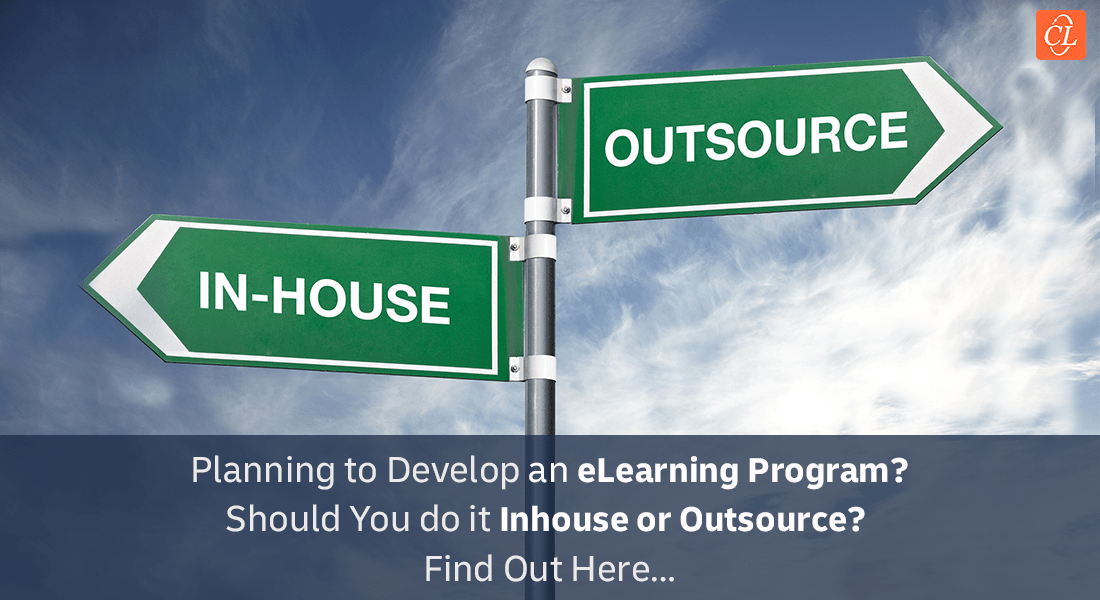 You're all set to launch your new eLearning course. Should you outsource or create internally? It has always been a question and is as old as eLearning itself. It's important to think carefully about whether to design your eLearning courses in-house or outsource the task to a eLearning vendor. While getting a sign-off for internal development is typically simple, getting one for external eLearning development is a mammoth undertaking. Not every firm wants to spend money on custom eLearning course development from an eLearning provider.
Wondering Whether to Outsource or Develop eLearning Inhouse?
Here are the benefits of each:
Inhouse eLearning Development
Customized eLearning Courses
Better Cost Management
Data Privacy
Outsourcing eLearning Development
Using a Pool of Professionals
Quicker Turnaround
Training Advancement
Are you unsure whether to engage an eLearning vendor or perform the design and development yourself in-house? You must consider several criteria to pick the best choice, including your organization's available money and resources, the team's in-house knowledge, the amount of time you have, etc. If you intend to outsource the creation of eLearning, you should consider the e-learning suppliers' capacity to satisfy your company's training needs.
Nurturing an eLearning partner requires some work, but the time and money invested will be well worth it. eLearning design and development should be effective whether you begin it internally to maintain control over the development phase or outsource it to a provider with experience in training personnel throughout the world.
This blog will assist you in deciding whether to build eLearning internally or externally or why, when, and how to do so.
In-House eLearning Development
When you create eLearning courses in-house, you will design and create the courses with next to no outside assistance utilizing your own resources. In this situation, you ought to either establish an internal team or recruit professionals for certain positions. It is advantageous to already have an internal team since you can:
Create eLearning Courses That are Customized
Your own staff will be more knowledgeable about the requirements of your business. They'll find it far simpler to provide you exactly what you want and to make updates or modifications more quickly. Additionally, working with an internal team makes communication easier and smoother.
Better Cost Management
It will be less expensive to create eLearning courses, especially if you need to create several. You don't need to decide to set aside more funds for a vendor because you already have a team.
Maintain the Privacy of the Data
If you are concerned about developing classified training material, in-house creation is unquestionably a safer alternative.
However, expenditures will soar if you're just getting started with eLearning and want to set up an in-house development team. Let's investigate why.
Securing Fresh Talent
To ensure the success of eLearning creation, many skill sets are required. To put together a basic team, you'll need project managers, course designers, graphic designers, and instructional designers. The scope of the project will again determine how many individuals are participating. In addition, if you don't have ongoing development projects, you don't need an internal staff.
Training the Team
Creating a development team does not finish your task; you still need to teach them. This will require a lot of preparation, work, and time.
Purchasing new Equipment and Technology
To turn storyboards into fully functional eLearning courses, your courseware developers and instructional designers will require software eLearning audio/video editing tools, authoring tools, Additionally, the price of these tools and the license fees for some of them are also high.
Outsourcing eLearning Development and Design
The advantages of outsourcing eLearning development have made it the go-to choice for the majority of businesses of all sizes. These are a few of the advantages:
1. Using a Pool of Professionals
You may collaborate with specialists that have a solid history in training, authoring tool knowledge, instructional design, and more when you outsource eLearning development and design. They will have easy access to a big resource pool, which will facilitate accelerating growth.
2. Quicker Turnaround
A skilled international vendor will take advantage of the time zone variations to guarantee rapid eLearning development. Their capable remote project management and reliable quality assurance procedures will guarantee that the development goes off without a hitch.
3. Training Advancement
Additionally, outsourcing will provide you access to eLearning specialists and aid in your understanding of "trends," including how they fit into your training needs and the best method to use them, as opposed to just incorporating them into your training because it appears like everyone else does.
Parting Thoughts!
Although in-house development allows you complete control over the development phase, it is time and financially expensive. While doing so, you may swiftly deploy successful courses without constantly worrying about timeline or efficiency by outsourcing eLearning creation.
You could prefer to outsource the full development process, even if other businesses choose to handle everything internally. Making an informed choice should be made easier if you consider all viewpoints in the context of what would work best for your business. Here's what you must do if you want to learn more about eLearning.
Learn how to excel in eLearning so you may be the most sought-after training manager. A unique online event dubbed "The eLearning Champion Workshop" will include industry professionals who will give practical advice on determining training requirements and developing training programs that meet organizational objectives. Click below for the registration and participation link.