5 Impressive Ways eLearning Outsourcing Companies Boost Training Efficiency
eLearning outsourcing companies play a major role in boosting training efficiency. Read on to discover the 5 impressive ways of how they do so.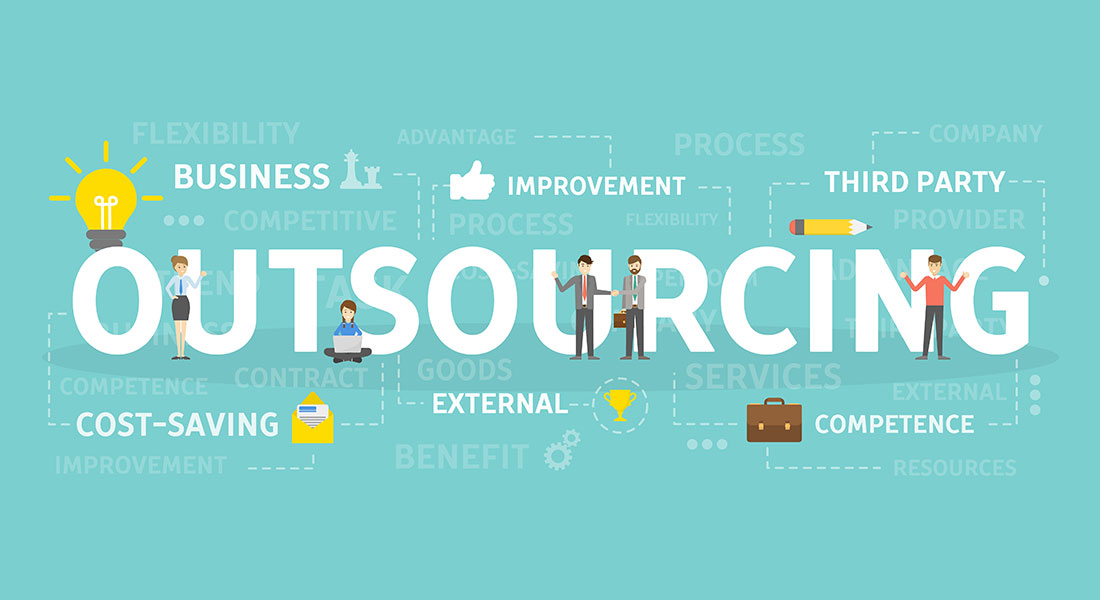 Develop eLearning content in-house or outsource?
Well, this question is nothing less than a nightmare! Often, there's a conflict between the two because each has its own pros (and cons, too!). Mostly, the pros and cons vary based on your requirement. So first, you need to be clear with your expectations and objectives from the eLearning content. And once you're sorted on that part and are planning to go ahead with outsourcing, this blog is just for you. Because, here we'll be talking about eLearning outsourcing companies! That's right.
We will take a detailed look at 5 impressive ways eLearning outsourcing companies boost training efficiency. It will give you all the more reason to go ahead with your choice of outsourcing your eLearning design and development.
eLearning Outsourcing Companies Boost Training Efficiency!!
Here are 5 amazing ways that explain how they do so:
Facilitate custom content development
Boost Learner Engagement
Leverage cutting-edge technologies
Provide top-level expertise
Ensure timely content delivery
Are you ready?
Go team eLearning outsourcing!!
What is eLearning Outsourcing?
It is a method where organizations partner with specialized eLearning outsourcing companies to improve the overall outcome of their training initiatives. They leverage external expertise to design and develop high-quality, interactive, and personalized learning content for their employees. This helps augment productivity and performance, thereby maximizing the training ROI and fostering business success.
5 Ways eLearning Outsourcing Companies Boost Training Efficiency
1. Facilitate Custom Content Development
Outsourcing your eLearning development projects to gain nothing extraordinary in return doesn't seem the right thing to do! Therefore, eLearning outsourcing companies are committed to making a difference. For starters, they excel in custom content development. eLearning outsourcing companies curate the training materials to meet specific organizational needs. And in order to do so, they collaborate closely with businesses to gain a deep understanding of their goals and objectives. This helps them ensure that the learning content aligns precisely with the organization's objectives to deliver desirable results.
To leave no room for second-guessing or inaccuracy, they also leverage the knowledge and skills of Subject Matter Experts (SMEs) and instructional designers. Moreover they ensure that the eLearning courses are engaging, relevant, learner-centric, and of high-quality. For this, instructional designers pay extra attention to adult learning principles and selecting the right instructional design strategies. After all, these elements together set the foundation for effective, immersive learning experience.
2. Boost Learner Engagement
Let's accept it! Creating eLearning courses that capture learners' attention is not everyone's forte. But when you want effective results, ensuring this aspect is a must. And that's where eLearning outsourcing companies take the wheel. They foster learner engagement by integrating multimedia, such as images, videos, audio, infographics, animations, etc., into the training materials.
Apart from that, they also make the best use of eLearning interactivities to provide opportunities to the learners to interact with the learning content. Check out the simple, easy-to-understand infographic below to know examples of eLearning interactivities.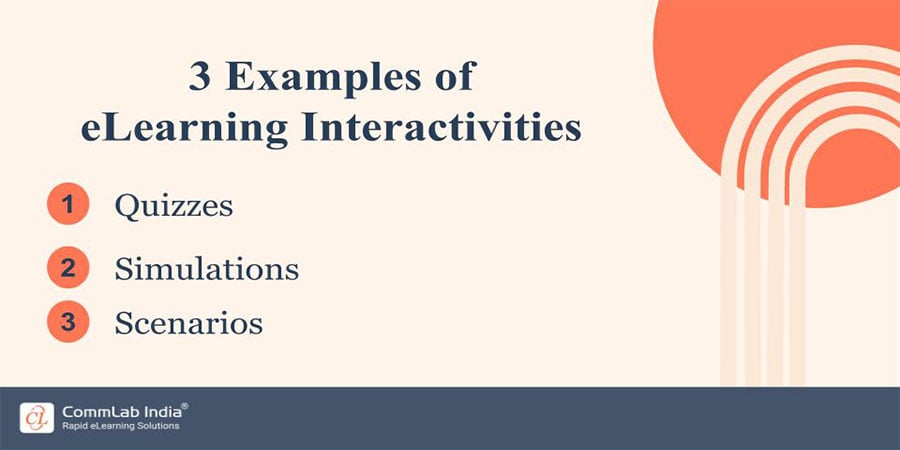 These elements promote an immersive, engaging learning experience as they involve learners' multiple senses in the learning process. This further paves the way for improved participation, retention, and completion rates.
3. Leverage Cutting-Edge Learning Technologies
Advancement in technology is definitely stealing the show these days! With that said, the ability to leverage this modern, cutting-edge technology efficiently is what holds the potential to make all the difference in a competitive business scenario. However, accessing these authoring tools or more so training your eLearning developers regularly so they can use the latest technology properly is both costly and time consuming.
Well, if you decide to outsource your eLearning development project, you don't need to worry about any of it because the eLearning outsourcing company will take care of it all. They continuously explore and invest in advancements, ensuring their clients benefit from top-class learning solutions. From using effective, latest technology and tools to deploying competent staff to the task, you can be assured of the best-in-class, effective eLearning courses for your corporate training.
Here's an infographic enlisting the top 3 popular immersive technologies.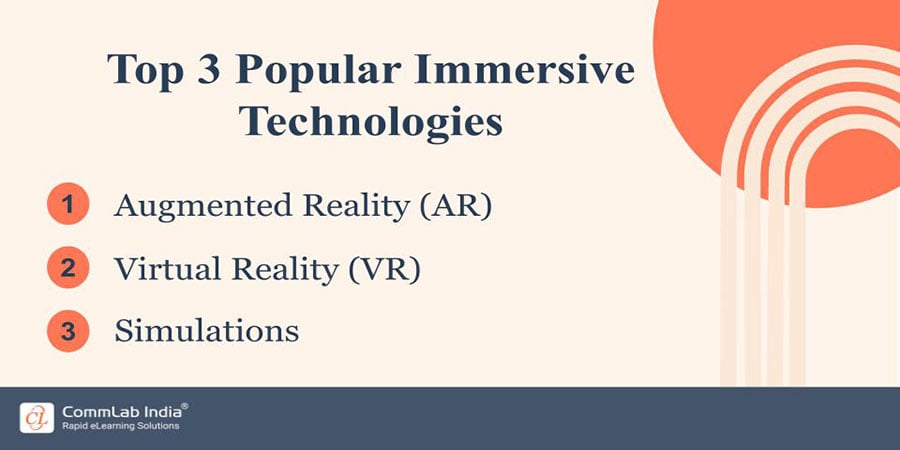 The above mentioned examples facilitate interactive, immersive experiences that engage learners in scenarios similar to the real world. This enables them to implement their knowledge and practice their skills in a better way without the fear of real-world consequences. It fosters a deeper understanding of complex concepts and enhances ability to apply the acquired knowledge, thereby boosting training efficiency.
4. Provide Top-Level Expertise
It's not possible for an organization to have an expert for every single field! But you certainly need the expert advice when it comes to curating content for your eLearning courses. Isn't it? So what now? Do you intend to hire such experts? Full-time or contract basis? Well, that's too many questions. Isn't it?
Imagine how difficult it would be if you had to answer each one of them by analyzing all the impact in detail. Fret not! You can easily ditch this trouble as eLearning outsourcing companies provide you with the top-level expertise to boost training efficiency. They have skilled teams comprising of Subject Matter Experts (SMEs), instructional designers, authoring tool experts, translators, narrators, and technology experts who possess a wealth of knowledge and experience in their respective fields. Check out the video below to understand how you can leverage the expertise of the external team.
By leveraging this diverse expertise, they successfully design and develop training content that is not only accurate but also aligned with the latest trends and best practices in learning and development. Thus, eLearning outsourcing companies boost training efficiency in a significant way!
5. Ensure Timely Content Delivery
Last but definitely not the least, is that eLearning outsourcing companies boost training efficiency by delivering eLearning courses on time. That's right! Because it's very well understood that no matter how interactive, accurate, custom-designed, etc., etc., the courses are, if not delivered in a timely manner, they're of no use.
Therefore, eLearning outsourcing companies pay special attention to balancing all the aspects listed above along with providing the learning material on time. To do so, they leverage rapid eLearning solutions, employ agile development methodologies such as Successive Approximation Model (SAM), rapid eLearning authoring tools, etc. Rapid eLearning is a method that enables quick rollout of eLearning courses without compromising the quality of the content. In fact, it helps meet the growing training demands of an organization, thereby facilitating accessibility, scalability, and training efficiency.
Wrapping It Up!
eLearning outsourcing companies are the game-changers in the world of eLearning design and development and boosting training efficiency. They ensure the best in everything, from industry experts to latest technology to interactivity, while taking the burden off your shoulders. Impressive! Isn't it? But all of this is possible only with the right eLearning outsourcing vendor. So make sure you select the right one!! Here's an informative guide to help you out. Check it out now!