How to Implement the 4 Rs of Rapid eLearning Development
Rapid eLearning has taken corporate training to another level altogether. With speed, scale, and precision, it aims to maximize learner experience. But how do we implement rapid eLearning? Through its '4 R' strategies – Redesign, Record, Rebuild, and Republish.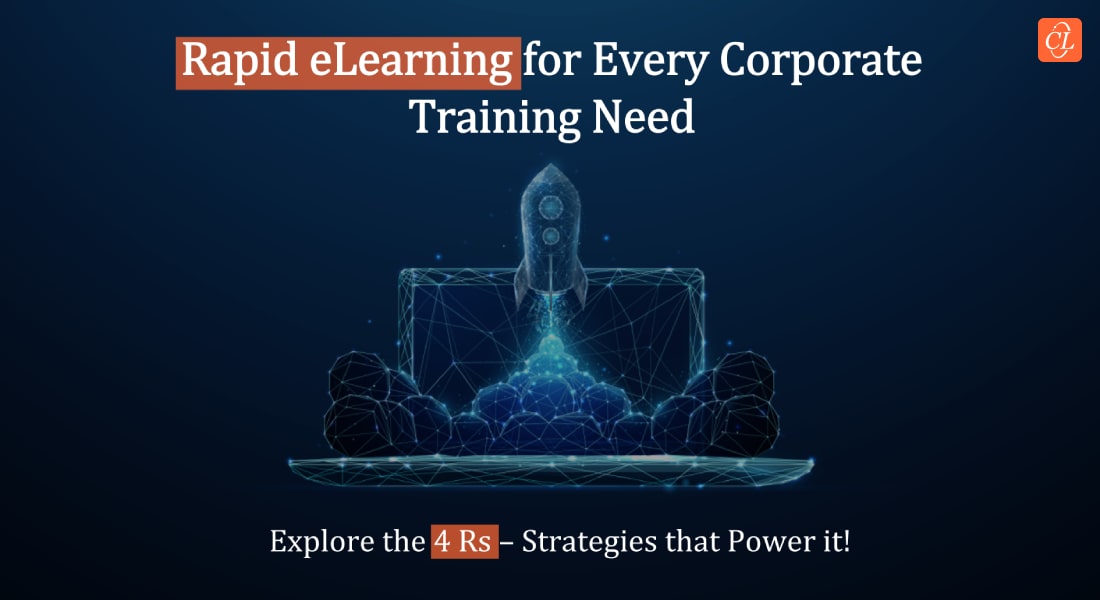 Gone are the days when instructors and learners were in a fixed location having an interactive training session. With remote working and remote learning gaining momentum of late, the demand for online learning has increased multifold. No wonder, one of the most favored modes of learning these days is eLearning. And in this era of 'instant' everything, can eLearning be far behind? And this is when rapid eLearning comes into the picture.
What is Rapid eLearning?
Rapid eLearning is a method of developing eLearning courses 'rapidly' (hence the name), with the help of authoring tools. It does away with the bells and whistles of conventional eLearning, while diligently following the principles of instructional design. It helps roll out courses in a few weeks (instead of a few months that is the norm with traditional methods).
And when there are budget cuts and tight deadlines, rapid eLearning saves on cost and time by:
Standardizing templates and reusing them
Using rapid eLearning authoring tools
Making use of online review links
How does Rapid eLearning Work?
Rapid eLearning uses a 4-pronged strategy – Record, Republish, Rebuild, and Redesign – to develop instructionally sound and engaging courses that are compatible with multiple devices and browsers.
Rapid eLearning for Uninterrupted Corporate Training
The FOUR Strategies of Rapid eLearning Development
Redesign
Record
Rebuild
Republish
The 4 Rs of Rapid eLearning
Redesign Classroom (ILT) Material to Online Learning
The first R of the '4R' strategy stands for 'Redesign'. Eliminate all the hassles of classroom training by converting your classroom material to online learning – both synchronous (VILT) and asynchronous (eLearning and its avatars, blended learning, performance support job-aids, etc.) formats.
VILT or virtual instructor-led training is a training approach where the learner and instructor participate in the training at the same time, albeit from different locations. It offers the interaction of the classroom along with the convenience of online training. The important thing to remember about VILT is that classroom content needs to be adapted to recreate the classroom interaction in the virtual session.
eLearning and its avatars (microlearning, mobile learning) can also be designed from available classroom material. As with VILT, the content must be worked upon to make it suitable for the self-paced format and compensate for the absence of the instructor.
Blended learning uses different digital assets to address different learning modalities. Your classroom material can be used to create different digital assets for the blended learning program. You can also use classroom material to create performance support job-aids such as how-to videos, infographics, online FAQs, PDFs, etc.
Record to Save SME Time
The second R of the '4R' strategy stands for 'Record'. Subject Matter Experts (SMEs) have very busy schedules and are not always available (or willing) to review eLearning courses during development. It's important to remember that training is not their primary responsibility.
Yet their inputs are essential for ensuring the accuracy of training content. The Record strategy will help reduce SME touchpoints in eLearning design and development from the 9 (for conventional eLearning design and development) to a mere 3. Here is how that's made possible.
The SME creates a rough PPT deck and records the explanation for each slide on his phone.
The ID team enhances the PPT deck (both visually and instructionally), transcribes the SME's audio and creates the narration script from it.
The SME reviews the PPT and script and provides feedback.
The eLearning team implements the feedback develops the eLearning course with audio narration.
The SME signs off on the final course.
Rebuild Legacy Courses into Microlearning assets
The third R of the '4R' strategy stands for 'Rebuild'. Today's learners don't want to sit through long 1- or 2-hour eLearning courses. They prefer short, crisp, and focused courses that will help them do their jobs better. That means modifying or rebuilding your existing courses into short microlearning nuggets. Microlearning is a flexible learning strategy that can be utilized in a variety of ways to enhance individual and organizational performance.
Microlearning can be accessed across devices and helps:
Negate the effect of the forgetting curve
Prepare learners for online/classroom training
In easy assimilation and increased recall of learning
Examples of microlearning assets include short 'how to' videos, animations, quizzes, eBooks, games, GIFs, infographics, etc.
Republish Legacy courses to Make Them Mobile Compatible
The final R of the '4R' strategy stands for 'Republish'. You may be having a lot of courses developed in obsolete software or older versions of authoring tools that are not compatible with mobile devices. The content of those courses may still be relevant, still useful for training your employees. You can use the Republish strategy of rapid eLearning to update the course with a newer version of the authoring tool.
The Republish strategy allows you to:
Update content or branding
Revamp the look and feel of boring looking courses
Make courses compatible with mobile devices
It's A Wrap!
By effectively leveraging the 4 Rs of rapid eLearning, we can provide learners an enriching learning experience. The dynamics of organizations change. And with changing processes, organizations need to ensure that employees adapt to it easily. Rapid eLearning and its 4 Rs help provide uninterrupted training even while working remotely to a diversified workforce. Want to know more about the 4 Rs of rapid eLearning? Check this webinar.