Must-Follow 4-Point Checklist to get you Started With Rapid eLearning
Contemplating rapid eLearning for your employee training? Congratulations on the futuristic decision… and now, if you are wondering how to get started, this article is for you!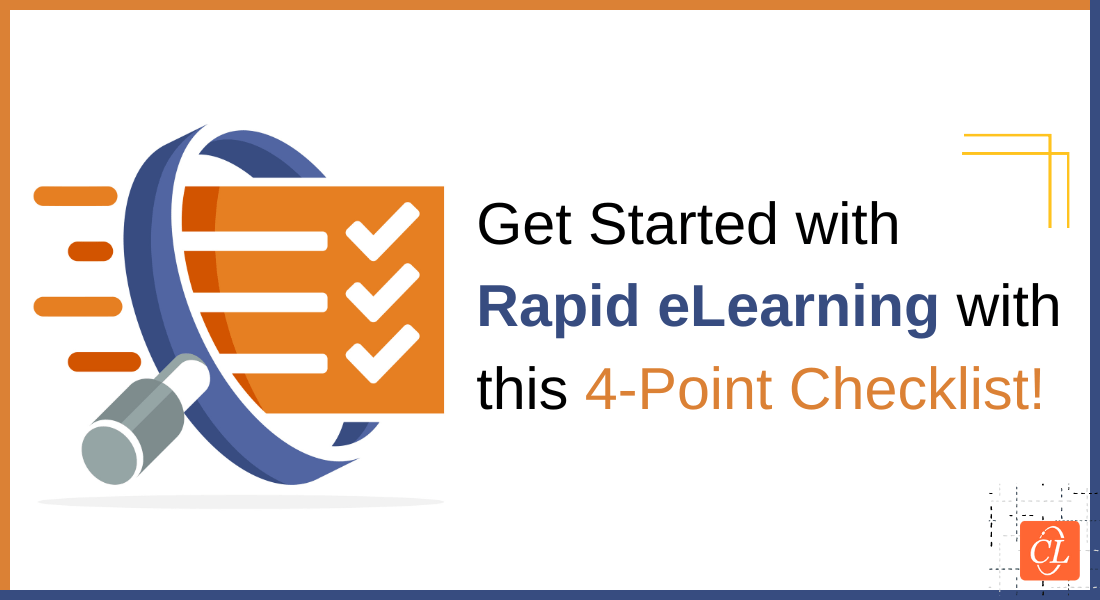 Rapid eLearning is one of the most widely used ways to develop eLearning modules which require quick rolling out or need frequent updates or the ones that have a low shelf life. For instance, rapid eLearning is ideal to develop learning courses about policies. The frequent updations and changes in policies mean that the courses developed need frequent updating and this issue can be solved with rapid eLearning.
From reusing the already available learning content, either from existing eLearning modules or from traditional instructor-led training (ILT) content, to using rapid eLearning authoring tools to create the courses, rapid eLearning follows certain techniques to get the work done faster.
What makes it even better is the fact that rapid eLearning has its foot set on strong instructional design principles. Thus, it is not just faster, but more efficient too…
Considering all these features, rapid eLearning can be endorsed as one of the best ways for corporate eLearning development. But to ensure success with the approach, it is critical that you know the right steps to get started.
Wondering How To Get Started With Rapid eLearning?
Follow these four prep steps:
Set realistic, achievable goals
Ensure collaboration between IDs and SMEs
Gather the tools and resources required
Assign duties properly
This article will source you with the checklist to be followed to start off on the right foot
4 Point Checklist to get you Started With Rapid eLearning
1. Set Realistic, Achievable Goals
The very first step that you should be following when working with something new is to know how to proceed further. You may be aware of where to start but to make the initiative a success, you should also know where to reach. This also stands for rapid eLearning. To make this online training development approach a success, you will have to set clear, realistic, and achievable goals that help you stay focussed.
Setting up clear goals helps in determining if you are on the right path or not, and it will also help the teams understand more about their responsibilities and their expectations from them.
2. Ensure Collaboration Between Ids And SMEs
The success of rapid eLearning development relies on instructional design (ID) principles. It is the responsibility of the instructional designers to develop the entire online training modules and make them more relevant and engaging enough to keep the learners to the training provided. They are also responsible for ensuring that the courses and the curriculum are aligned with the set learning objectives; selecting the best ID strategy and also for designing eLearning assessments.
While the role of the IDs is very critical in the process, the role of Subject Matter Experts (SMEs) in the process may not be ignored. The content required for Rapid eLearning development is taken from legacy courses or from existing ILT materials, and these resources are provided by the SMEs. Their duty is to ensure that the courses do not have outdated content or knowledge gaps. Additionally, the SMEs are also responsible for reviewing the storyboard, the prototype, as well as the final eLearning course and providing necessary feedback.
From this, it can be understood that both IDs and SMEs are extremely important for the process and that there has to be proper coordination among them in order to get the job done. So when getting started with rapid eLearning, make sure that there is proper collaboration and communication between the IDs and SMEs.
3. Gather The Tools And Resources Required
Authoring tools are what add 'rapid' to the eLearning development process. With their ease of use, the little requirement for technical expertise, and built-in interactive elements and templates, authoring tools bring several capabilities to churn out impactful and engaging eLearning modules, quickly.
In order to get started with rapid eLearning development, you will have to ensure that you choose the right eLearning authoring tool based on your training needs and requirements.
4. Assign Duties Properly
Choosing the right team members is also a very important task in the process of rapid eLearning development. though it is not a very time taking process, it does require human resources for different functions such as design, eLearning development, and quality assurance. The resources have to be competent enough to handle the duties and responsibilities assigned to them, so there are no further issues.
Keep in mind that you will be needing IDs, SMEs, and eLearning developers throughout the process. And, these resources have to work in collaboration. With this in mind, you will also have to hire a project manager who is efficient enough to oversee their work and that there are no irregularities happening.
Wrapping Up
Now that you have the four must-follow steps to start off with rapid eLearning development, you can be assured of a good start to the initiative. However, there are a few organizations that still have certain apprehensions about rapid eLearning. One of the reasons could be the lack of resources and in-house capabilities required for the development.
In such a scenario, we advise organizations to opt for the services of a rapid eLearning services outsourcing partner. Hiring an eLearning outsourcing partner will help in ensuring efficient final output in the speculated time.
Want to explore more about eLearning outsourcing? This eGuide can help you…