5 Step Design Plan for Classroom to eLearning Conversion [Infographic]
Do you have a plan for classroom to eLearning conversion? When you convert ILT to eLearning, you have to ensure classroom effectiveness is retained, and take some important decisions. Check what those are in this post.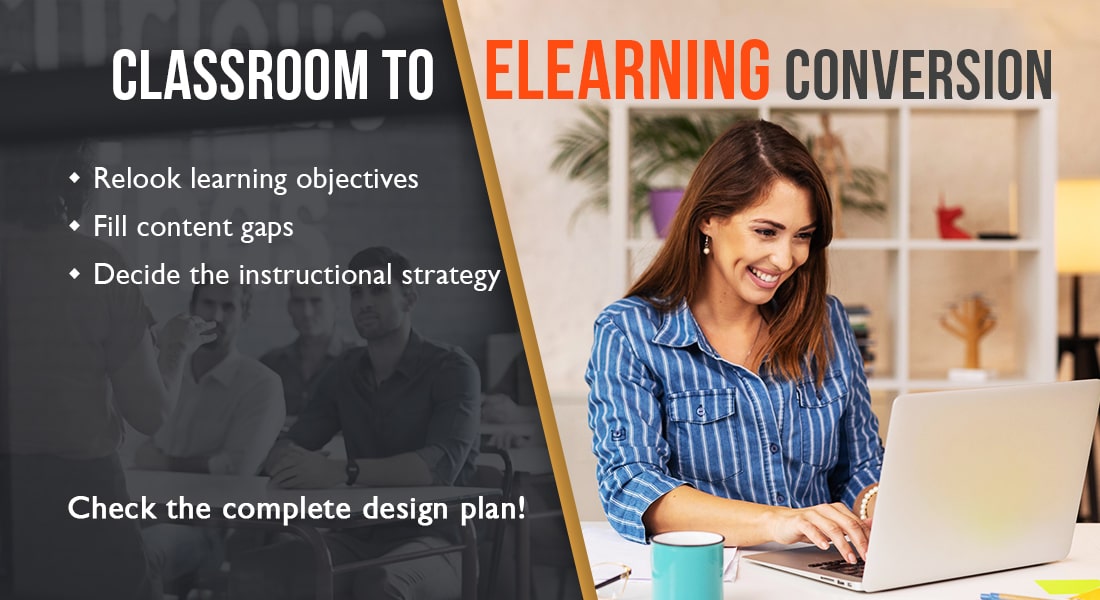 Visiting a new city needs a plan, so does starting a new diet. So, do you have a plan for classroom to eLearning conversion? Whether you plan to migrate ILT (instructor-led training) to eLearning in-house or outsource it, you need to know what it involves – the different skill sets required, technology and knowledge resources, timelines, key stakeholders, and more.
Why Convert ILT to eLearning?
Another important aspect you as a training manager need to have an eye on is the business goal the eLearning in question aims to resolve. For this, classroom learning objectives will need to be relooked to identify what can be addressed via eLearning. If needed, a curriculum of eLearning modules can be designed to cover the classroom training program – which can run into 2-3 days.
How to Convert ILT to eLearning?
Whether it's a 3-day training program or a 2-hour class, converting ILT to eLearning will need to factor for the following:
Absence of the explanation – examples, anecdotes, war stories – shared orally by the instructor
Collaborative exercises
Peer-peer and learner-instructor interactions
Visual cues that let the instructor check learner participation
Flexibility to set the pace and tone of teaching
A good eLearning vendor with experience in instructional design and agile project management will help you convert your classroom training material to eLearning seamlessly. Along the way, they will also help you with important decisions such as:
Which authoring tool to choose
Ideal duration of the course
Instructional strategy to be used
Translations, if needed
Designing a blended learning program
It's now time to explore a design plan for conversion and this is what the infographic covers.



Your Turn
You now know how to get started, the process, and the decisions to be taken. So get started and ensure you have a successful classroom to eLearning conversion. This can be the start of blended learning and tech-enabled learning in your organization – so make the first project count!!
If you would want further guidance on getting stated or want to check the readiness of your classroom training content for conversion to eLearning, join our webinar today.