7 Stakeholders Who Should be Involved in Classroom to eLearning Conversion [Infographic]
Before you begin the process of classroom to eLearning conversion, do you know which stakeholders need to be involved? This infographic shares the details. Prepare for a smooth conversion process from classroom training to eLearning!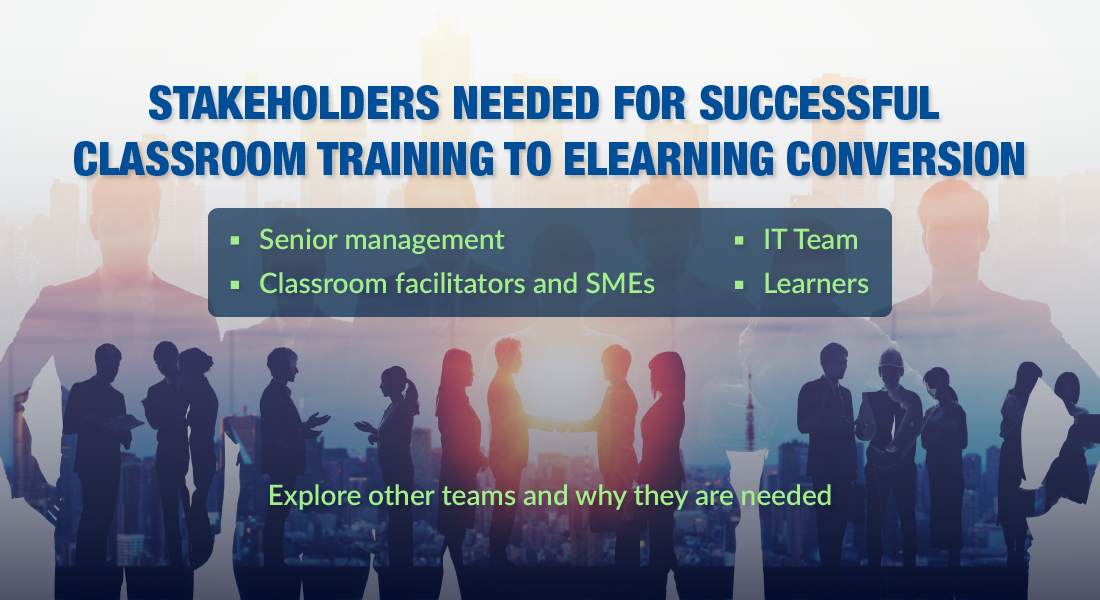 Classroom training will continue to remain an evergreen favorite of L&D professionals. But the recent pandemic has caused a huge disruption in classroom training. And this has resulted in many organizations opting for classroom training to eLearning and VILT conversion.
The ideation, creation, and deployment of eLearning courses are all taken care of by a highly specialized set of people. But even before you begin the process of converting ILT to eLearning, you need to get the buy-in of stakeholders.
The involvement of stakeholders is important because they can ensure that the classroom training to eLearning conversion project meets its objectives and remains on track. Who are the stakeholders involved in classroom to eLearning conversion? What is the role of each stakeholder? This infographic shares the details in a nutshell.



To persuade decision makers and ensure a smooth journey toward eLearning adoption, check this eBook that tells you how to present a business case for eLearning.