6 Stakeholders Involved in Classroom to eLearning Migration [SlideShare]
All set for migrating from the classroom to eLearning? Have you identified the stakeholders crucial for the ILT to eLearning conversion process? Learn about the 6 key players and their roles here!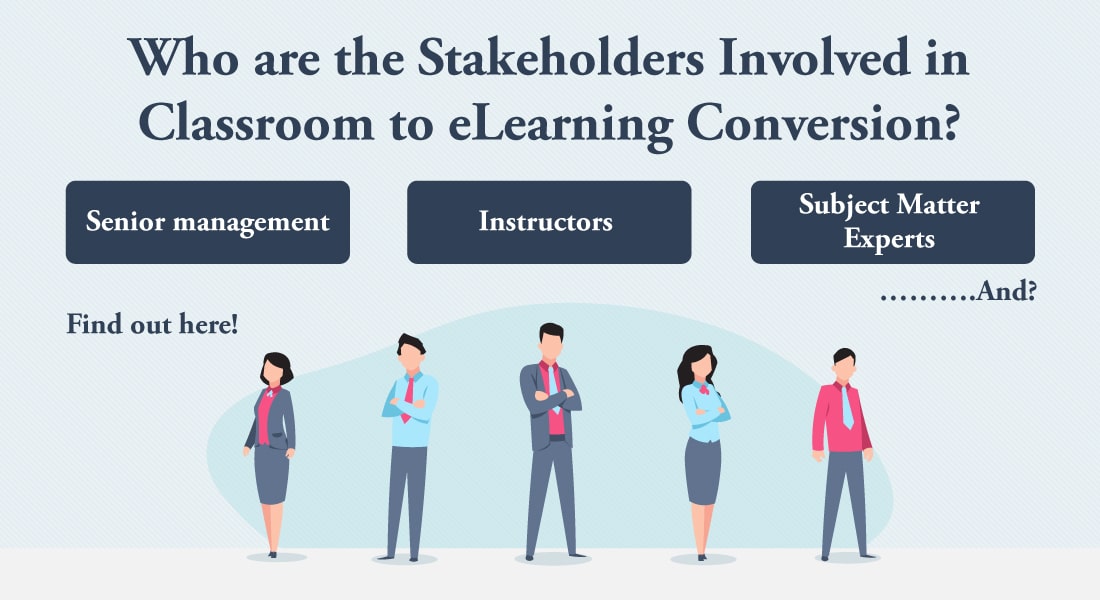 If this is your first time with classroom to eLearning conversion, I'm sure you have a lot going on in your head about the entire process. The most obvious ones would be the timelines, budget, and course quality. In addition, you will also need to think about gathering the required training materials (PPTs, documents, PDFs, handouts), selecting the team (who should be in it), deciding on additional options (microlearning modules, interactive infographics, eBooks) …… and more!
Well, fret not! Even though it's your first time, classroom to eLearning conversion is going to be a smooth ride with an experienced and expert eLearning vendor.
If you're wondering why you can't do it in-house, here's something you should know. Converting classroom materials to eLearning is simply not about publishing PPT decks with an eLearning authoring tool. Developing effective learner-centric eLearning requires authoring tools expertise, robust instructional design, and agile project management – all of which an eLearning vendor would offer.
However, whether you do it in-house or opt for eLearning outsourcing, there are a few stakeholders whose involvement is crucial for successful classroom to eLearning migration process.
Want to know who these stakeholders are? Look at the SlideShare below!
Before you leave, here's a gift – starting eLearning needn't be cumbersome if you have existing classroom training material. However, it needs to be instructionally sound and aligned with the learning objectives. To know how ready your classroom training material is for migration to eLearning, watch the webinar!