How dominKnow | ONE Eases the Development of Rapid eLearning Courses
dominKnow | ONE is one of the best cloud authoring tools that is already used by huge companies like CocaCola, DQ, Pfizer, and Pepsi. Explore how you can use it for your rapid eLearning development.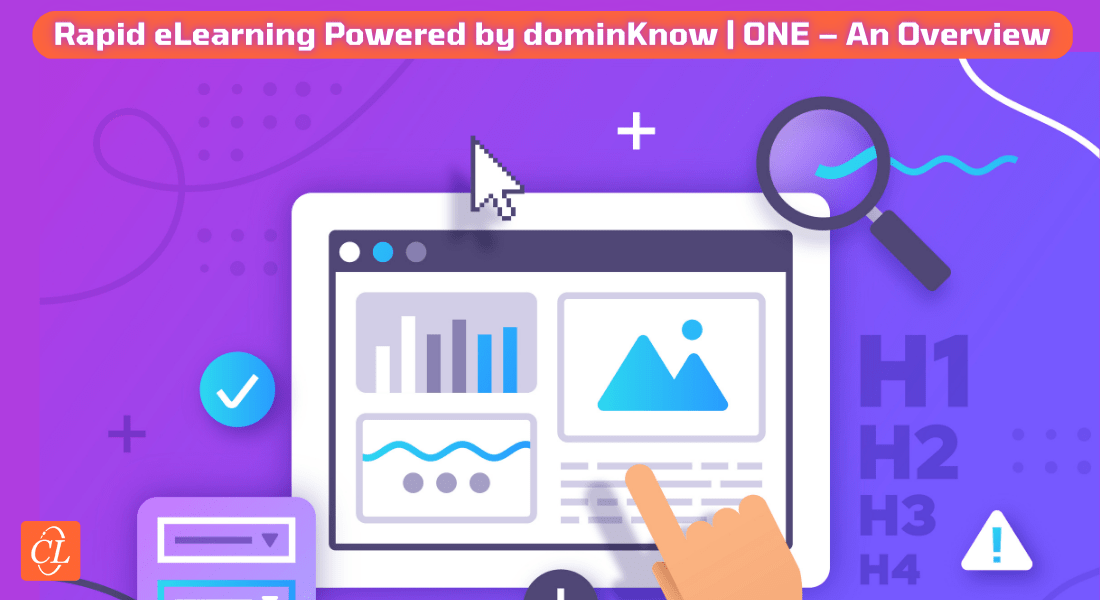 Rapid eLearning development is a challenging task but things are eased out when eLearning authoring tools are effectively used. Modern authoring tools come with a wide variety of advanced features that makes the development of rapid eLearning courses fast and efficient. Authoring tools are further categorized into two distinct types, desktop-based and cloud-based. While desktop-based tools are more focused on local eLearning development, cloud-based tools provide more accessibility and flexibility to the developers. dominKnow | ONE is one of the many popular cloud-based authoring tools and this blog will help you get a detailed overview of its various advanced features.
Looking for an Advanced Cloud Authoring Tool to Develop Rapid eLearning Courses?
Explore dominKnow | ONE, which covers all the required aspects of authoring like –
Design and development
Team collaborations
Accessibility and publishing
Translation
Read on to know its advanced features and the pricing model.
The Introduction to
dominKnow | ONE
dominKnow | ONE is one of the most trending cloud-based rapid authoring tools among eLearning developers to design multiple formats of training courses efficiently. In 2022, it completed 25 years so it has been in the game for quite a time now. The content is managed centrally so it allows the developers to reuse their assets and easily collaborate with their team members and other stakeholders. Since it is cloud-based, it works on all popular browsers whether on Windows or Mac without any external software to be installed. Apart from creating rapid eLearning and custom eLearning courses, you can also design informal content for performance support and social media.
dominKnow | ONE has an online user community to facilitate peer-peer interaction, 24/7 customer support through e-mail or call, and multiple training-related resources are also available on their website.
4 Major Authoring Aspects Covered by
dominKnow | ONE
1. Design and Development
Apart from traditional eLearning, you can create other types of learning content such as performance support, informal learning, and microlearning effectively because of its multiple advanced features. It has a huge repository of customizable templates and layouts to start creating courses easily. You can also convert your PowerPoint presentations into traditional eLearning courses with a few clicks and touch-ups. Along with templates, it also has a library of stock photos, icons, characters, shapes, and other assets to give your course the specific touch you desire.
To add more interactivity to your courses, dominKnow | ONE has a complete authoring toolset that can be used without any sort of programming. It provides components like tab sets, carousels, panels, flip cards, etc along with adding scores and awards to facilitate gamification for enhanced engagement. All the content you create breaks down into singular objects and is stored in a single source to be reused whenever required.
To allow developers to create any type of content, two strong authoring modes are integrated into a single system along with a simulator app for both Windows and Mac. The two authoring tools dominKnow | ONE provides are Flow and Claro, where Claro is its original eLearning authoring tool that is preferred for traditional eLearning, and Flow is used to create responsive content. The screen capture feature and a built-in simulator app help the developers add software simulations, and animated GIFS in a step-by-step "Show me – Guide me – Try me" approach.
2. Team Collaborations and Review
Most organizations have their workforce spread globally, which makes uninterrupted collaboration a need more than an option. dominKnow | ONE has a full-fledged collaboration and review tool that can help organizations effectively manage different teams and their projects. Management can track the progress of the respective projects to ensure the development cycle is smooth, and generate reports accordingly. Multiple users can work on a single project simultaneously and communicate with each other to facilitate real-time development.
The review process is completely streamlined as well, where stakeholders, subject matter experts (SMEs), and other individuals can view, reply, and add their own comments within the same interface on the fly to resolve the underlying issues. These tools make it easy for organizations to build and review rapid eLearning courses quickly and effectively under tight deadlines.
3. Accessibility and Publishing
To assure a comforting eLearning experience, it supports Section 508, WAI-ARIA, and WCAG 2 level AA compliance, making the rapid eLearning courses accessible for learners around the globe. The various accessibility features provided by dominKnow are 'Text and Focus', transcripts, closed captioning, WCAG-compliant themes, and language ID for screen readers.
Apart from basic accessibility, it ensures the eLearning courses are published as SCORM, HTML5, xAPI, AICC, Desktop, Web, or Print. It uses PENS to save your time and publish your courses to a learning management system(LMS) with a one-click approach and you don't have to republish anything after updating your course. dominKnow | ONE has a mobile app as well, so if you want your employees to be able to access their courses on the go, simply publish them on the mobile app, where they can be accessed either online or offline.
4. Translation
As we have already talked about the learning needs and preferences of learners globally, experiencing eLearning in their native language is one of them. dominKnow | ONE makes the translation of eLearning into more than 50 languages easier with the help of its 3-step approach.
Step 1 – Duplicate – Just clone your course and choose your output language, it automatically updates the course interface and system text.
Step 2 – Export for Translation – Export all the textual content in an XML or Excel file but only the languages that are read right-left are supported.
Step 3 – Import the Translated Text – Import the translated output and adjust your content accordingly.
Pricing
dominKnow | ONE provides a 14-day free trial but to unleash its full potential for the long term, it comes with 5 separate plans depending on the scale of work.
SOLO – $997/year or $97/month
TEAM – $1497/year for teams of 2-10
BUSINESS – $1997/year for teams of 3-15
BUSINESS+ – $2497/year for teams of 5-25 (get your private cloud here)
ENTERPRISE – Price not disclosed, get in touch with them directly.
Wrapping Up!
dominKnow | One with all the advanced features we discussed just now, proves to be one of the most interactive and efficient eLearning authoring tools to design engaging rapid eLearning courses. Well, it was one of the many popular tools in the market so if you have decided to go with dominKnow | ONE, you can surely go ahead. But if you want to explore more options, you can refer to our eBook which will help you choose the right authoring tool for your rapid eLearning development.