The Top 5 Interactivities of dominKnow to Create Engaging eLearning Courses
dominKnow is one of the best authoring tools used to create eLearning courses. It has fascinating inbuilt interactivities to engage learners. This blog walks you through the top 5 interactivities it offers to create engaging elearning courses.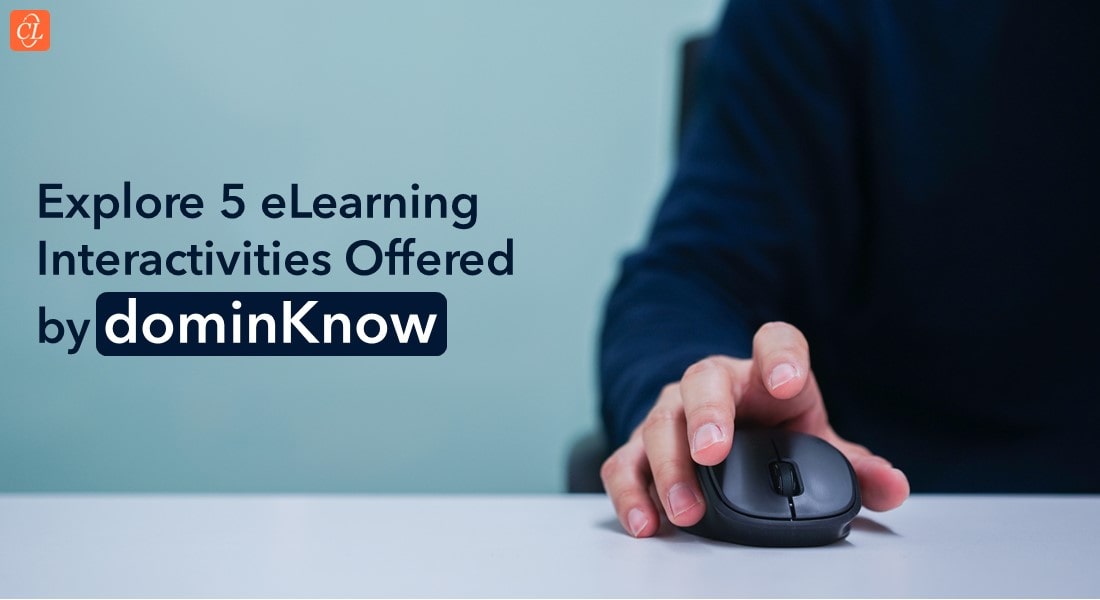 dominKnow is a robust cloud-based eLearning authoring tool. You can use dominKnow to manage your elearning assets and also quickly produce, share, reuse, and collaborate on a wider range of material. dominKnow is one of the best authoring tools used to create eLearning courses. This tool is being used, nowadays, due to its:
Cost-efficiency: Saves on trainer fees and eliminates travel costs
Flexibility: Developed once and used over and over again on any device
Convenience: Accessible at any time and from anywhere in the world
The Top 5 Interactivities on dominKnow to Create Engaging eLearning Courses
Tabs Set
Accordion
Steps
Carousel
Flip Card
dominKnow has grid boxes based on which you are to design your elearning course. You need to use the rows and columns to design your slides. This powerful authoring tool has many features and advantages. One of its main characteristics is the ability to design fun and engaging interactivities for your learners.
Let's take a closer look at the top 5 interactivities that can be designed using dominKnow..
The Top 5 Interactivities on dominKnow to Create Engaging eLearning Courses
1. Tabs set

When designing your course you can use tabs set as displayed above and select one of its four display options that will help you shape how you want your interactivities to be displayed. Once you have finished designing your course's interactivities on the desktop, it can also be automatically adjusted to be viewed on other devices as well.
2. Accordion

You can use the Accordion style to design frequently asked questions (FAQ) for your learners. There is only one option that you can choose from to design your interactivities using the Accordion.
3. Steps

You can use the Steps style to create an interactivity that outlines a process for your learners. For example, you can use this style when you have content related to topics such as "Steps to use a mobile device". This style is similar to the tabs set style as it has four design options to choose from as well.
4. Carousel

dominKnow's Carousel creates very easy and engaging interactivities for your elearning course. It features an arrow that your learner must click on or select in order to proceed through the interactivity. Carousel can be used when you have a lot of content that you want to arrange into different sections. You can add titles to better organize your content heavy interactivity, however, this is not always required.
5. Flip Card

Flip card can help you create interesting and engaging interactivities. It looks like a coin and has a front view and a back view. By using flip card, you are just one click away from captivating your learners with your Texts, Images, Icons, Audio formats, and Videos formats.
Conclusion
dominKnow has the ability to build fascinating interactivities that will keep your learners motivated and coming back for more. There are limitations to how you can design and showcase your interactivities using dominKnow. However, an advantage is that your interactivities automatically adjust themselves to be clearly displayed on several screen sizes and resolutions of various devices.
The choice of an authoring tool depends on what you want in a course and how you expect your learners to use the course. To get an idea on how to select the right authoring tool, download this free eBook now!