Rapid eLearning for Employee Onboarding: 4 Distinct Benefits You Can Avail
Employee onboarding is a crucial process in every organization. Rapid eLearning can make your employee onboarding truly seamless. Read on to know how.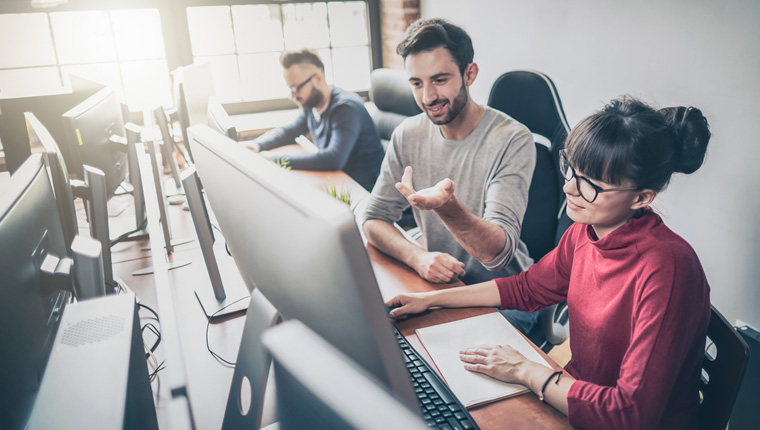 What's your employee onboarding strategy? Do you just put them through an hour's induction, set up their desktop, have them read an employee manual, and ask them to get started with their job? Or, do you make them go through rigorous classroom training that extends over a long period and expect them to be proficient at their job? If your organization aims to improve employee engagement, both these strategies are highly unlikely to work. One strategy that has worked for many organizations is the use of rapid eLearning for employee onboarding as it appeals to Gen X, the millennials and the latest entrants to the workplace – iGen (Gen Z) alike.
Smooth Employee Onboarding Leads to Happy Employees
Rapid eLearning plays a part in seamless employee onboarding. Here's how:
Acclimatize new hires quickly
Cut down classroom training time
Get new hires up the learning curve quickly

Provide rapid custom eLearning for functional training
What Does Rapid eLearning Have in Store for Employee Induction Training?
While traditional eLearning development takes a lot of time and involves multiple resources, rapid eLearning results in a significant reduction in time and resources. Here's what rapid eLearning can offer employee induction training programs:
Can be designed to meet organization's requirements in new hire training
Decreases eLearning development time
Increases ROI on training
Costs less to develop and manage a rapid eLearning program
How Does Rapid E-learning Reduce Cost in Employee Onboarding?
The advantage of using rapid eLearning to develop employee onboarding programs is that it can leverage templates offered by authoring tools. You can share and reuse these templates to save time. For instance, you can have an entire curriculum of courses that are useful for new hires, and you might want to follow a particular visual or communication style for these courses. With authoring tools such as iSpring or Storyline 360 that offer a variety of templates, course development is quick.
E-learning courses used in employee onboarding might require updates, e.g.: changes in employee policies. Templates are very useful to facilitate quick updates. Rapid authoring tools with an easy learning curve can be utilized by your in-house team to make quick changes in course content when required.
Benefits of Using Rapid eLearning for Employee Onboarding
1. Acclimatize New Hires Quickly
When you're hiring a pool of talented employees, trying to cram lots of information in employee orientation programs that stretch over 2-3 days of classroom training could be detrimental. Amy Hirsh Robinson, principal of the Interchange Group, a consulting firm in Los Angeles rightly terms this disorganized onboarding process as 'death by orientation'.
The process of onboarding can actually start before the new hires enter the workplace. Try short eLearning modules to give them a warm welcome. It could be something as simple as a video message from the CEO welcoming new employees. You could let new hires know what's expected of them on the first day – the point of contact, paperwork to be completed, the dress code to be followed. It helps new employees to be aware of this information even before they step in. You could leverage rapid eLearning for employee onboarding and give new hires a virtual tour of the workplace. It's a great way to get new comers familiar with the workplace.
You might explain the company's vision, goals, and culture in the employee orientation session. But you cannot expect new hires to retain that information. Rapid eLearning courses can be used to cover this information, and this gives new hires an opportunity to look up this information whenever they need to.
2. Cut Down Classroom Training Time with Rapid eLearning
According to a report by Society of Human Resources Management (SHRM), new hires get 90 days to prove themselves in a job. So, the sooner they feel prepared for their role at the workplace, the faster they will be able to contribute to organizational growth. That could be one of the reasons an increasing number of organizations are turning to blended learning for employee onboarding. You could consider using rapid eLearning programs as part of your blended learning strategy for employee onboarding, and cut down the time and cost involved in onboarding new hires.
Watch this insightful video to get tips on how to design impactful employee onboarding training programs.
In blended learning programs for onboarding, rapid eLearning can be used in various stages of the onboarding process.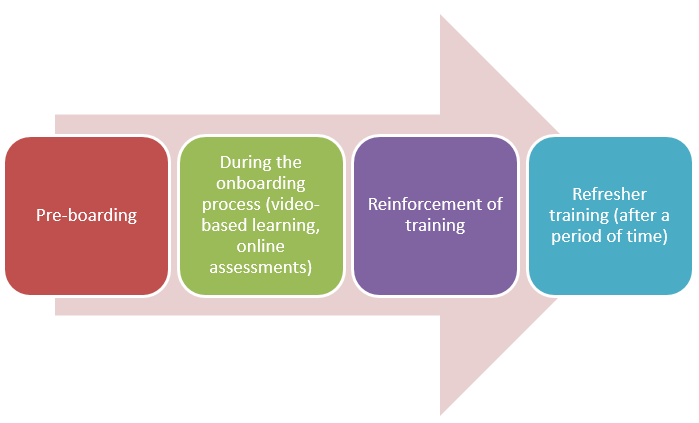 3. Get New Hires Up the Learning Curve Quickly
According to the SHRM report mentioned earlier, there are 4 Cs that form the building blocks of employee onboarding programs.
| | |
| --- | --- |
| 4 Cs | How Does Rapid eLearning Fit? |
| Compliance | Mandatory compliance training programs to teach employees legal as well as policy related rules and regulations. |
| Clarification | Training that clarifies employee roles within the organization. |
| Culture | Workplace culture is what makes your company unique and is determined by the company's values, attitude, and behavior. Online training on company culture as part of your onboarding strategy can help new hires. |
| Connection | New hires need to build interpersonal relationships and connect with information networks – usually happens on the job and may not require a training program. But an introductory program to create awareness on social learning can help. |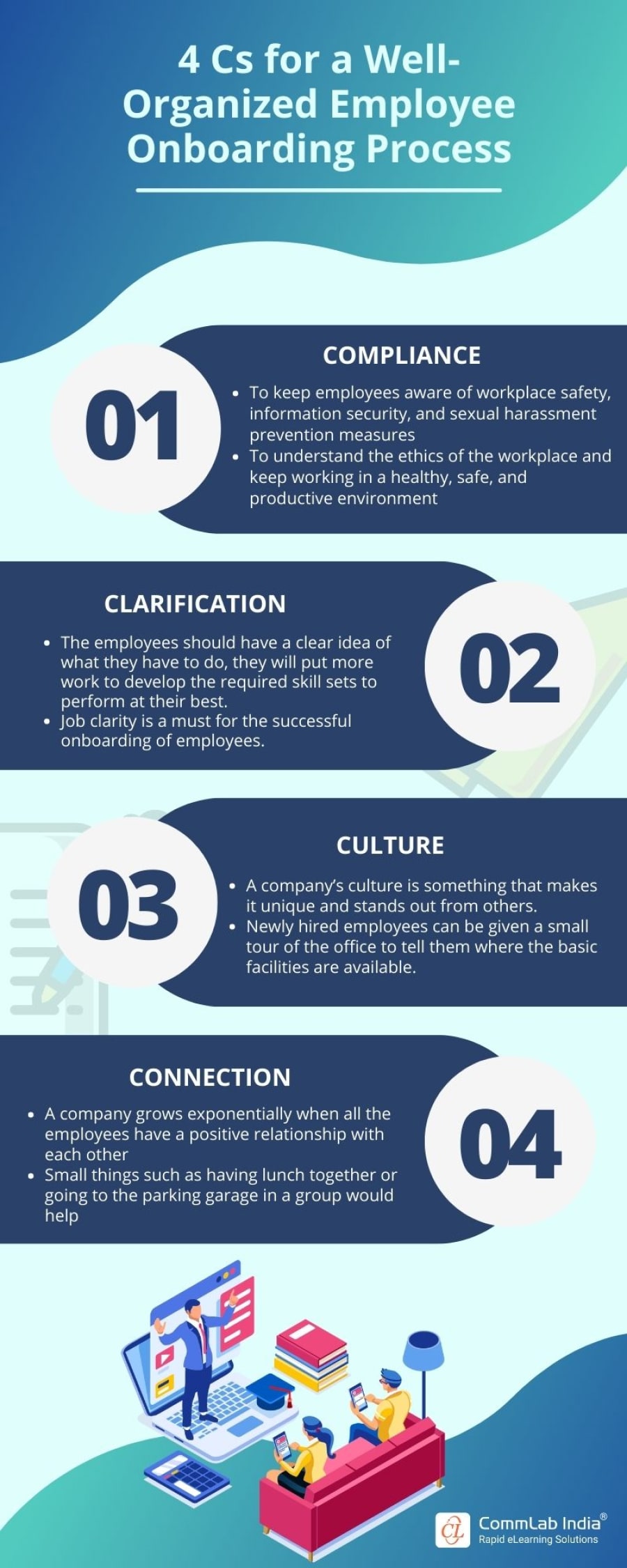 Rapid eLearning as part of employee onboarding can be leveraged for training related to the 4 Cs in onboarding. The advantage offered by online training is that it's available on demand for new hires whenever they need to refresh their knowledge. This helps new employees move up the learning curve quickly.
Organizations can be at different levels in the onboarding strategy – passive, high potential, or proactive – depending on how well they integrate the 4 Cs in employee onboarding.
At the passive level, compliance training is covered as part of onboarding and some part of role clarification. But culture and connection awareness is skipped. According to the SHRM report, 30% of organizations – small, medium, and large fall in this category. At the high potential level, compliance and role clarification is taken care of and some part of culture and connection is addressed. 50% of organizations are in this level of onboarding. Only 20% of organizations have achieved proactive onboarding where all 4Cs are addressed formally.
So, if your organization is in the passive or high potential level of onboarding, you can consider integrating rapid eLearning in the employee onboarding strategy to move up the onboarding level and implement proactive onboarding.
4. Provide Rapid Custom eLearning for Functional Training
New hires in your organization can belong to different functional units or departments. While your onboarding program in the classroom can give new hires an overview of different departments, it's not feasible to conduct classroom training to impart role-based training, especially when you're onboarding a mix of employees from various departments.
Rapid custom eLearning as part of the employee onboarding strategy can be used to deliver training that's customized according to the department or role of the new employee. A case in example is a role-based training we designed for employees of different roles working on a document management system – each employee depending on whether he/she held the role of an author, reviewer, or approver went through the relevant role-specific training. So, although your new hires belong to different departments, they go through training that's relevant to tasks they are expected to complete at the workplace.
Role-based training delivered in new hire training offers the following benefits:
Training delivered is aligned to a specific business process
New hires gain deeper knowledge on the department/functional unit they'll be part of
Training delivered is relevant to roles new hires are expected to take up – so they can apply it on the job
Wrapping Up
Spare some thought to improving employee onboarding with rapid online training. After all, you wouldn't want to miss the first chance at making the best impression on your employees, would you? With this also explore all about rapid eLearning design for quick rollout. Grab our eBook today!